After reading this SEO powersuite review you will be clear that this best seo software worth using or not ? In this post you will learn about the features, advantages and disadvantages also of using this tool in terms of getting good search engine ranking.
Search Engine Optimization is all what has become necessary for everyone having a blog or website who really wants to derive huge amount of Organic Traffic. Further Organic traffic is necessary if you want to earn huge amount of money. Thus directly, SEO becomes necessary if anybody wants to earn money from his blog. There are a lot of ways to do SEO (Search Engine Optimization). The most common ways are online SEO tutorials and SEO Consultancy. Anyhow, both of these things may require the use of some kind of SEO Services or Tools. As the competition for SEO is increasing day by day, consequently the number of SEO Software and Tools are also increasing rapidly
The presence of so many SEO Software and tools confuse SEOs which to use or which to not? Which is the Best? Which not? Anyhow, we are today going to review an Awesome SEO Software, which has been trusted by more than 5,00,000 users and according to them, it's being used by every 3rd Search Engine Optimizer in this world.
It's none other than SEO PowerSuite.
SEO PowerSuite is an All in One Solution for SEOs to research anything about SEO of a website or blog. Whether the SEO is related to link building (back linking), rankings, on-page, and off-page and even social, this tool has a feature to face each.
Let's start reviewing SEO PowerSuite by throwing light on its features. Here are the quick features listed below which are further explained in detail.
SEO Powersuite Review
SEO SpyGlass
Rank Tracker
WebSite Auditor
Link Assistant
These are the four basic tools we get. Let me quickly tell you about each of the above listed part to this powerful SEO PowerSuite software.
Do you want to spy on your competitors? Why not? Every SEO would love to. Because analysing the details of the competitors is the first task which almost everybody should be doing in SEO research. Competitors tells us actually how we have to implement the new things so that we can compete them first and then think of moving forward from them in the field of gaining more and more organic traffic. Thus, SEO SpyGlass helps us here, which we may use to track and analyse each and every activity of our competitor's sites in search engine results.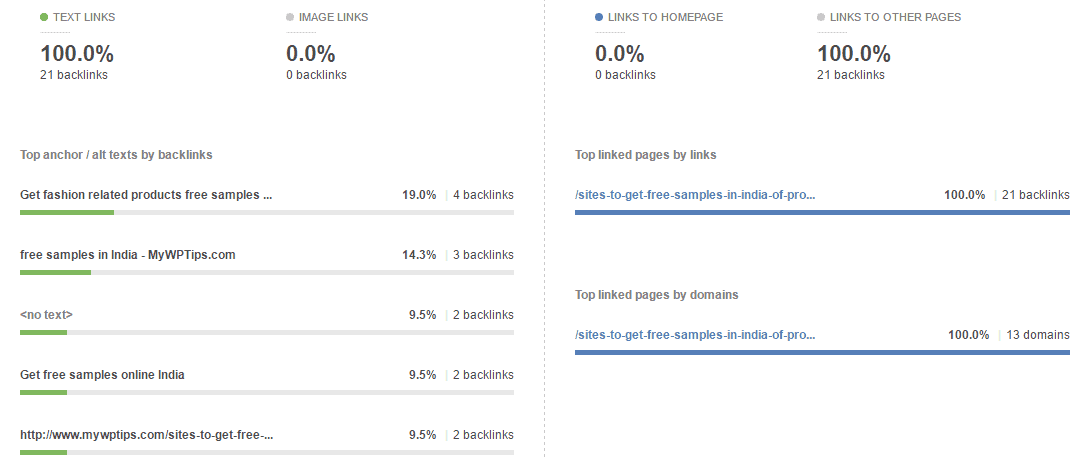 SEO Spy glass is the most powerful tool for analysis of back links of the competitor and you can do deep study of them so you can make quality link building strategy to outperform your all competitor. Key features of this software are as follows:-
Number of total backlinks, total referring domains and different c class IP's check.
You can see number of backlinks from different countries with their percentage.
You can check major anchor text which have been used for your top competitors back link profile.
Know exact pages where your competitors created their backlinks so you can also follow the path.
Exact number of linking domains is available.
Compare your domain with others who are on 1st page of search engines for domain strength, domain age, total backlinks, number of do follow links.
Generate reports for linking profile.
Rank Tracker is the best tool to check for which keywords your website is ranking at which position. This is like a gift tool for almost every blogger or webmaster who is willing and trying to gain and improve their present organic traffic. Anyhow, this tool may be considered as a wonder for those who have multiple site specially the niche sites. Niche sites have a very high scope of gaining ultimate huge traffic anytime and they also change their positions in the search engine rapidly. That's why here this Rank Tracker tool becomes necessary to come in use.

See the key features which we can observe via Rank tracker.
Visibility score of the website in suggested search engines.
Number of keywords at which position in different search engines.
You can compare your current rankings with previous ranking results.
You can update traffic stats from the Google Adwords.
You can add more keywords and check your main competitors for those keywords.
You can check rankings in almost all major search engines like Google.com, Google.co.in, Bing and Yahoo etc.
You can know which keywords are in Top 10 and which are not in top 50 also with exact ranking status.
Webmasters can perform keyword research task with this tool.
Domain strength can be checked easily with number of backlinks and percentage of do follow and no follow.
IP Address, targeted country, numbed of indexed pages, social media popularity can also be observed.
Reports of keyword ranking, visibility, competition ranking, organic website traffic, domain strength, keyword research can be found.
This tool is perfect when we have to analyse our or someone site's quickly to figure out what's going wrong. What are the things that needs to be improved in regard to SEO to gain better traffic results? The SEO PowerSuite WebSite will clearly answer you this question as well as give you the proper reasons why the problem caused and how it can be improved too. Isn't a careful taker of your website? Those who are managing multiple client's sites, this tool will surely help them to quickly analyse their SEO issues so that they can quickly resolve out that issue too.
Linking is an important aspect of SEO as many of the SEOs (Search Engine Optimizers) believes Linking (Any kind of – Back linking, Internal Linking) is a major factor which determines the search engine rankings. Many people have their success stories on the behalf of building quality backlinks. Link Assistant may properly help you to analyse what links are linking to you and your competitor's sites as well as may help you to build more and more quality backlinks.
Thus, these four tools really helps you to do the complete SEO of your blog or website in an amazing way.
Monitor the Rankings
Complete Link Analysis
Keyword Research
On Page SEO
Competition Analysis
SEO Reports
Monitoring of Rankings
This is a kind of tough task in SEO which is essential to help to initiate the next steps in the matter of getting more and more organic traffic. SEOs have to keep an eye on the current position of their or their client sites or blogs. In other words, they have to observe time to time where their websites or blogs are ranking with respect to various keywords.
This thing is necessary as it will help to tell the SEOs where the improvement is needed. Where they can make changes so that their site rank can be improved.
SEO PowerSuite allows you to track unlimited keywords using their ultimate Ranking Monitor features. Thus, you can easily track for what keyword your website or blog is ranking against and at what number. Thus, you can also know what the amount of regular traffic of that keyword is. This will help you to analyse and guess the growing traffic of your blog and website. Although, this a little complicated task, yet you can do it easily with SEO PowerSuite.
Some cool factors under this feature of SEO PowerSuite are, it searches through 329 Search Engines, compare with 10 competitors, unlimited keyword comparisons, the rankings of images and videos too etc.
Complete Link Analysis
Link Analysis is important as a part of SEO in the form of link building or simply we can say in back linking. Every website or blog should require some amount of relevant back links from some high page rank and high domain authority sites. This task is a tough task if done without the help of any tool because it is very difficult to find such relevant sites which may give us relevant back links.
But SEO PowerSuite makes this task all easy as you have to just enter your domain name in it and it will help you to find some of the relevant sites which might gave you a backlink. It will also help you to analyse your as well as the backlinks of the other websites or blogs. It is generally seen that the websites and blogs with more relevant back links are ought to receive more organic traffic and higher rankings in the search engine. Not just this, SEO PowerSuite have further many options which you may customize to research the link analysis.
They have the largest back linking index and more than 50 factors to check backlinks. It is convenient to manage link data with SEO PowerSuite.
Keyword Research
There are already millions of keywords which people often use to search on the search engine daily. The number of these keywords is increasing day by day as the number of internet users is increasing. Different keywords have different amount of searches and also the different amount of competition. Some keywords are easily to rank but have very less amount of searches while some of the keywords have lots of searches but it is very difficult to rank for those keywords. So, we have to always find the most suitable keyword for us which we can easily rank for and it also have sufficient amount of searches.
SEO PowerSuite make all the matter related to keyword research easier than ever. It make use of 19+ Keyword Suggestion tools to suggest you the right keywords which you should be targeting to achieve more and more organic traffic. It not just tell you about the keyword, but will also display various stats and analytics related to it such as the PPC and the bounce rate of the keywords.
On-Page SEO
On-Page SEO is all about the content optimization on the go. SEO PowerSuite has some powerful tools which will tell you the truth about the SEO of your blog or website. In other words, it will clearly display up the SEO stats of your website or blog. You can thus monitor, what is wrong, what needs to improved and corrected.
You can run a complete site audit of your site. It will display up the results in the form a repot kind of the structure. You may easily know the things such as the theme errors, the broken links, how fast your blog or website is etc. You may know about whether you have or don't have the duplicate content.
You may check the crawl ability which in other words means is your site appropriately made so that search engine may crawl it and index it. On the basis of some kind of competition research, this tool will give you some suggestions which may accept and can have ultimate gain in the traffic of your site which is a better option than checking, analysing and implementing the things manually.
Competition Analysis
Competitions Analysis is the primary reason why such type of best SEO Software or tools came into existence. SEOs and competitors are generally very eager to know about the things what their competitors are using to get more and more organic traffic. This is a kind of feeling which only a SEO (Search Engine Optimizer) may understand.
A lot of competitor analysis tools are today in the market of SEO but no one is comparable to SEO Power Suite. You can check any website, any blog using this tool. The next thing which this powerful tool does for you is that it can automatically analyse and tell you what keywords are being used by other people whom you too are using. Thus, in simple it tells you who actually are your competitors.
Isn't an ideal tool which will tell you who are your competitors as well as will guide you how you can be better than your competitor. That's not all. You may browse a lot more information like the back links of your competitors, their page authorities, ranking and domain abilities etc. It's all in a single tool.
SEO Reports
This is something every one having a blog or website should know first. Only then they can further proceed with the thinking of gaining more and more traffic from the search engine. This tool is a step forward then you telling you the SEO reports of your site.
You have to just enter the URL of your website and it will display you all the things such as the errors that might be causing some crawling problems for the Search engine. Thus, the SEO Reports it generates simply helps you to be better care of you site in the terms of SEO health of your site. Moreover, if we talk collectively about it, all the tools works together to give you the BEST SEO Audit and report which you can't get from anywhere else.
My Friendly Talk on SEO PowerSuite
This is the important part of this review, don't know why, it's my valuable views about SEO PowerSuite. J
SEO Powersuite Review
Is SEO Power Suite a Complete SEO solution?
I can SAY "YES", because as i think this software gives all the possible opportunity to track competitors, better keyword research, checking our on page seo score to improve our website and tracking rank for the different keywords in different search engines which is the necessary work for every internet marketer. SEO Power Suite is not just a tool, it's a powerful SEO Tool.
What if it is compared with other SEO Tools?
As there are many SEO software and tools available in the market, it made us think whether SEO PowerSuite is better than them? We tried many SEO software such as the most popular tools SEMRush. So, the basis of its comparison with other tools, it's wonderfully and found equal to SEM Rush as working performance but if discuss about the pricing then I personally like SEO powersuite because we have to pay 1 time payment for everything.
Yes, it is. Even if you have doubt regarding using this software you may first try the free version and then if satisfied you may upgrade to the premium versions.
What else you want to say about this tool?
This tool really deserves a five star rating for its wonderful and incredible features. Now, here below, those features of this tool are listed, which impressed us a lot and may be will impress you too. (In the form of Pros and Cons)
Pros (Good Things about SEO PowerSuite)
Offers Complete Training and Support
The Complete Suite is split into various application on the basis of their purpose and use.
Easy to use and good for beginners.
Contained most of the features what a Powerful SEO software should have.
User-friendly and runs smoothly.
Offers Free Version
Cons (Bad Things about SEO PowerSuite)
It is very hard to find any Cons in this awesome tool. Yet the only thing which is a little odd is that this is a software which you need to install on your PC and not an online service. So, it may be a little hard to use it from anywhere. Anyhow, this is not a major Con and is OK as many other tools need downloads and installs too.
The Practical Example
In the end, let's have a quick overview, what actual tools are included in SEO PowerSuite. How they have made a SEO Software so simple. They have categorized each and every different thing in a separate tool.
When we install SEO PowerSuite, we get the following tools inside it as a separate window of each itself.
Pricing
Finally coming to pricing, as after reviewing all of the features, if pricing does not suits us then then there is no any use of using the software or tool. But the good thing is that the pricing offered for SEO PowerSuite is very much reasonable. It is worth paying for this ultimate SEO software.
SEO PowerSuite is available in three simple plans. One is the free plan, the next is the $299 plan and the last is the $699 plan. Each various in the terms of feature it enables.
You can compare all of the features which each of these plan offer and not by visiting the following this official link.
Conclusion
The Conclusion might be clear from the above listed features and my friendly thinking regarding the software. Without any doubt, we may simply draw the conclusion that SEO PowerSuite is among from the perfect solution available online for the internet marketing and getting top most position in search engines for our targeted keywords.. Any SEO would love to use this software for his day to day SEO Analysis and Reporting needs.
Hope you liked reading this article. If you find it useful, then please do share it on social networks like Facebook, Twitter and Google+ with your friends and don't forget to subscribe us. Thanks for being here to have a true SEO PowerSuite Review.
You can read SEMrush review and tutorial of long tail pro platinum and plagiarism checker online free also.