In this article, we have listed down 10 free online plagiarism checker tools. We all know that publishing copied content on your blog will degrade the quality of your blog or website as well will be bad for your search engine results rankings.
Many of the professional bloggers use to accept guest posts on their blog or get paid articles. Those type of bloggers or even anybody having a website or blog should ensure that all of the content that is going to publish on his/her blog should be unique.
For that, you will need, plagiarism checker tools. There are few more resources for online grammar check also.
List of 10 Free / Paid online plagiarism checker tools
Here we've listed down best of the 10 free Online Plagiarism Checker tools. We've specially researched these tools for all of our readers.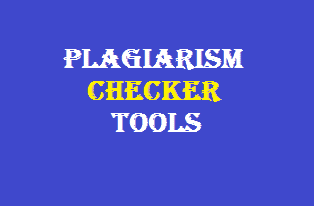 Most of us might know, Grammarly is one of the most powerful tool to correct most of the grammatical mistakes as well as to enhance our English writings. This tool in its premium version, offers an inbuilt powerful Plagiarism Checker tool which will ensure the uniqueness of your content side by side meanwhile along you writing the post or content. If some of the content will be copied, it will display how much percentage of content is duplicate and where it already exists on the Internet.
Copyscape is also one of the most powerful online plagiarism checker tool which comes in free as well as premium version. The free version just tells top 10 websites from which a particular published blog post is copied. While premium version comes with a lot of features. You can ensure that your content is completely original before actually publishing it using its premium version.
Plagium is a very simple yet powerful free online plagiarism checker tool. At one time, you can check you text of up to 5,000 characters whether it's unique or copied. They have two options. Either you can search the web or news. Further you can do quick search as well as deep search.
It's one of the oldest and also trusted way to find our whether our content is copied or unique. As like most of the plagiarism tool, we have to just paste the text to be verified in the text box are and within a click it will display you the result i.e. will tell you about the uniqueness of the content.
This is one of the most powerful plagiarism tool. Why? Because it supports 190+ languages. That means checking the copied content is not just limited to English with this awesome tools but you can ensure the uniqueness of content which is in 190+ languages.
More tools for online plagiarism check
This is a kind of very premium website. They have each and every feature you require to check whether your content is copied or unique. You can check the uniqueness in multiple ways that means by text or uploading documents as well. They also have the free as well as pro versions. Likewise many of the tools, the free version is just limited to a few basic features while the pro version comes with lots of exciting features.
Dupli Checker is one great tool which is already being used by many popular names of the Internet. It also has the two simplest options. Either you can paste the text to be verified in the provided text box but it should be equal to or less than 1000 Words limit or the other option is to browse and upload the document for plagiarism scan. The tool is very easy to use and all of the required information is also provided over there.
This is a bit different tool than the other plagiarism checker tools. In this you can compare two webpages. When you'll open this tool, you will have two fields. The first field is to enter the URL of the first webpage and in the second field you have to enter the second URL. When you'll submit then it will tell you the similarities of the two pages linked with that URLs. That means it will simply check whether the content is copied or not from the linked pages with those URLs. It's one of the easiest tools to ensure uniqueness of content between two different webpages.
PlagScan is also one of the most premium tool to check whether you have the copied or unique content. This premium tool offers a free trial. They have different plans for the business and for the education. It ensures plagiarism checks and security. They have lots of positive reviews from their clients. It's easy, safe and efficient. They have individualized reporting formats which are demand-oriented and interactive. It has academic Integrity. Thus have quality assurance and simplified workflow. You can easily wipe out duplicate content, thus through and sustainable. They offer flexible integration options such as via browser, plugin and API.
Small SEO Tools is one trusted name in the market of basic SEO tools. As uniqueness of content is one major factors in SEO, that's why they have a wonderful plagiarism check tool for you. The free version allows you to type 1000 words a time to check its uniqueness and you can also upload a document to ensure its uniqueness.
Thanks for reading here at our blog. Hope so, this article helped you to know about the Best Free Online Plagiarism Checker Tool. Next time whenever you will have any doubt regarding the quality and uniqueness of your content that you are just going to publish on your blog or website, you may choose any one of these tools and within a few clicks ensures the uniqueness. If you liked reading this article, do share this article with your other friends on social networking web sites like Facebook, Google plus and Twitter. And don't forget to subscribe to our mailing list to information on many more awesome articles like this one.
You can see some domain name suggestion tools for websites to choose perfect name.