Finding the most profitable keywords with high search volume and lowest competition is the key to win battle of traffic and sales generation with making money online.
After reading this long tail pro review you will learn the easiest method to find high traffic keywords for which you can rank your blog on the first page in few days with very less efforts.
98 % of the website owners are fail to get traffic on their business websites or blogs also because they chose wrong keywords which has no traffic or with very high competitions so it is hard to rank for them, but don't worry in this post we are giving you perfect solution for traffic generation by showing you the right keyword research method.
Selection of the right keyword is the initial but most important factor when it comes to great seo and you can get ten times traffic with same SEO efforts if you have brilliant keyword to be targeted.
Every blogging and internet marketing expert recommend the keyword research as the must do task before starting search engine optimization so you should do keyword research very seriously.
We found the best keyword research tool Long Tail pro which is trusted by 70,000+ internet marketers and SEO experts in the world and personally I also using it to find winner keywords also.
What you will learn in Long tail pro review here
How to buy, install and set up Long tail pro platinum software.
How to set up a new campaign.
How to find low competition keyword with high volume.
How to check keyword competitiveness of different keywords to find the winner.
How to analyse the top 10 results for your targeted keywords.
Find exact keyword match domain availability with this tool.
Long Tail Pro Tutorial
Step 1 – Download and Install
First of all buy long tail pro from here, then after completing the buy process 1 email will come to you with the download link in it.
Step 2 – Add Google Adwords and MOZ access ID and secret secret key 
Just Create Free account in Google adwords and connect it by login with Gmail ID.
Create free account in Moz and get the access ID and secret key in Long tail pro as mentioned in screenshot below. Visit MOZ API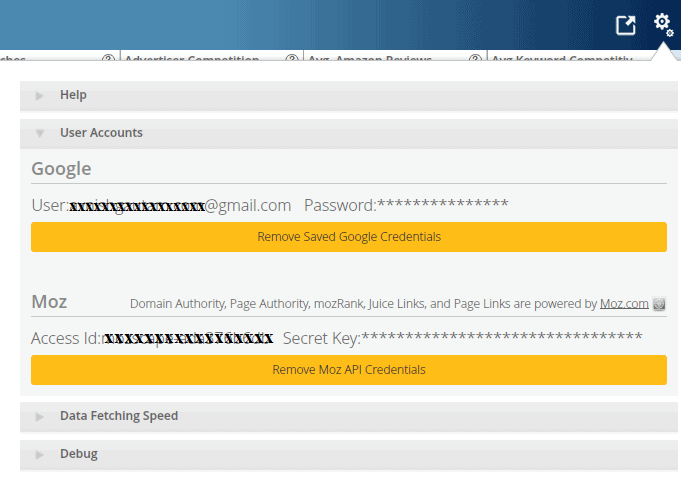 And now you have successfully connected your tool with Google Adwords and Moz so tool can fetch the right data from both the tools.
Step 3 – Start your campaign
You can create so many campaigns with this awesome tool to find unlimited keywords after great research and choose your best one, just follow the instruction below:-
From the +Button you can choose your campaign name and it will ask for the name when you click on it.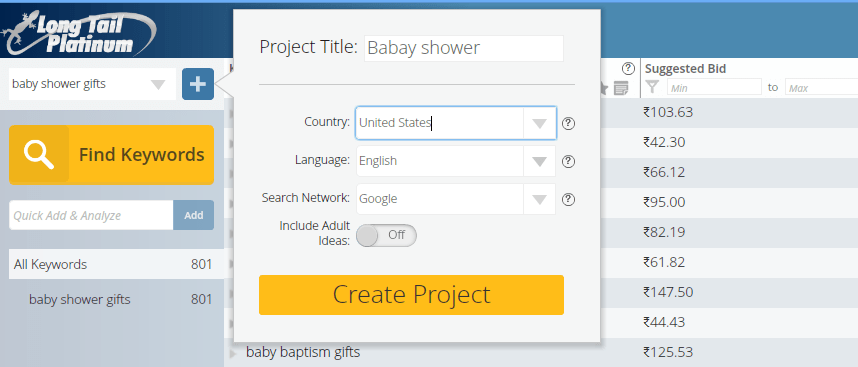 As mentioned in above screenshot you can select your project title and choose your targeted country from where you want to get traffic by ranking your targeted keyword and select your language also with the desired search engine as you can see in the screenshot above.
Step 4 – Add Niche related keyword and Fetch Data
Add any related keyword to your niche to find different ideas of low competitive search terms.
For example – if your website is related to baby shower related products and you sell products through your website or promote affiliate products through your blog sites then add an example keyword – Baby shower gifts ( as seen in screenshot below ).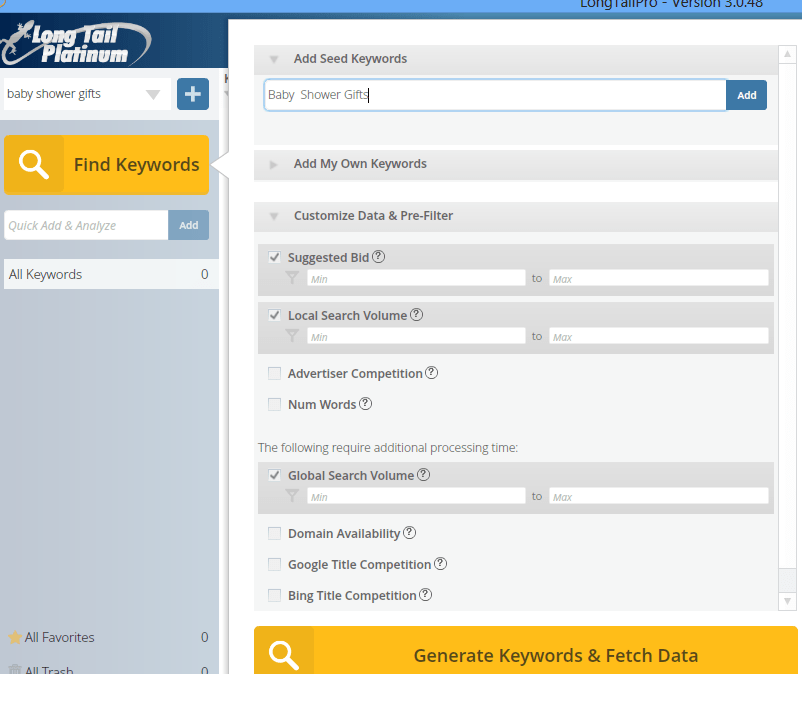 After adding your keyword just use the data filter options which are given below:
Local and Global search volume of the different keywords.
Number of words in keywords, example – minimum 3 and maximum 5 ( see above screenshot ) to find long tail keywords.
Check title competition in Google and Bing type of most popular search engine.
Then push button "Generate keywords & fetch Data"
After that you will see the list of 800 related keyword ideas as you can see in below screenshot.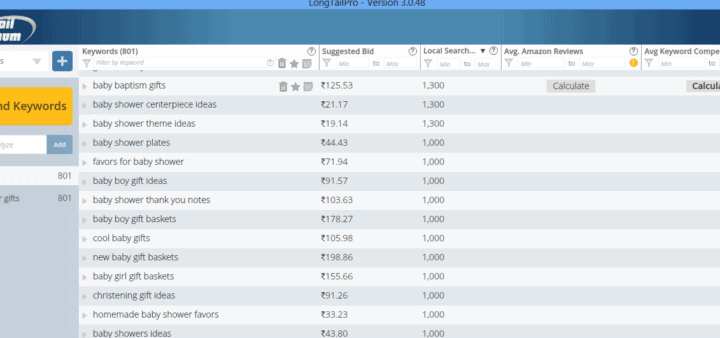 Step 5 – Calculate the KC ( Keyword Competitiveness )
After finding 800 niche related keyword you need push calculate button. ( given in just above screenshot )
What is Keyword Competitiveness –
It is the average calculation score after checking top 10 competitors from the first page of search engine and it checks these factors:
Is main keyword used in the title.
It checks page rank of the URL.
It checks Moz Rank of the URL.
It checks age of the domain
It checks domain authority of first page ranked website domain.
It checks page authority of the page ranked at first page.
It checks link juice coming to the pages
You need to calculate KC of every keyword idea which has been fetched and find the lowest KC keywords after checking them as you can see in below screenshot.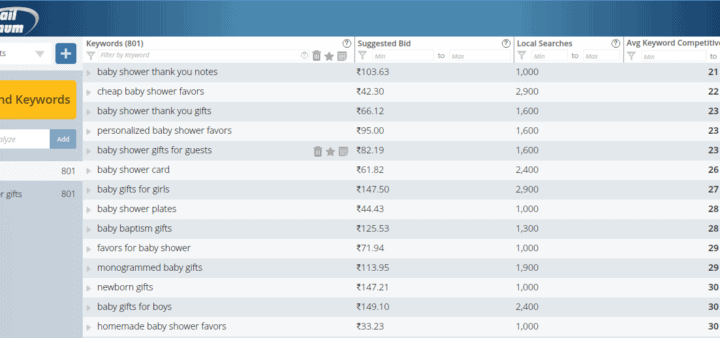 In above screenshot you can see than so many keywords with good local search volume in USA with KC less than 30.
Which is the best Keyword we should Target ?
The Keyword which has more than 1000 searches per month and keyword competitiveness or KC less than 30 is worth targeting and we can rank for them by doing less efforts.
Understand KC or keyword competitiveness more here –
   0 – 10 KC – No competition and can rank just by good on page SEO.
 10 – 20 KC – Very less competition and few links are enough to rank.
20 – 30 KC – Low competition keywords and average work needed for getting first page position.
30 – 40 KC – Good competition and you have to plan your seo strategy for few coming months.
40 – 50 KC – High competition and only experts can get rank for these tough keywords.
50 – 60 KC – Very high competition and ranking for it is really typical for anyone.
60 – 70 KC – Extremely high competition and too much time and big team is required.
70 – 100 KC – Highest competition and personally I would not think for target these impossible type of keywords
Now you have found some of the best keywords with low KC and good search volume also as you can see in above screenshot and now it is time to know which domains are ranking for that particular keywords by deep analysis.
Step 6 – Deep Analysis –
Just click on your founded keywords and so much data will come to you as you can see in below screenshot. In image below you can see that our arrow is on the keyword and after clicking on it so much data about the competitors has came out.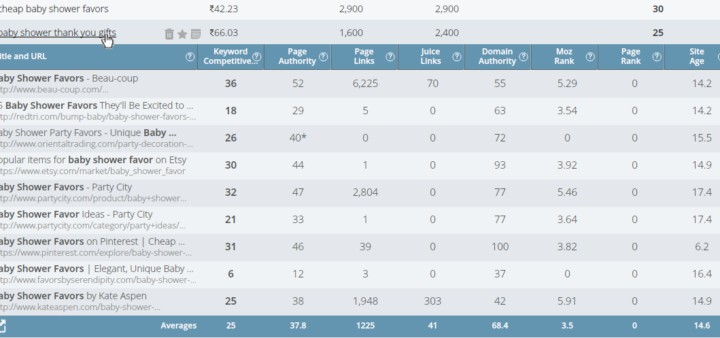 You can see main ranking factors of top 10 competitors like page authority, domain authority, page links, juice links, moz rank and site age also.
Step 7 – Find Keyword Match Domains –
After proper KC keyword finding and deep analysis of keywords it is the time to find keyword match domains which is the good method and easier way to rank for a keyword with new website launching and mostly affiliate marketers apply this formula.
As you can see in the below screenshot, in the right side section just click on the point domain availability and quickly keyword related domains will come out which you can use for quick ranking of your affiliate websites or online store to the related products.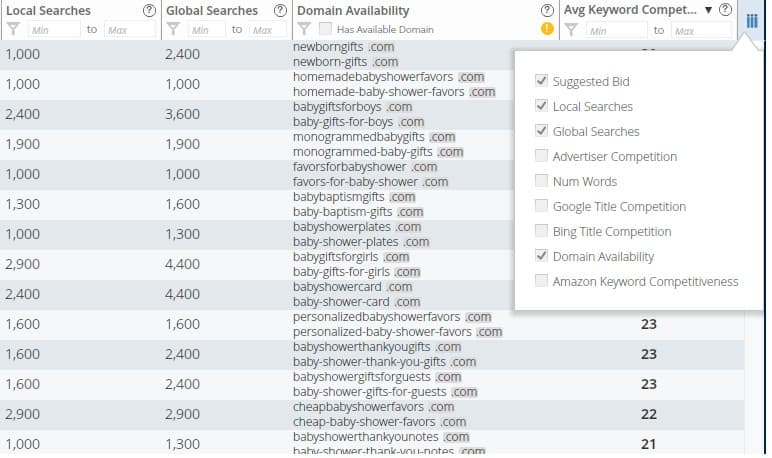 So we have mentioned the complete long tail pro tutorial here and I am very positive on this tools therefore I am writing this descriptive Long tail pro review here for readers of my blog post.
Review Summary –
It is the most amazing tool for searching high traffic and money making keywords I have ever seen tills now and I am also using for getting better traffic and more income on my blog so I will give it full marks for its pricing, features and performance.
Long Tail Pro Platinum Pricing  –