We are in the Digital era where everything is being promoted on the Internet. The different online platforms give many opportunities to push any service, product, or any brand at the front of the targeted audience in less cost compare to the offline marketing models.
The online product selling is a predefined procedure that starts from the seller site to the end user- customer/client. The lading pages have their influence in this process. We can't avoid them to attain good conversions rates. These pages cover the information about the product or service and encourage visitors to become buyers.
If you are using the simple landing pages for selling products on your website, this might cost you losing some sales that could also be brought into your account.
You can use the customized landing page builders to create beautiful landing pages. Further in this post, I will discuss the features of two popular landing page builders (Unbounce and GetResponse) considering different aspects.
Let's see which one fits into your needs.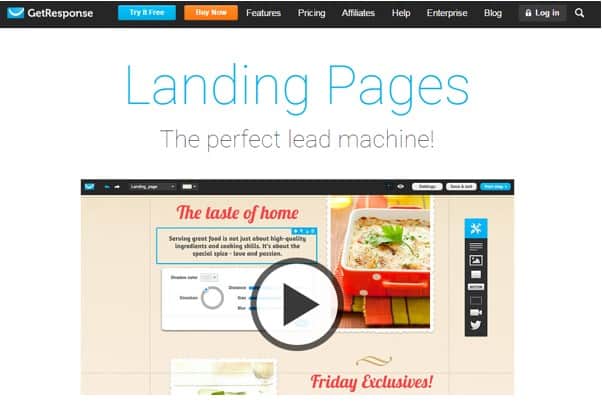 Unbounce Vs GetResponse Review
Get Response Landing Page Builder is an amazing tool to create customized landing pages. The Get Response is a one-stop email marketing solution for business or individual. You needn't go anywhere else to create landing pages while it's offering customizable landing pages on the same site.
I am listing the key features of Get Response landing page builder below that would really encourage you to use this tool.
Mobile responsive designs which take the size of the screen in the devices like desktop, mobile, and tablet.
In built web forms to collect users' data like email, name, These forms are easily customizable with custom fields, labels, and input fields, so the users can easily collect the required information.
100+ ready to use templates allows creating a customized landing page within 30 minutes. Just simply pick a relevant template and give it a personal touch and you are almost done.
A huge collection of 1000+ free photos to add into the pages or can add images from your own The built-in toolkit allows creating spanking images complimenting to the pages.It's an advanced toolkit for image customization to make pictures lively and attractive by multiple features like filters, brushes and much more.
No HTML coding skills require to build landing pages. Feel free to drag and drop, resize, crop, reshape, move, and groups the elements.This tool offers WYSIWYG (What You See Is What You Get) editor to edit everything you see on the screen. Once you start to customize the landing page, it becomes aninteresting
You can track the performance of the pages using A/B test and can choose the best suitable design for better conversion.
It offers the integration with popular tracking tools like Google Analytics, Kissmetrics, Google Tag Manager, BingAds,
You may use sub domains to host your landing pages. The

Get Response

offers free hosting to place the landing pages built on its own
Make sure to embed the videos and add social media platform like Facebook to Increase the users' engagement to a great extent.
Unbounce
The features that Unbounce consists are given below:
They provide fast drag and drop facility to create best converting landing pages.Whether you are working on a new template from scratch or using any template, you always get thefull-fledged tool to customize pages.
One click WordPress integration is available. Connect Unbounce to any WordPress site without fulfilling any technical formality to create best WordPress landing pages easily.
Easy addition of the custom scripts using script manager. If you are required to add a custom script like Google Analytics in multiple pages of a domain, the script manager makes it easy in one go process.
I found SSL encryption a cool feature that automatically encrypts the data between server and browser to ensure the high-level security.
Powerful A/b testing gives a wide range of data to find the best converting landing pages. Each test will help seeing how the visitors respond on the pages.
Real-time stats are better to know how landing pages are performing. The results of A/B tests are displayed on the dashboard of the Unbounce to make a quick action for conversion improvement.
Unbounce offers easy integration with the different tools to achieve your marketing goals.
A user can easily add multiple clients into one Unbounce account to manage them at one place as well as can define the process separately for each client.
200+ templates available to create the beautiful landing pages on one go, especially for the quick events like webinars. I found out of 85+ templatesare mobile friendly, and each one has a unique layout for fulfilling a variety of user's needs.
Unbounce offers 30 trial to get familiar with their landing page builder.
You can set alert whenever users submit details to your landing page.
All that a user need is better customer support that it gives via email, phone call, or chat.
Pricing Details for Unbounce Vs GetResponse
To know the exact price details both of these tools, you can go on their respective sites. The direct links to the pricing details are given below. I have also included the screenshots for easy comparison of prices.
https://secure.getresponse.com/pricing/en/
As we can see get response gives both the essential services at the very reasonable pricing also and you can find complete solution for email marketing and landing pages building also through which you can get the high conversion rate at the pricing of email marketing only which is the really winning deal for every blogger and internet marketer also.
While Unbounce gives good landing page building facility, as per our knowledge they don't provide email marketing facility also.
Which is most suitable option for you- GetResponse or Unbounce?
Both the tools are really good and every tool is providing reasonable services and after reading features from above and visiting their official websites also you can decide and choose your best one services here.
Get Response has the both option for email marketing and landing page building also therefore it is on high demand by the internet marketers.
Thanks for reading this Unbounce Vs GetResponse review on my blog. I hope this post should help you choosing the best landing page builder to escalate your sales profit.
Author Bio:
Jyoti Chauhan is a professional blogger and digital marketer from India. She writes about SEO, Social Media, Blogging Tips and product reviews at UpdateLand.com to help newbie to grow their blog.