As a true creative content producer, your mission always involves exploring, discovering, learning, and finding new tips and tricks that will boost your knowledge and make your content stick out of the ordinary to be more recognizable and bond with your audience. Combining it with inspiration and dedication will almost always result in great results that will help your business grow more and more. But those learned skills come with a cost because over the years, and you've stumbled upon countless websites and courses that are lacking proper information and are so messy in its context that you just can't get the facts that you are after.
What if I told you that you could channel your frustration and hunger for learning towards a new business idea with passing your knowledge on others and finally show those authors the proper way to create an online course? That's right, it's possible to create an online course with WordPress, and it's easier than ever!
WordPress has made online guidance much more simple than other providers because it lets you use your imagination to its fullest potential by allowing you to use whatever knowledge you possess and mold it into a course which will serve the people and make you a quite decent side income (if you are a master of your knowledge and now how to pass it on, and I know you do, you can definitely turn course writing into a proper business).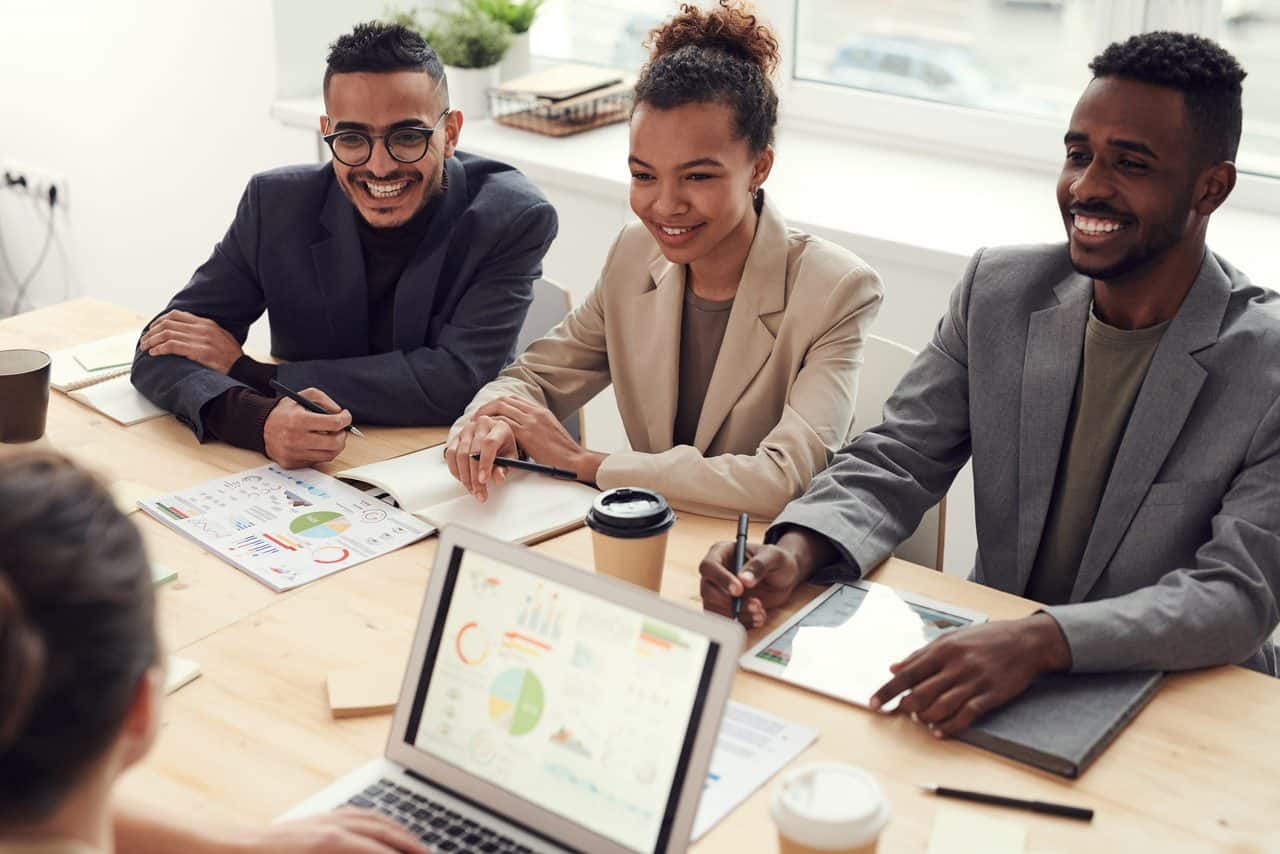 There are quite a few perks when it comes to making courses via WordPress. First of all, it's very approachable for your pupils, considering that there are no acceptance procedures, its straightforwardness makes it easy to apply for whichever course they want, it's a constant growing industry it will attract new users every day, and probably the most important part, the prices for setting it up are very favorable. Also, you can attract some lazybones with a no-homework feature which will save a lot of nerves for you, and "I forget to do my paper" apologies for them.
Let's get to the juicy part that you've been waiting for; how much would it cost to get this mission rolling? To start, you will need a domain name, SSL certificate, and WordPress hosting. Those expenses combined will round up to about $180 per year. You might think that that's a large amount of money for a new field that you haven't explored yet, but don't get your hopes down because there is a "cheat" that will significantly cut the expenses down. Bluehost is an official WordPress hosting provider that gives out a free domain name and a free SSL certificate, with a 60% discount on web hosting. When you do the math, you can start your course writing business with as little as $2.75 per month. Now that's what I call a bargain, and since I know that you can't wait to start, let me give you the instructions of what you need to do next – plugins and themes for a WordPress online course.
Top WordPress Online Course Plugins
LearnPress

If I had to describe LearnPress in three words, it would be powerful, clean, and versatile. This free plugin possesses numerous features with add-ons that are designed to make your course exciting and interactive. Its setup is customizable so you can choose your own preferences, and it comes with many free add-ons that you can experiment with and drastically improve your course as well as the design. Also, there are premium add-ons included with many great features so if you decide that LearnPress is the ideal plugin for you, you can invest some extra cash and make your website extraordinary because they are truly top-notch. This plugin will work with your theme, and with its active development status, you will never have to worry about bugs and unresponsive customer support. With all of its great characteristics, you should definitely try it out.
Sensei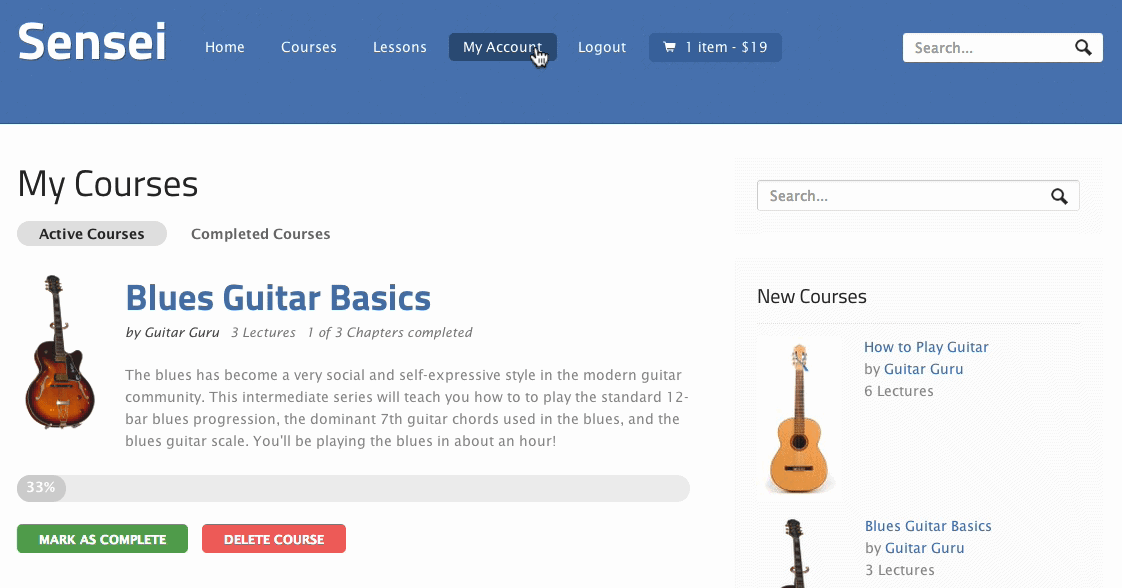 Brought to you by WooCommerce, this plugin is without a doubt a full package. It gives you full insights into your pupils progress, and lets you run all kinds of quizzes, assignments with an option of sharable grades via Social Media and eventually reward your successful users with a certificate. Extensions are at your disposal as well, so you can play around with different layouts and concepts to give your users an exquisite online course experience. The price of the Sensei plugin starts at $129 for a single license.
LearnDash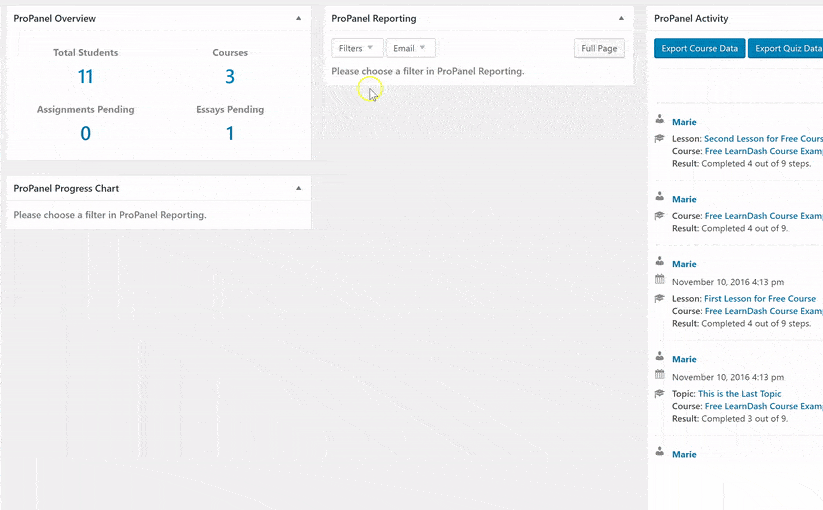 The cool guy everybody knows would probably be the equivalent of LearnDash in the online course section. Creating courses with it is as pleasant as it gets with its simplicity and extremely enjoyable because of the many features you can play around with (such as mobile access, multi-layer courses, lessons scheduling, and many more). You can also use audio, video, and images in your configuration, and with all of those benefits, its price of $159 is a real bargain.
Now that we've covered the plugins field, it's time to give you a shortlist of our hand-picked themes that will perfectly work for you considering both design and features to take the online learning experience to the next level.
Clever Course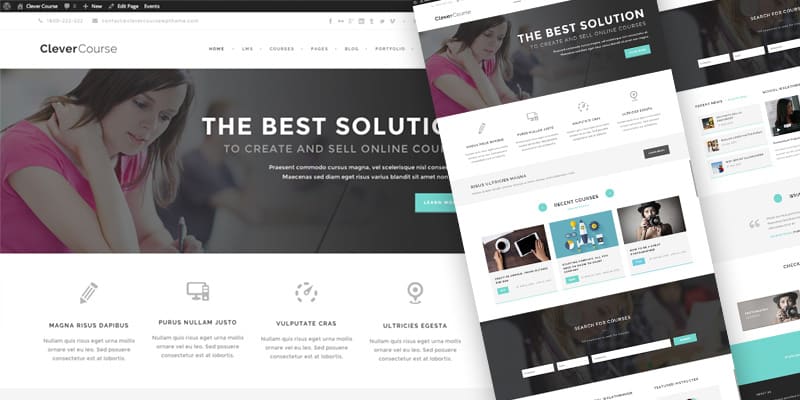 Whether it's high school, college, or university level, Clever Course will immediately become your #1 helper in your course creating and selling tasks. Badges, certificates, quizzes, templates, fonts…you name it, and they've got it! Install it with one click, explore the features, and enjoy the process.
Upside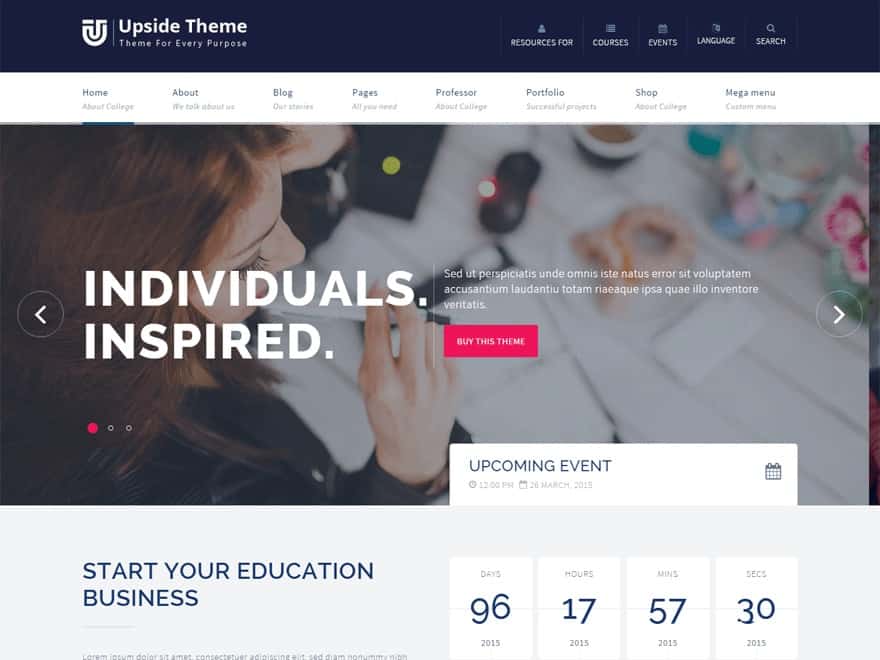 Designed both for educational purposes and professional websites, Upside is the ultimate multi-tool for online course site making. Regardless of your topic, this theme offers countless layouts that will fit perfectly into any environment. It's compatible with various plugins with impressive features that will boost your website to a whole new level. Simple, creative, and ready to become your new theme of choice.
Skilled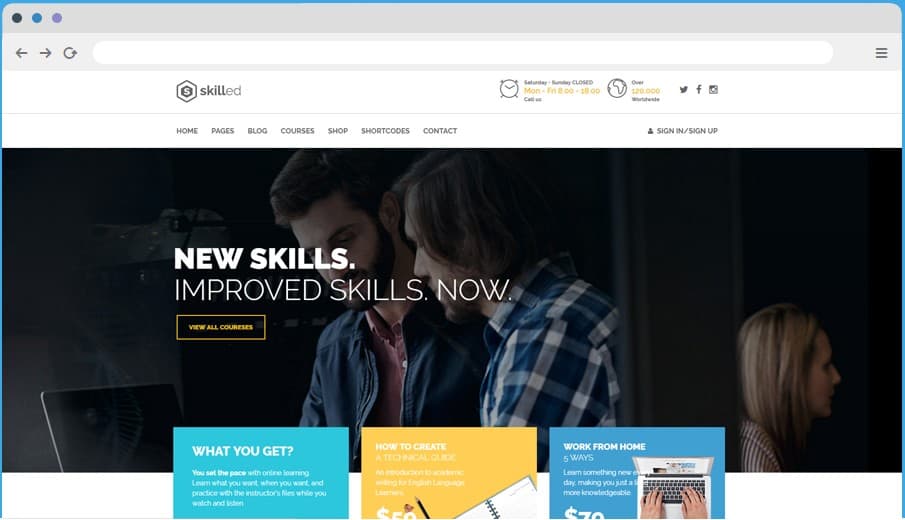 Skilled has one purpose, and ooh, it serves it well – making website building effortless and fun! It offers a responsive layout with fully customizable elements, which means that you can be as creative as you want by adding your signature to the website's design. With multiple slider types and widgets, it will definitely draw attention to your course and since it's always up to date and constantly exterminating any potential error, every user will be able to focus on the content without a single disturbance.
In conclusion, course creating should be a fun process and a product of creativity, knowledge, and experience. Making good content is always the most challenging part because it requires a lot of time and brainstorming sessions so that the result will live up to expectations of both you and your users. But, good content can sometimes fall into the shadow of a sloppy website that just bores the users, and before you know it, they click away. That's why you need to choose the proper tools to make that website extra shiny and polished, and now when you know what it takes, do what you do best – start creating!