Whether you are a huge BTS fan and you want to take your Korean to the next level (at this point, all of us know lil somethin' somethin'), or you want to upgrade your backhand until the next neighborhood tennis tournament, online courses are the way to go. The main advantage of online learning is its affordability, not to mention the fact that you can find and learn virtually anything that crosses your mind from portrait drawing to kung fu fighting (the rime is intentional, I'm the next Travis Scott). Needless to say, these websites can cash in big time, especially if they are focused on one particular skill and easy to navigate.
If you are considering putting your skill and knowledge online and earning some money while doing what you know and love, then you should look no further than some of the very popular WordPress LMS Plugins.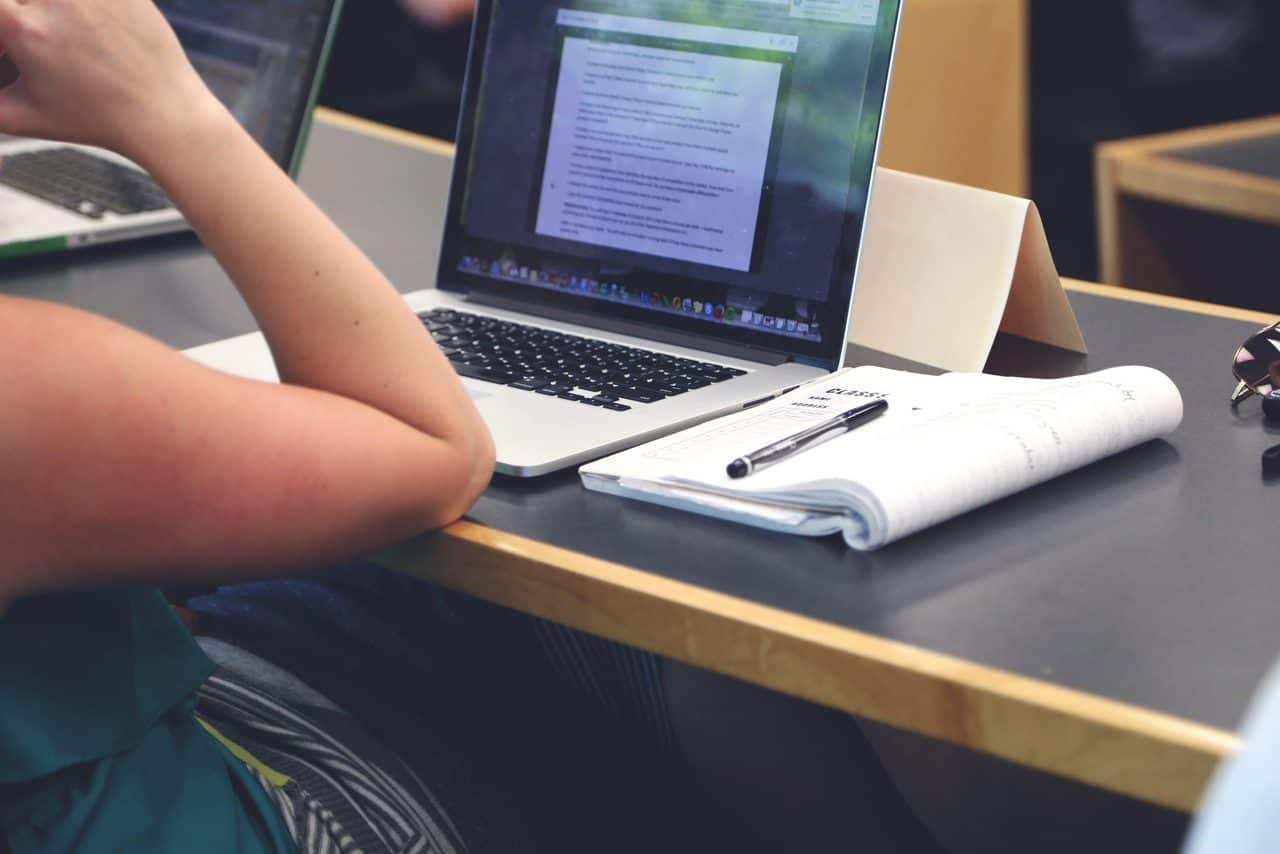 LMS stands for Learning Management System, and every plugin with this "prefix" combines a variety of handy features to present a perfect class setting that enables students to study from home. Finesses depend on the WP LMS plugin you opt for, but in general, all of the tools that are included allow you to take classes, enroll students, share coursework, and test your students with quizzes. These are just the basic and most usual requirements for a proper LMS plugin, but most plugins offer a lot more useful and fun features. Before you go for one, you should make a list of requirements that are most important to your future course website, and work from there.
In this article, we will list and chat about some of the best WordPress LMS plugins that are currently on the market. Hopefully, our choices will help you choose your own perfect LMS plugin.
LearnDash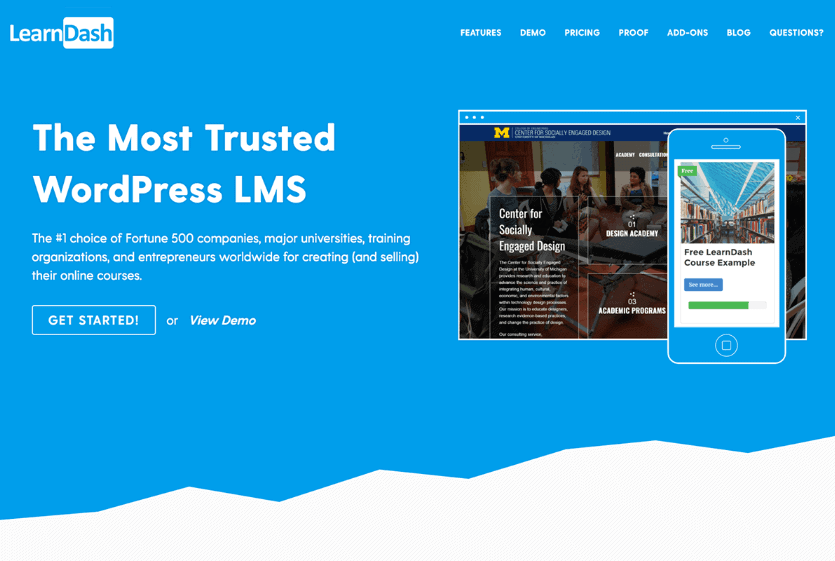 LearnDash is, without a doubt, the most popular WP LMS plugin at the moment, and for a good reason. This terrific plugin is used by numerous Fortune 500 companies, training centers, and top universities all over the world. Its overall impressive speed and stellar online course design are just a starter. The secret of the success of LearnDash lies in its outstanding features set. Here are just some of the highlights of this awesome LMS plugin:
Highly capable drag and drop type course builder for making multi-layer courses.
Eight different types of questions for creating advanced quizzes.
Drip-feed content options – you can schedule it for "X Days" after the initial enrollment or for a specific date.
Award systems for learners – points, badges, certificates, etc.
Payment options through popular gateways such as PayPal, 2Checkout, and Stripe.
Set subscriptions, one-time price, or membership access to your respective courses.
User profiles are set as front-end so that the students can keep track of their course activity.
Last but not least, the pricing on LearnDash is set on an annual basis, so it is pretty affordable, but there is no free trial. However, you can cancel your subscription within 30 days if you decide that you don't like it.
Lifter LMS

Lifter LMS is a very good alternative to LearnDash, and it is considered to be one of the most powerful software builders for WordPress sites. Just like LearnDash, it comes with a full set of impressive LMS tools to let you make, customize, protect, and sell great online courses in WP. Some of the top-notch features that Lifter LMS has to offer include:
Support of multimedia, including audio, text, video, and images.
Easy-to-use multi-tier drag and drop for building courses and creating lessons swiftly and effortlessly.
It allows you to make engaging multimedia quizzes, set timers, etc.
Content dripping and prerequisites to deliver proper content over time.
Discussion areas and multi-instructor support.
Achievement badges and certificates for your students.
Recurring payment or a one-time payment set up, as well as coupons, self-course bundles, etc.
Lifter LMS also integrates very well with WP form plugins and email marketing tools.
If you decide to go for Lifter LMS, you should be aware that the pricing for this plugin starts at $299 per one year for a complete LMS bundle.
WP Courseware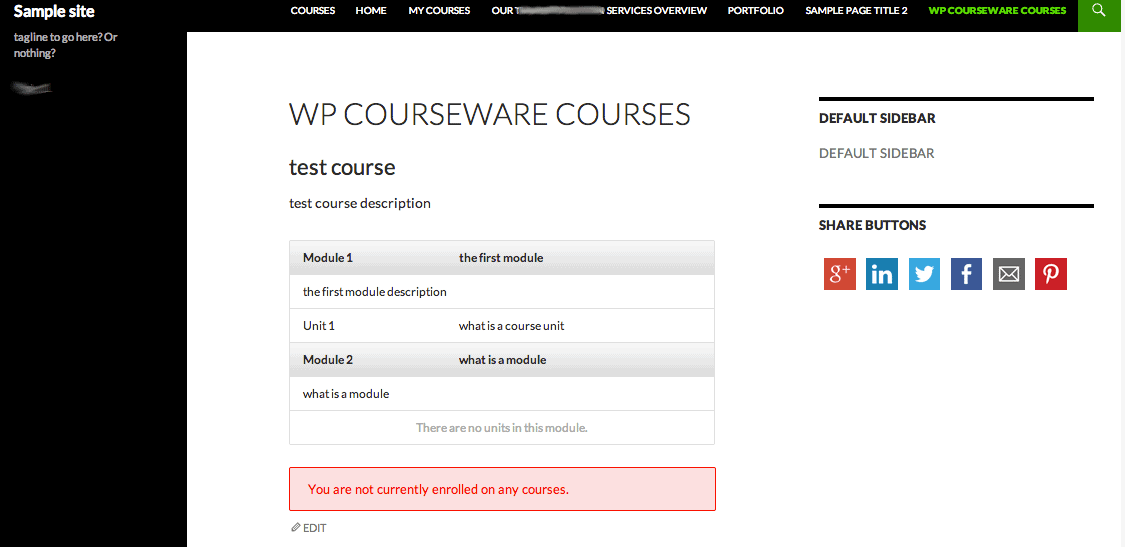 WP Courseware is also one of the more popular and promising LMS plugins at the moment. It is used by several prominent universities, including the University of Wisconsin Madison and the University of Illinois. If that doesn't speak enough about its quality, we should also mention that WP Courseware can also be found on several enterprise training sites, for example, those used by CNN and Sheraton. Some of the best features of this LMS plugin include:
Drip content scheduled to be released by date or at precise intervals.
You can create marvelous quizzes with timers, reporting, retake limits, and surveys.
You can view progress reports and quiz results of your students with quiz grade books.
Give certificates as an incentive.
It also features a very practical built-in shopping cart connectable with PayPal or Stripe.
It easily integrates with membership plugins and eCommerce.
Works great with most WP themes.
Pricing for WP Courseware is fairly affordable, starting from $129 per year for a 2-site license.
LearnPress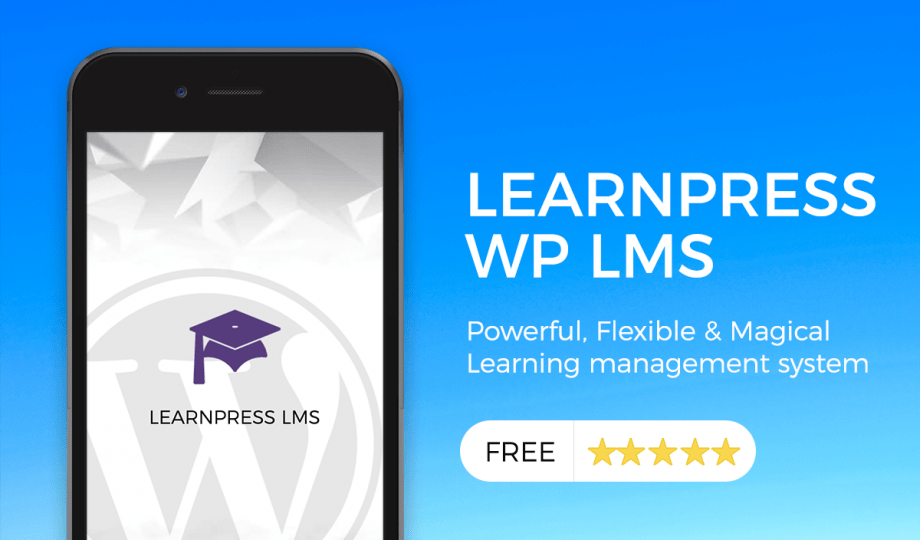 LearnPress is widely viewed as the cleanest LMS option in the world of WordPress. The plugin itself is completely free, but you will probably have to pay to acquire a LearnPress compatible theme. As praised as it is for its numerous advantages, LearnPress is also criticized for its lazy and uninterested customer support. However, keeping in mind that most basic add-ons for LearnPress are free, and the email support usually responds within 24 hours, it is no wonder that a large number of LMS users prefer LearnPress over all others. Some of the top characteristics of LearnPress are:
The landing page template for add linking and talking about course elements, curriculums, etc.
It allows you to make a gorgeous page that advertises to people who would want to become instructors.
Supports a huge collection of payment getaways such as Stripe, 2Checkout, and Authorize.net.
LearnPress also allows for two or three instructors to manage one course.
The point system and badges are available to motivate your students further.
Content drip is also there, and so are random quizzes, a WooCommerce add-on, and paid memberships.
In conclusion, one major advantage that separates LearnPress from other similar plugins is the fact that it is free. It gives you a chance to create a simple, but insightful course, without being stuck with paying an annually recurring fee.
Sensei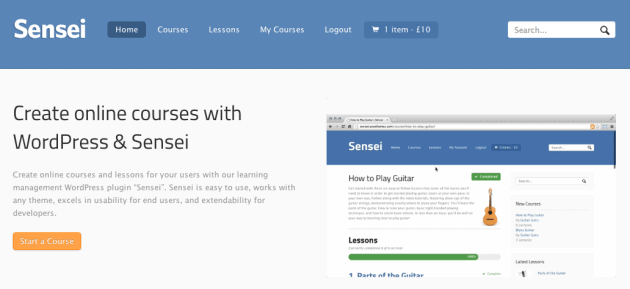 Sensei is somewhat different than its counterparts because it is extinction for WooCommerce. That makes it a very practical tool for any eCommerce store that wants to have videos and courses. In case you were wondering, Sensei doesn't need a particular WooCommerce theme to function properly. The majority of WordPress themes will work well with Sensei. Some of the key features in Sensei LMS plugin are:
It is easy to navigate with both WordPress and WooCommerce, so the user experience is similar to that of making a WP page or post.
The user registration goes through WordPress, so users should find it easy and familiar.
You are able to charge for your course instantly, thanks to the WooCommerce integration.
Course analytics provides info on course completion, grading, and registered students.
Sensei also shows random quizzes based on the list of questions you set before launch.
You can opt to set the quiz grading to manual or automatic.
The pricing with Sensei starts at $129 and can go up to $279, depending on the number of sites you want to run. The price is for one year, so you are required to upgrade annually.