Over the past few years, the number of dropshipping businesses has been growing exponentially, so much so that it is well on its way to becoming more popular than the good-old proven system of online stores if the trend continues. One of the main reasons for its planar popularity is that the seller can turn a large profit without a lot of starting capital.
However, just like any other business, running and starting a dropshipping store has its drawbacks and challenges when starting.
Running an online business is hard enough as it is, but when you add the extra confusion of owning your own dropshipping store using WooCommerce, things can seem too hard to grasp at first. WooCommerce, on its own, lacks all the features necessary to run a dropshipping store efficiently. That's why, over the past few years, countless plugins have been made to fill the gap.
These plugins will allow you to run your store the way you want to while simultaneously offering your customers an amazing user experience.
In this article, we'll be going through plugins we believe to be your best solutions for this problem.
What exactly is dropshipping?
Dropshipping is an online business that doesn't keep the products they sell in stock. Instead, dropshipping businesses buy products from other sellers and ship them to customers. There are many places online nowadays where you can find third-party sellers who can ship directly to your customers. Some of these sellers will even be open to negotiating a deal of putting your own packaging or just adding a brand name on it to make your business way more memorable and aid it in expanding better and faster in the future.
There's only a handful of things you'll need if you desire to start a shop of this kind. WordPress website hosting, your domain name and an extension for WooCommerce, and of course, a WooCommerce Dropshipping plugin that's going to convert your eCommerce store into a dropshipping one. From here onwards, you can do your best and have a go at building your very own online empire.
So, which plugin should you choose to do this?
Keep on reading to find out and take a look at some of our recommendations that can help you get started.
WooDropship
This plugin has the option to either buy a custom dropshipping store or connect it to your pre-existing eCommerce one and convert it. The plugin is fully compatible with all WordPress themes and other plugins. With it, you can easily add product lists from AliExpress to your own "import list" using the WooDropship browser extension. Once you have picked the lists you want to have on your site, you can edit the lists to suit your site's feel and theme. It also comes with a special tool to make it even more authentic, a specially designed watermark removal tool that's sure to make the entire thing look completely your own. This plugin also comes with automatic price sync; whenever a price gets higher or lower on your third-party vendor's site, the same will happen on yours automatically. It also greatly simplifies fulfilling your orders, products your customers choose will automatically be added to a cart on AliExpress and their information will be automatically filled during the check-out.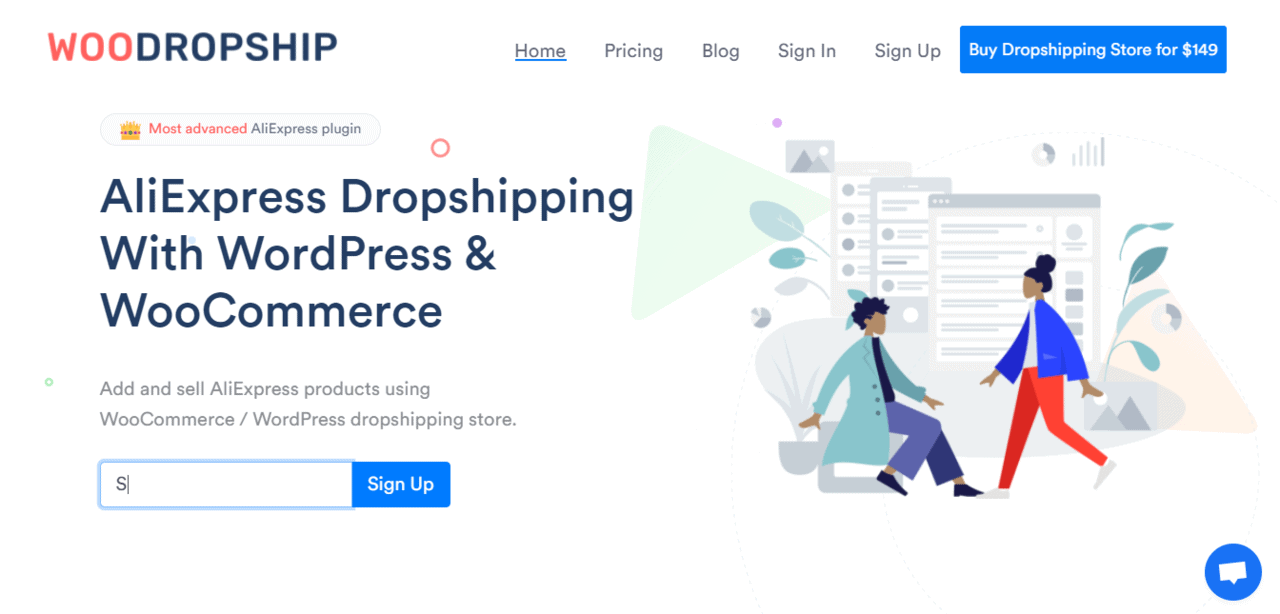 FEES:  WooDropship offers a 7-day free trial to give their potential users the ability to explore their options. If you end up liking it and decide to get it after the trial, you can get a lifetime plan as a one-time purchase for 97$, or you can choose to subscribe for 19$/mo. Neither of the options includes the purchase of the store.
DropshipMe
The main difference between WooDroship and DropshipMe is that the latter already comes with a curated, hand-picked list of over 50,00 products that you can add to your site.
All you have to do is get the plugin in, search their selection, and pick what you want for your store. One great thing about this plugin is that whatever products you pick, the images and product pages are going to look great already, as professionals have previously edited them. Hence, it takes a lot of work off of your back. Generally speaking, reviews are critical as people are way more likely to purchase from a site that has them instead of a site that doesn't, and with DropshipMe, you can import them straight to your store and advance faster.
The plugin only takes products from the highest-rated suppliers and provides its users with recommended price markup to ensure you're getting everything right.

FEES:  DropshipMe also has a free version, but it allows for the import of only 50 products; for 29$ you can get 100 product imports; for 119$, you get 500 imports and 1000 imports for 199$.
All of these are one time purchases. There are also some extras thrown in with every deal.
Spreadr
Spreadr is quite a simple plugin that enables WooCommerce sellers to import products from Amazon to their own stores. To add products from Amazon, just copy the URL of the product that you chose onto the Dashboard and click add. After that's done and the product is in the store, feel free to customize the product name, description, image, or any other important detail you wish to elaborate on. Every product on the page has its own indexable URL, which leads to SEO and, in turn, more traffic. The dropshippers from Amazon can set up markup rules to make sure there is a natural cap. The products' availability also auto-syncs directly with the corresponding Amazon store to make sure your store never sells an out-of-stock item.

FEES:  There are many different versions of Spreadr you can choose from; the Basic is the only one that doesn't include all features, as for the rest, the only thing that changes is the amount of auto-sync products. The Basic version costs 6$, The Pro 12$, The Gold 20$, The Super 35$, and The Jumbo 60$. 
Dropified
As is the case for all plugins on this list, Dropified's basic function is to find and import third-party vendor's products onto your dropshipping store. A neat feature this plugin has compared to the others is that your products can get a custom label printed on them, which will help you launch your brand in a cost-efficient way. This process is relatively fast as even with this; you'll fulfill orders in the US within 3 days. Another useful thing about this plugin, in particular, is that it imports from both AliExpress and eBay, which effectively doubles your options. If all this still seems quite strange to you, Dropified offers step-by-step video training to help you get your business going. This is probably a great option for someone who's just getting started as the entire process up to delivery is automated.

FEES: There are two options to choose from when getting Dropified, one more geared at smaller businesses looking to dropship from eBay or Ali express quickly and the other focusing more on helping you start your custom brand. The formed, appropriately named, The Import costs 17$/ mo plus 8% of the product cost and the latter The Private Label on Demand Plan costs 197$/mo plus 3% of the product cost.
Spocket
Spocket is rather special among its peers as it works with both US and Eu suppliers. Choose your products, sell them with ease, and track the entire process on your app. Given the fact that about 60% of the suppliers Spocket works with are based either in the US or the EU, fast and safe deliveries are a guarantee. There is no upfront cost, and if you wish to check it out at first, you can do so without giving away any credit card information. A unique feature to look out for is definitely branded invoicing. In a world of quite uniformed dropshipping stores, it's sure to make yours more memorable and create a sense of your brand's identity. Spocket also guarantees a discount of 30 to 40% on all products.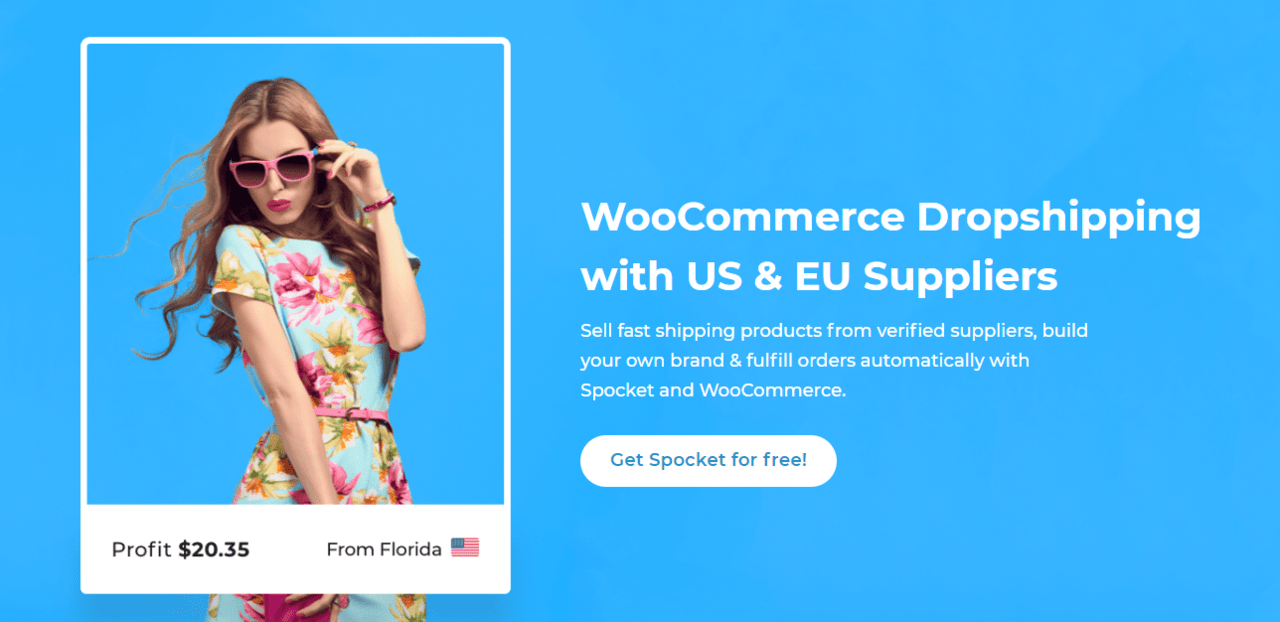 FEES:  With Spocket, you can start free, then when your shop grows, you can choose between the Starter for 24$/mo, which promises to boost sales, the Pro for 49$/ mo to maximize sales, or the Empire for 99$/mo.
Final Thoughts
All things considered, Dropshipping shops might not be for everyone to run; it's a cutthroat business with a lot of competition. So, unless you make a great deal of effort and thoroughly research the mode of efficiently running one you might run into hurdles. However insurmountable they may seem at first, sometimes failure cannot be avoided, and instead of giving up, it's important to keep going. The road to the top is never a straight line, but these WooCommerce plugins are going to help minimize the hurdles you'll come up on along the way. Using one or more of these plugins is sure to help you build a profitable dropshipping store with WordPress and WooCommerce.