The EaseUS Data Recovery software for PC provides state of the art reliable, and effective data recovery feature specializing in HDD and SSD. With this technically advanced software, you can restore all files on Windows XP/Vista/2003/2008/7/8/10 which have been accidentally removed, formatted, or even not accessible.
This advanced software makes an index search more extensively into storage media products than other software on the market, which guarantees a great result.
EaseUS offers free recovery software for PC and is able to recover different data sets from all kinds of data loss scenarios.
Lost data recovery; Accidentally deleting a file or emptying the recycle bin are the user's common regretting actions. But luckily, EaseUS free data recovery software provisions the function of bringing back the deleted file.
Partition recovery; Recovery of partitions is important when you lose, detach, RAW, and unavailable partitions. The reliability and effective data recovery feature of this software can recover the lost files as easy as it gets
Formatted file recovery; Incidents of accidentally formatting a storage device happen, and the consequence is the loss of data. Do not worry, EaseUS Data Recovery software for PC also supports data recovery from formatted data scenarios.
Storage media recovery; It is quite common that a storage device gets corrupted or damaged so that the files become inaccessible, and in order to retrieve the data, EaseUS free Data Recovery software can assist in recovering data from HDD, USB drive, SD card, digital camera, video player, and other supported devices.
Emergency data recovery; Disasters such as file infections, sudden device crashes, and extreme boot errors can lead to data loss problems, but they do not occur less commonly. To restore cached files from malware or missing data due to system unintended shutdown, EaseUS data recovery software for PC can be of assistance.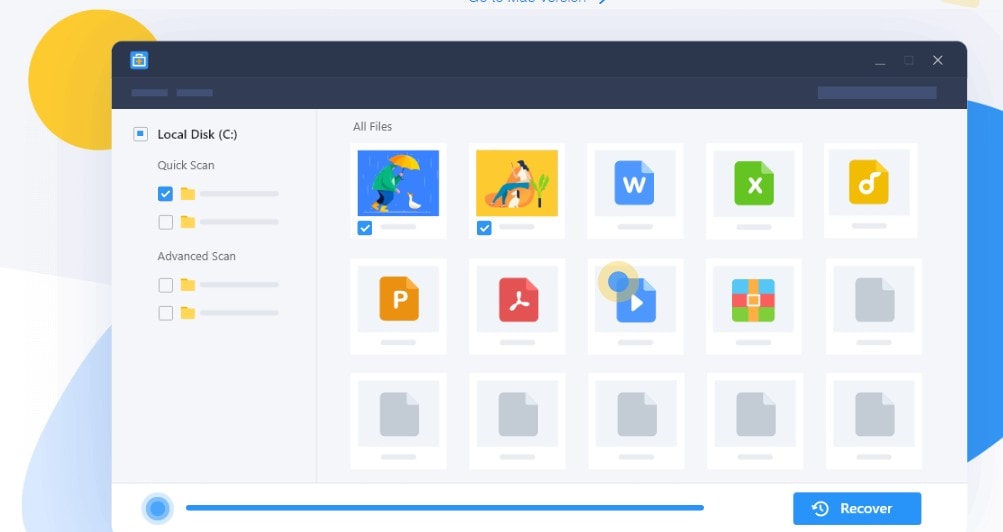 What makes EaseUS different from the other competitors? Their product offers a wide range of features to help you recover different data sets in different situations. These underlying features will help you better separate EaseUS data recovery software from the others.
Advanced scan algorithm; There are two algorithm mechanism underlying the EaseUS software; The QuickScan mode devours less time, but the Deep Scan mode will need more time to index the drive inch by inch for
Recovering while scanning; Another great feature of the software is that you don't have to wait until the whole scanning process is complete. Therefore, you can recover any data that has been showing up in the result during the scan process.
Filter a specific file type; The filter helps you narrow down a specific file type hence giving you quick access to what you are looking for
Export/import sessions; Data recovery on devices with large sizes might take a long time; therefore, with EaseUS, you can schedule the data recovery scanning process.
Tags accurately locate files; this incredible feature groups related file types like photos, audios, and documents together for a smoother and quicker data recovery experience.
Preview to check the integrity; to ensure that the recovery was successful, you can preview the files and check their intactness.
In case the data recovery of damaged and corrupted photos and videos were not successful, EaseUS Data Recovery Wizard offers a unique feature of repairing image files and video recovery, of which the core file was ruined.
EaseUS file recovery can automatically detect and restore the lost JPEG/JPG picture formats, and in addition, this feature allows extracting and repairing the thumbnails of the desired JPEG/JPG files. Before making the final recovery, the repaired photos can be viewed.
The recovery program can also restore corrupted, disabled, and deleted videos on MP4 and MOV cameras, which are more frequently used, such as Canon, GoPro, and DJI cameras. Attach the camera directly or take the card off and attach it for a complete video recovery and repair to your device.