One of the key pillars a website rests upon is the hosting. A good hosting service will provide speed, stability, and security while a bad one makes your site feel broken significantly diminishing your traffic.
Unfortunately, because there are so many sites nowadays, there's an ever-growing number of hosting services on the market and it can prove difficult to find one that actually does what it advertises to do.
One of those that live up to the billing is HostArmada. A relatively new player in the game, they launched in 2019. and are looking to take the market by storm. While they don't have the backdrop of a long and storied history, they do have people who have a proven track record in the field and have started a project aimed to bring you only the best hosting has to offer.
S for excellence
The HostArmada foundation is built upon three essential characteristics any hosting platform must excel at in order to be successful – speed, security, and support (all of which we'll cover in more detail momentarily). It is often the case with these types of services that resources are limited and therefore diverted into one or two of these while the others lack the necessary punch. There'll be none of that with HostArmada, their servers are perfectly optimized (with an emphasis on WordPress based sites) ensuring only the fastest loading times; there are layers upon layers of firewalls keeping anything malicious out; technical support is always available and responds almost as fast as the sites run.
Got to go fast
Without a doubt, the first thing that comes to mind when thinking of hosting is speed – is my site going to be fast enough. This is only natural because studies have shown that an average page needs to load in approximately just 3 seconds, with a more lenient 5 seconds for sites with more demanding content. While those blazing numbers are not set in stone, they should be the goal, because that's what your audience expects. Being slower will mean you're getting on the proverbial wrong foot right of the bat which will surely put visitors off, negatively affecting traffic.
HostArmada runs its servers using two technologies – Nginx and LiteSpeed. Nginx is the most widely used and most hosting services swear by it. On the other hand, LiteSpeed is something new that's still just gaining steam; however, the results have so far been very promising, even putting it ahead of Nginx.
Additionally, LiteSpeed also includes cache plugins that integrate with open-source platforms enabling things to go even faster. The aim of both is to provide you with high speeds that won't drop off when traffic gets high i.e., stability no matter the strain.
Aside from the two server technologies used, HostArmada boasts exclusively SSD drives for storage. While not the standard yet, SSD drives are slowly overtaking the industry because they've become more financially affordable. To ensure even "heavier" sites are loaded quickly the Brotli compression is used on LiteSpeed powered servers and the Gzip compression on Nginx powered servers – algorithms that reduce the size of pages, shortening loading times significantly. Also, LSCache, APCu, and Memcached are all available on LiteSpeed servers.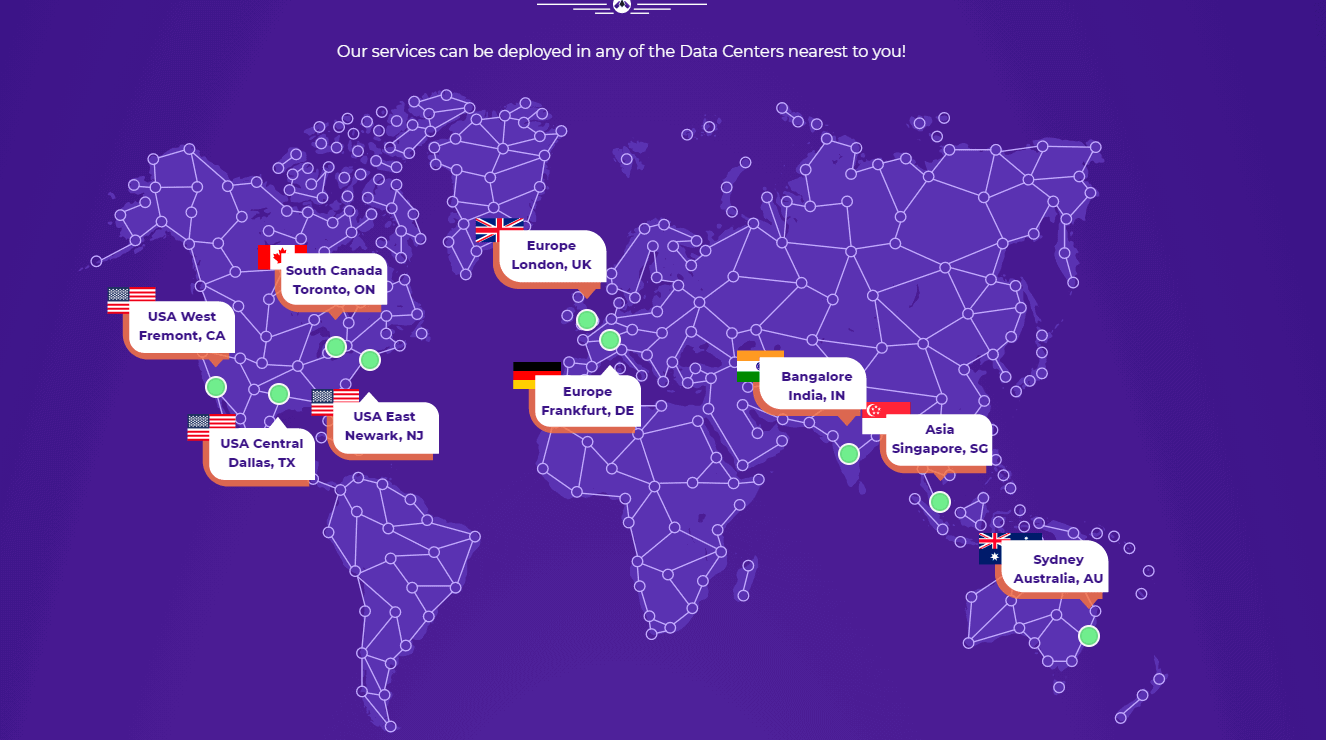 Physical distance to the server is one of the things that need to be accounted for when calculating the speeds you'll ultimately have on your site. HostArmada features nine data center locations across the world spanning from the west coast to Australia that ensure coverage. Coverage is therefore always excellent since you'll have a preferred server in your vicinity at any given time.
Lock it, secure it
A fast site is something everybody sees since it's right there for the frontend user; it's always there at the forefront. Security is an issue only after there's been a problem. Unfortunately, because of this, you can find yourself in a situation where you were underprepared, attacked and ultimately your site has suffered for it.
Using HostArmada you can essentially transfer security issues on to them and not worry about a thing.
They keep their software always up to date, with an implemented self-learning system that can detect threats to the site before anything happens. For an added touch, their base IP-based firewall is combined with hundreds of custom-tailored mod-security rules safeguarding from anything such as brute force attacks, SQL injections, or DDoS.

In the unlikely chance, something does get through the malware scanner (included in every tier for free if you believe there's been an incursion) will be able to pinpoint the threat and then you'll be able to quickly neutralize it. If there's comes and even more unlikely situation where the threat can't be detected, HostArmada still has you covered with daily backups. You'll get to restore your site to any of the previously made backups to keep it live while you search for the threat. Speaking of uptime, HostArmada abides by the 99.9% industry-standard, meaning your site will potentially be down in only the most dire of circumstances.
You know your security is up to standard, but what about your visitors? The SSL certificate has become a beacon of safety on the web in recent years, so much so that sites that don't have it, or it has expired are blocked outright by the browser or by the locally active firewall. HostArmada will both offer free SSL certificates and keep track of them for you so none will expire without you knowing.
Call on them
We all know that sooner or later something will inevitably go wrong. It could be an outside attack, a bad patch, a glitch in the system, or even a human error, nothing is perfect. These instances have proven themselves most stressful in web management, especially if it's something major that means your site is not functioning at all, or completely unavailable to reach.
In times like these where you're left only with questions, you want solutions, and you want them right now. Even though this is by no means a position you want to find yourself in, HostArmada will do their utmost to make it easier on you.
You'll be able to reach their technical customer support service 24/7 by phone, chat, and tickets, where the first two are great for quick fixes that can be done on the spot (immediate response) and the last one is for complex issues their staff needs to dig in deeper (response within 10 minutes). The support isn't exclusive just to their services either, so you can get help even with the apps and plugins you use on your site to a certain degree, as you'd expect.

Support isn't just for when things go wrong either, but also when they're just starting i.e. site transfer. Transferring a site is never an easy process, even though it seems like it on paper sometimes. There are a lot of moving parts and things can get complicated rather quickly. Not to mention you're switching the way you do things, getting out of your comfort zone, at least a little.
Essentially, comparing stress levels, there isn't much difference between times when your site is transferring and down. HostArmada offers free site transfer that's done mostly without needing your input, however, you'll need to be involved to a certain extent. Thankfully, the support staff will be with you every step of the way to guide you and make the transition as smooth as possible.
Paying the piper
By know you have a pretty clear grasp on what to expect from HostArmada features wise but let's see what all of that will cost. Firstly, let's break down the three types of packages: shared cloud SSD hosting, VPS cloud SSD hosting, and dedicated CPU cloud SSD hosting. Each of the packages has further sub-tiers you can get for your site and none of them binding, so as your site grows you can switch it up anytime you need. Therefore, it's wise, especially if you're just starting up, to go for the lowest tiers first and then gradually work your way up as your site becomes more popular and your traffic grows.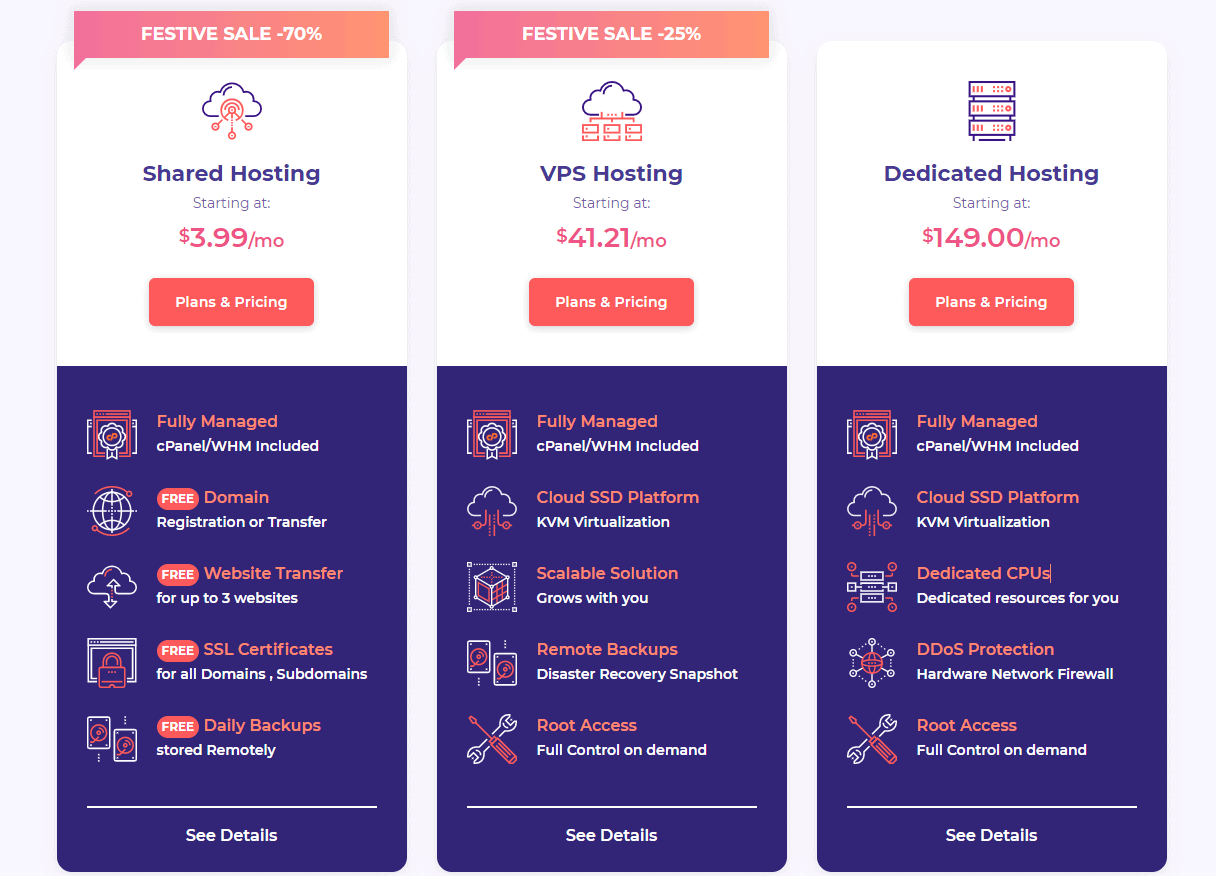 Shared cloud hosting has overarching features through the three tiers like a free domain name, unlimited bandwidth, or cPanel. As you move up through the tiers your cloud storage will increase, as well as the strength of hardware being used (CPU and RAM) and the number of unique visitors your site will be able to handle.
VPS hosting runs pretty much the same way, only bigger in scope (aimed at more established sites with more traffic) with dedicated resources (CPU, RAM, storage) and has four tiers instead of three.
Dedicated CPU hosting on the other hand represents the premium option of the three. The basic premise is again the same overall, only this time even bigger in scope, along with using highly powerful CPUs for the most demanding of sites.
For more information regarding plans and features, we urge you to check out the HostArmada pages, where you'll also be able to take part in their seasonal promotions that significantly lower the base prices across the board.
Summary
If you've ever been involved in site management you know that bad hosting can be a weight around your ankles that will lose you time, money, and visitors. On the other hand, good hosting service is one you use, but don't pay attention to – if everything works as it's supposed to, you'll forget all about it. That's precisely what you'll be getting with HostArmada, a robust tool that will work for you in the background and enable your site to thrive. For anyone looking for a hosting platform, be it something small, just starting out, or something already established, we highly recommend HostArmada.