Qadabra review

–

If you are searching for the new platform to make money online from your blog then this post is going to give the perfect solution for your need. No doubt Google Adsense is the most popular choice of maximum bloggers to monetize the blogs but because of their changing policies some peoples may got banned by Adsense and now not finding the right ad serving network then i would like to suggest them qadabra may be a good choice because it is very flexible.

Before few years ago i was very happy with the Adsense for publishers program but now i am feeling that payment per click is lesser than few years back so i am also planning to try some new ad serving programs. In this qadabra review i will share some informative details about their publisher programs which is really helpful for us to monetize our blogs more effectively.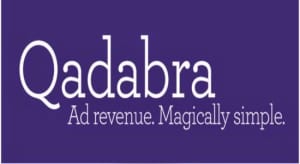 Qadabra Review

–

There are too many things which i like in qadabra which are as follows:-
No minimum payment threshold, if you have earned $1 then you can get paid via pay pal, no one advertising network is giving this opportunity, it means no need for waiting for your money and you can get paid what you have earned.
There is no condition of minimum visitors volume and number of page views, what ever your traffic you can join it.
Rates are really good, they pay performance based payment which is really nice technique in my own views.
Adding their ad code on our site is very easy, you can just copy the code and paste it on your blog then done.
After implementing the ad codes you can see the banners of their ad on your immediately.
Tracking is also easy, you can see what is the performance of ad units on your blogs after login in to dashboard.
Good supporting team to help you when you are facing any problem.
So many things are there in qadabra ad serving program which really attracts the bloggers or web masters so we can try in them to monetize our blogs. I hope the review is informative for readers of the post. You can read about some more top best PPC ad networks also on this blog. Thanks.