Earning of Google adsense now can be improve easily by using best adsense plugin for WordPress based blogs. Adsense is still major source of income for millions of bloggers and they always want to know how we can improve their blog income by doing same efforts.
There are so many tricks to improve income from program but choosing a right Adsense WordPress plugin can boost up your income.
These plugins helps blogger on how to / where to / perfect opening ads units so is can magically increase the rain of money online without doing any extra effort in blog content or search optimization.
Top 3 Best Adsense Plugin for WordPress

–

1 – Quick Adsense –

This is the most popular among all plugins because you can place up to 10 units at any best place of your blog easily, you can put ad units with in the content of blog, in starting or end of the post. Not only limited to this but you can put ads according to the area either on left side or right side of the page. I have personally used this on my many blogs and completely satisfied after trying it.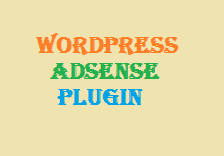 2 – Google Adsense Publisher –
It is the official and best plugin by Google and supports all products of Google like web master tool, Ad sense integration etc. It allows to add ad units easily and by doing 1 click only you can enable mobile friendly ad layouts also which is highly needed for every blog because of increase in web site visitors from mobiles and tablets. You can verify for web master tools with 1 click through this plugin.
3 – Easy Plugin for Adsense –
The name itself says easy it means you can manage all ad units easily and run advertisement according to policy of Google. It automatically blocks more than 3 ad units per page. It provides sidebar widget also and allows use of link units also very easily. It supports multiple language ad units across the globe also which is in high demand now a days.
These all 3 above described best plugins are really helpful for bloggers to improve revenue generation easily from next day with same amount of visitors traffic on WordPress blogs.
If you know more about some more best adsense WordPress Plugin then you can post in the comments below.