If you happen to be a WordPress website owner, which you probably are, you'll have to keep your website up and running without problems somehow, and that isn't always really easy. Every now and then, you'll have stuttered, and even worse… Your whole website will crash, sometimes even for a few hours, and all of that just because you failed to maintain your website properly.
So, how do you make sure none of this happens? Well… There are lots of easy ways and lots of hard ways, but right now, we'll focus on some easier ones, and for a reason, too.
If you search for some guides about all of this on Google, the chances are that you'll land on some good ones but some bad ones too, so we'll just keep it all short and simple, so let's check out the top 10 WordPress maintenance services that will help you a lot.
Have you already been hacked? Lost your password or entire account? Are your core files compromised? The free Emergency Recovery Script will solve your nightmare with a single click.
WP Site Care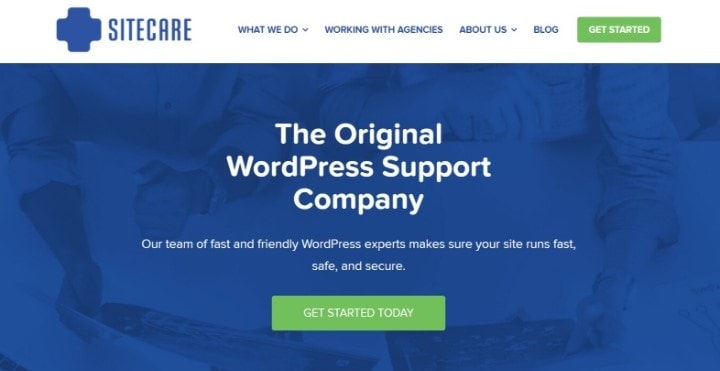 When talking about services that take good care of your WordPress website, one of the oldest and the best ones is Site Care. Launched in 2012, Site Care is serving thousands of clients worldwide, which has to mean something.
What WP Site Care does is pretty simple, they make sure your website is as fast as it can be, as stable as it can be, and also backed up, just in case that "can be" messed something up.
With these features, you'll be safe from any hackers, you'll have a better search engine ranking, and you won't have to worry about your website going down when you need it the most.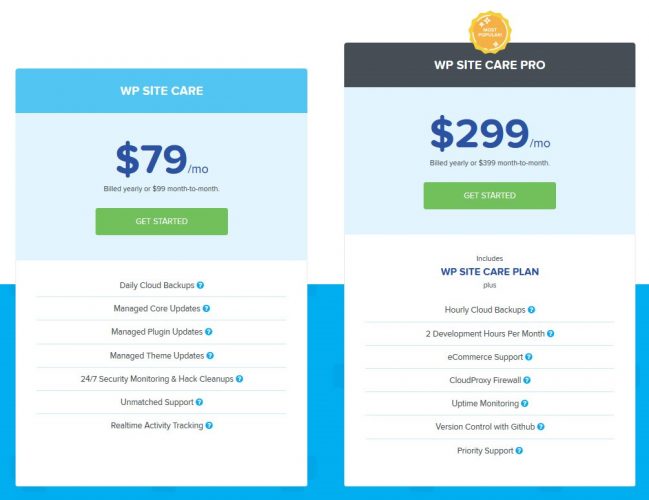 Once we jump over to this service's price, WP Site Care isn't that bad at all for the features they offer. With both the basic and the pro package, you'll get cloud backups, 24/7 security monitoring, and managed updates for your plugins, themes, and some core features, too. Pro package does give you eCommerce support, uptime monitoring, and faster backups, so look out for that.
GoWP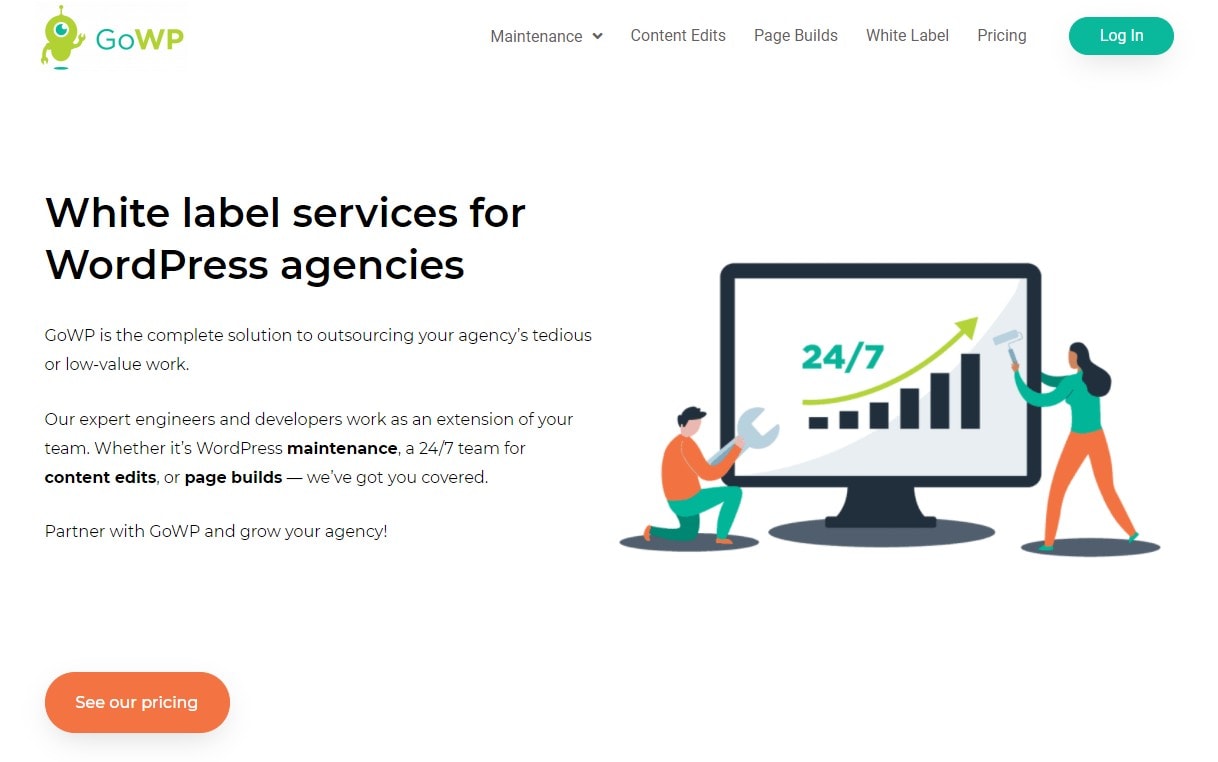 In case you are running a smaller website with a smaller budget, you shouldn't miss out on GoWP, which offers lots of good features for a pretty nice price.
GoWP, which started its journey back in 2009, was not always focused on maintenance but web design. After some time, they found their niche and are still running today, and they are running well. This website offers you services that are almost the same as the previous one we mentioned, but for a lower price.
For the price of a basic plan, which goes in at only $29, you'll get features like:
Visual Validator WordPress Updates – Which makes sure plugin updates won't break your website with their screenshot technology.
90 days of off-site backups – Which, well… Back up your website in case anything goes wrong.
Daily Security Scans and Malware Cleanup
Maintenance Dashboard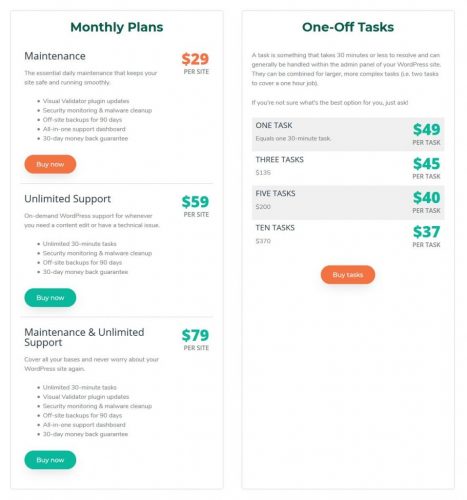 Besides these, there are lots of other features that GoWP offers – all for only $29! This one's definitely a steal.
Maintainn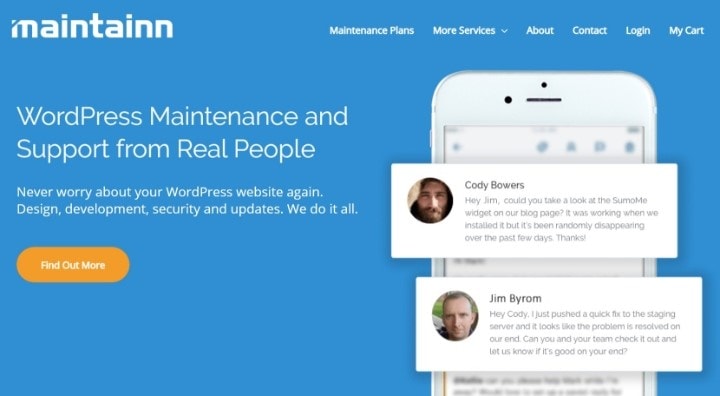 Just like the name of this service, Maintainn is a pretty simple maintenance service that takes care of every aspect of your website, so you don't have to worry about anything.
Being focused on bigger companies, Maintainn is currently working with some giants like Microsoft, MyFitnessPal, Campbell's, and many other companies, meaning that you don't have to worry about their services' quality.
What Maintainn offers is:
Weekly WordPress updates, so your site runs as smooth as ever,
Website security which will make your website safe from hackers and other malware,
Data migrations – in case you want to change your current host, Maintainn will transfer everything for you.
Offsite Backups,
Custom development – in case you need some codes on your website modified.
On top of all of this, Maintainn also offers support that's there to help you throughout the day, if you need any. All of this is pretty nice, but what about the price?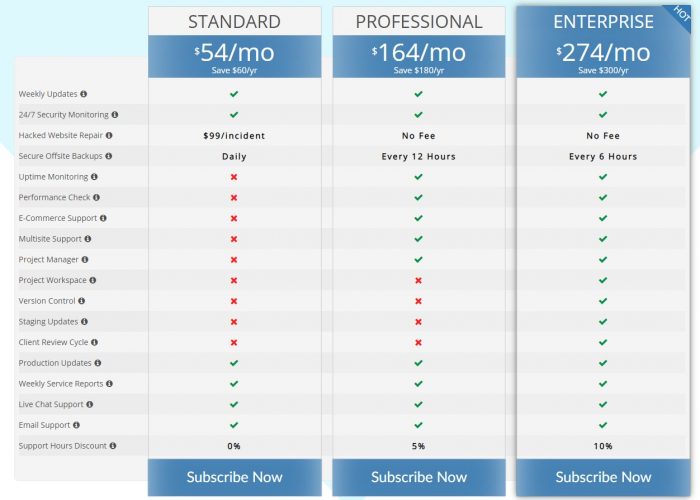 Maintainn's basic plan starts at $54/mo, which is not too bad for the features it offers. There are also plans with higher prices that offer more features, so… Take a pick.
FixRunner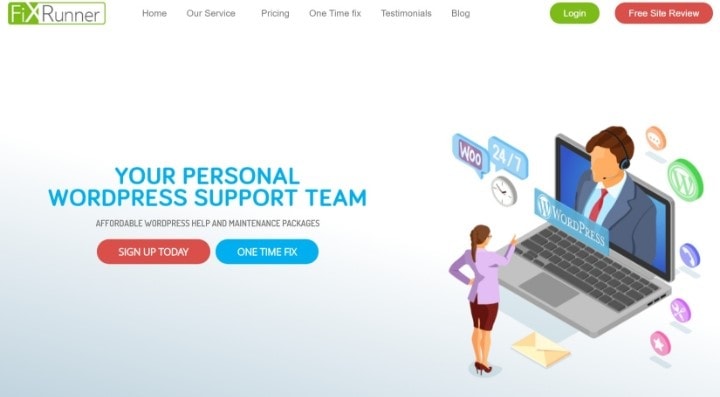 In case you are looking for a one-time fix or need 24/7 support on your website, you should look at FixRunner.
One of this tool's main features is their personal WordPress support that is active 24/7, meaning that at any time you need help, or something breaks up on your website, you can contact FixRunner's team and get your website fixed quickly by a professional. Besides this, FixRunner also offers some basic features like secure updates that will get you the latest plugin, theme, and core upgrades. They also actively optimize your website so it runs as quickly as possible. Your website is also always secured from hackers and backed up in case something bad happens.
Once we jump over to the price, it's a bit questionable if all of this is worth it, but that 24/7 support might be worth it.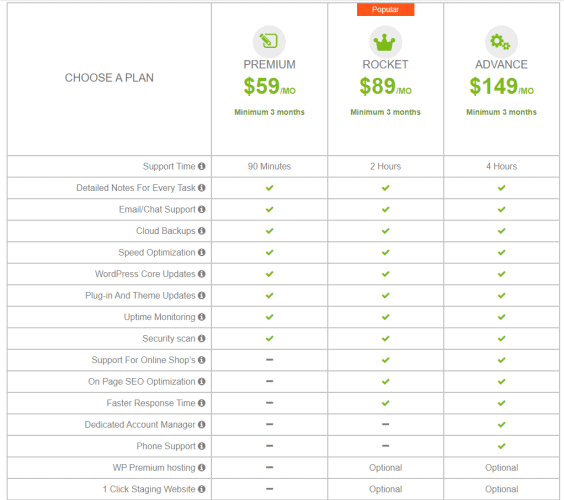 FixRunner's basic package, which is also called "Premium," gives you some basic features that every website can use, but also comes in with a price of $59, so think about it wisely. Besides the "Premium" package, there are also "Rocket" and "Advance" packages that give you more features in case you are either running a different type of a website like an eCommerce one, or you just need some additional features.
GoDaddy WP Premium Support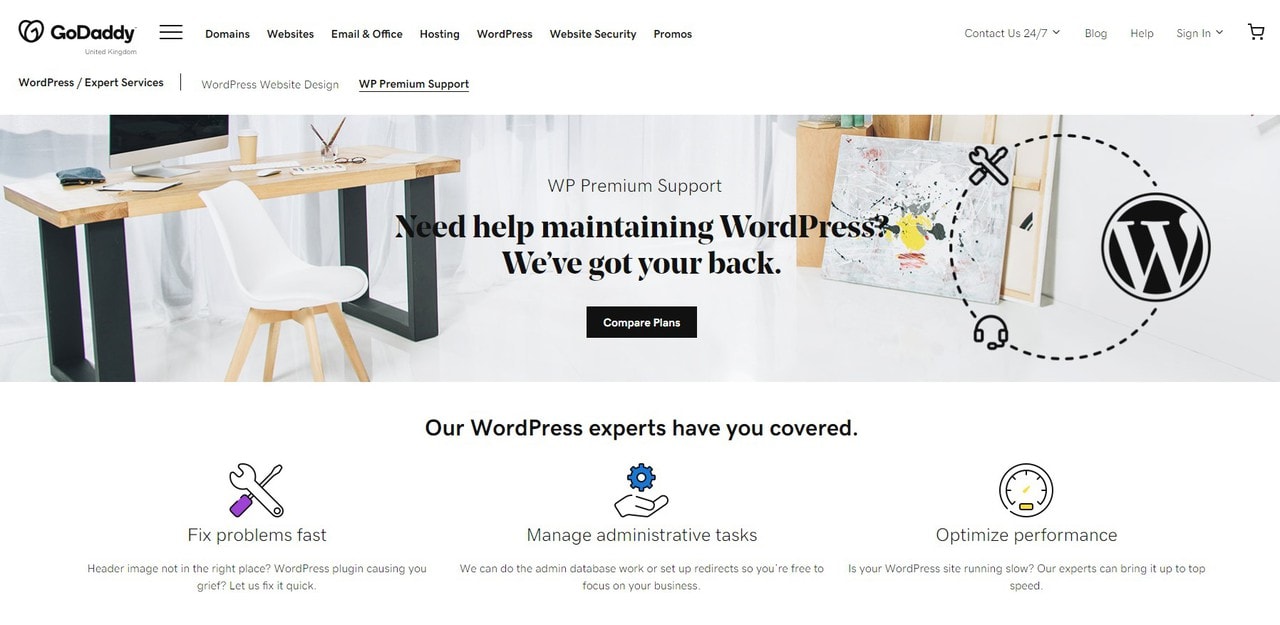 You probably think that GoDaddy is almost the same service as the ones we previously mentioned, but that's not really the case. GoDaddy works in a bit of a different way. How this service works is using its credit system.
First, you have to buy coins, which cost anywhere from $50 up to $150. Whenever you need something done on your website – whether that's just a small tweak, optimization, or an update of some plugins or themes, you'll have to call GoDaddy's support that is available 24/7/365. Then they'll fix your problem, after which they'll charge you either one coin or more, depending on how much time it took them to fix it.

This is a nice and smart way to keep your site clean if you don't really need support for every little thing – meaning that you'll only pay when you actually get some help—a nice way to save money if you ask me.
Valet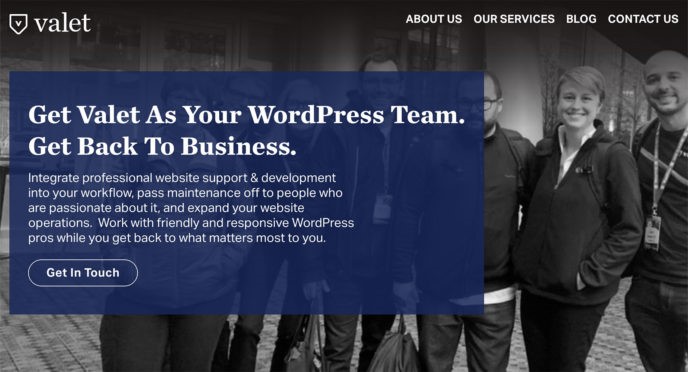 If you are a user who wants a simple service that won't bring much hassle, Valet is a nice choice. What Valet offers is pretty simple – basic maintenance services that'll be enough for most websites, and all of that for a nice price, too. With their professional WordPress team, Valet will ensure that your core WordPress will stay updated and working without any problems, along with other things like plugins, themes, etc.
In case you are running an eCommerce website, you won't have any problems either since Valet can maintain everything needed for an eCommerce site. Valet also does things like code checks, health checks, reporting, and some other things besides these features.
Valet's starting price is $69, and based on the number of visitors your website gets, the price will get higher.
WP Tech Support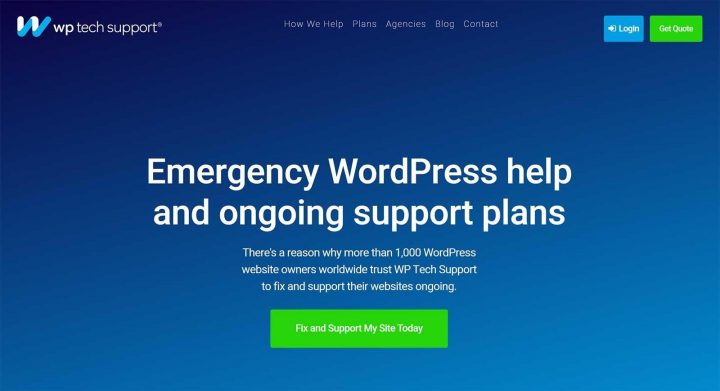 WP Tech Support is a company that has offices worldwide – UK, USA, India, meaning that you'll get quick and good support wherever you are, and at any time, too.
What they offer are some basic features that were mentioned before:
Weekly WordPress Core, Theme & Plugin updates,
Offsite Backups,
Performance Tune-Up,
Security & 24/7 Monitoring,
Unlimited Fixes
 Where WP Tech Support really shows off is at their customer base. Some big companies are currently using this service like PayPal, Stripe, Jetpack, WooCommerce, and much more, so you can be sure that their service is on the top.
All of these nice features come in with a price, too, so their standard plan will cost you somewhere around $50 and will give you some basic features along with 1 emergency fix every month. Besides the standard package, there are more expensive ones which also offer more features.
Newt Labs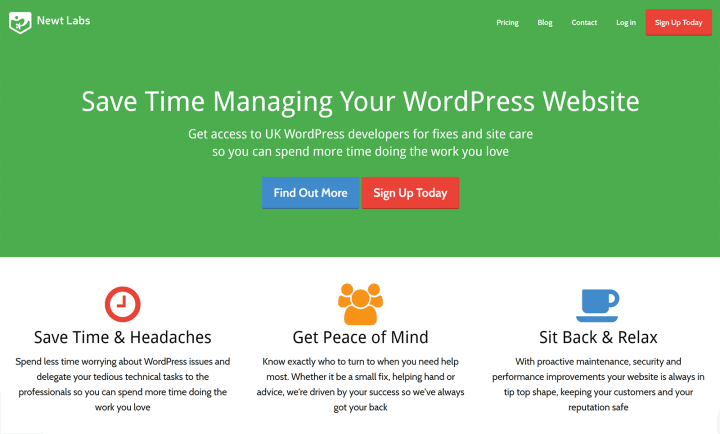 This British company based in Cambridge offers every WordPress user some basic features that are usually needed the most. This service offers some basic features like performance tweaks, weekly updates, and strong security – just what most users need.
One bad thing about this website is that they don't have 24/7 support, but only basic customer support works from 9 am to 5 pm GMT, so have that in mind.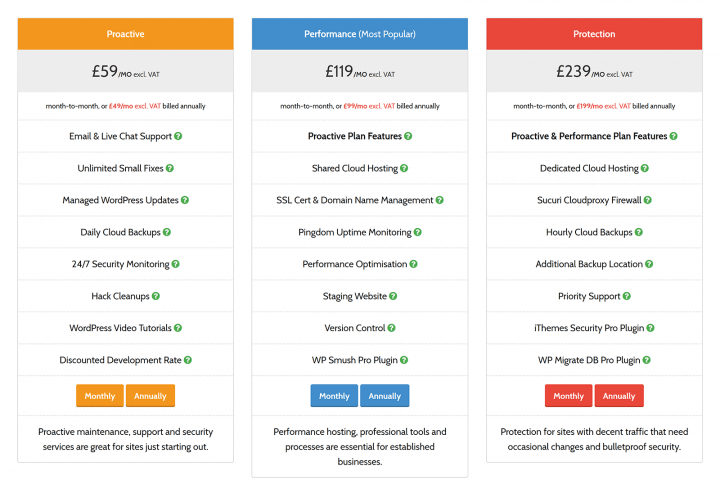 For a starting price of £59/mo, we would only recommend this website to users living in the UK.
WP Site Plan

This company based in the USA offers maintenance services for a pretty low price, so those with a tight budget should look out for this one.
For a starting price of only $29 a month, you get some useful features like daily off-site backups, real uptime monitoring, optimizations, and much more. Besides this basic plan, there are also better ones that cost up to $199/mo.
In case you don't need many features and you are on a tight budget, this just might be your choice.
WP Tangerine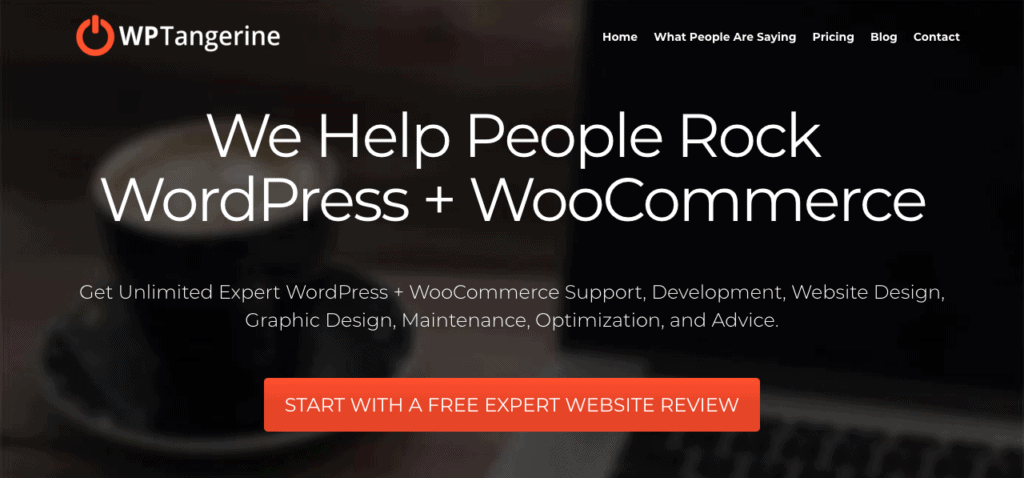 This service, which is currently serving over 3.000 customers and employs 56 full-time employees, gives you lots of features, but for a bulky price, too.
Besides the basic updates and maintenance features all of these sites offer, WP Tangerine also has some special features like Web Design, Graphics, and Development, meaning that they care for your website and add on more features and make your site look better.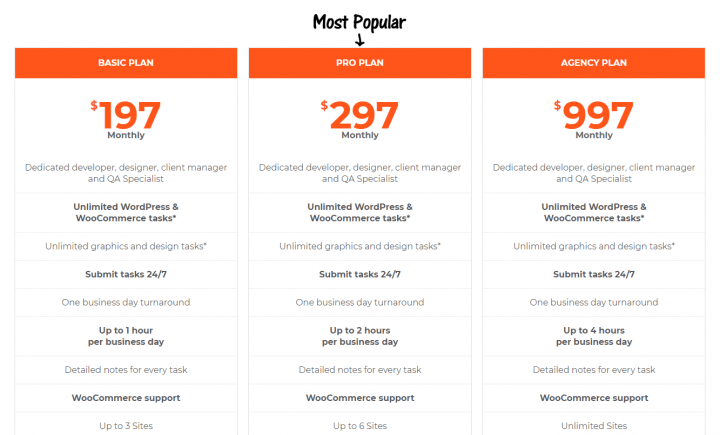 Sadly, you'll have to pay $200/mo just for the basic plan, and if you want unlimited support along with all the features this site has to offer, you'll end up buying a $1000 plan – not cheap at all.
Conclusion
All in all, there are lots of different companies that offer different features, and for a different price, too – so every WordPress user can find a service that fits their needs and their wallet, too.
In case you still haven't found your answer and can't decide on a service, there are other articles on the internet that can help – like this one.