The Internet is becoming more accessible and attractive to everyone, from casual users to massive corporations. Individuals want to embark on new adventures and experiences on the Internet, and getting into online marketing can be one example of such an experience. Unfortunately, getting a foot start in marketing as a beginner is not easy, but it is never too late to try. As they say, we learn something new every day. 
But first, what is a marketing dashboard, and who will benefit from it? 
A marketing dashboard visualizes critical marketing analytics and KPIs. While this data can be presented in an excel spreadsheet or using some other type of documentation, this approach can be limiting for people. That is why doing marketing in an application that visualizes this data, like Looker or Google Data Studio, provides you with some added benefits.
You can get visual and easy-to-read reports daily, weekly, or monthly, depending on the type of dashboard you are using.
Cumul.io offers stunning client-facing dashboards that can help you truly engage your clients with interactive, personalized analytics.
These dashboards will allow you to make course adjustments in your advertising campaigns or activities that can benefit everyone, from industry teams, brand managers to sellers. Every team can benefit from it. 
By running a successful marketing campaign using one of these tools, you can quickly boost social media presence or even website traffic.
Because of that, we would like to present you with the Top 4 Marketing Dashboard Tools that will help you in the future.
GoodData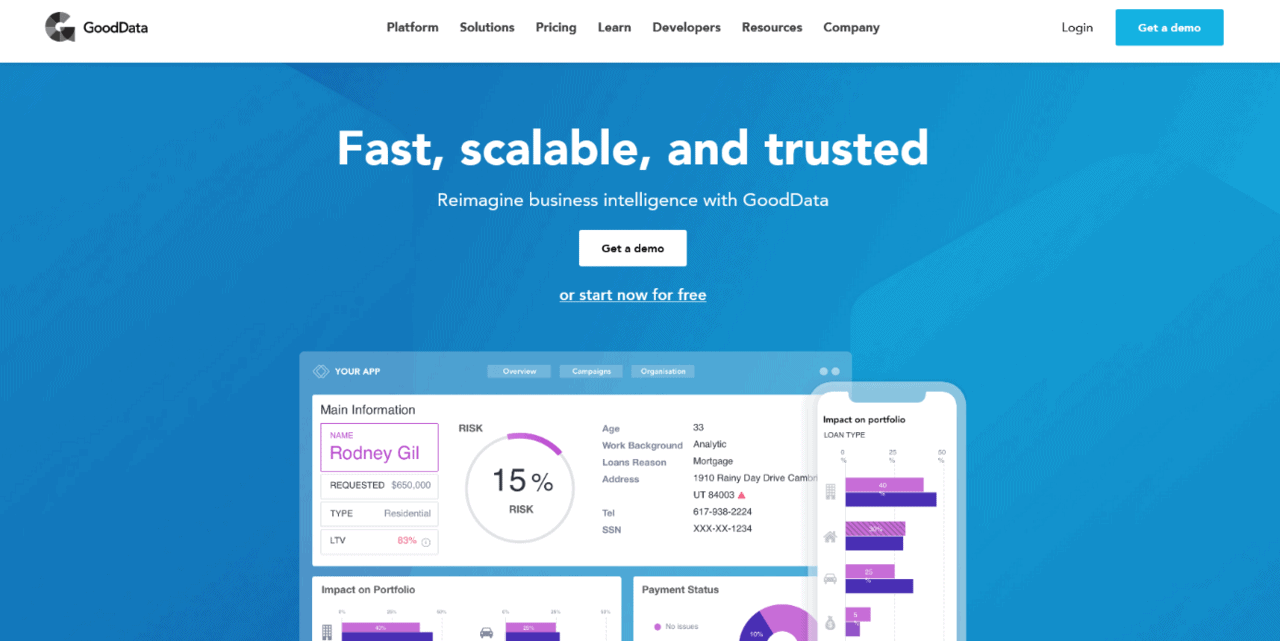 If you have a large volume of data coming from many sources, then GoodData is for you. GoodData will function as an excellent method for managing your business. From a simple but great-looking dashboard, you can see all the relevant performance metrics and goals.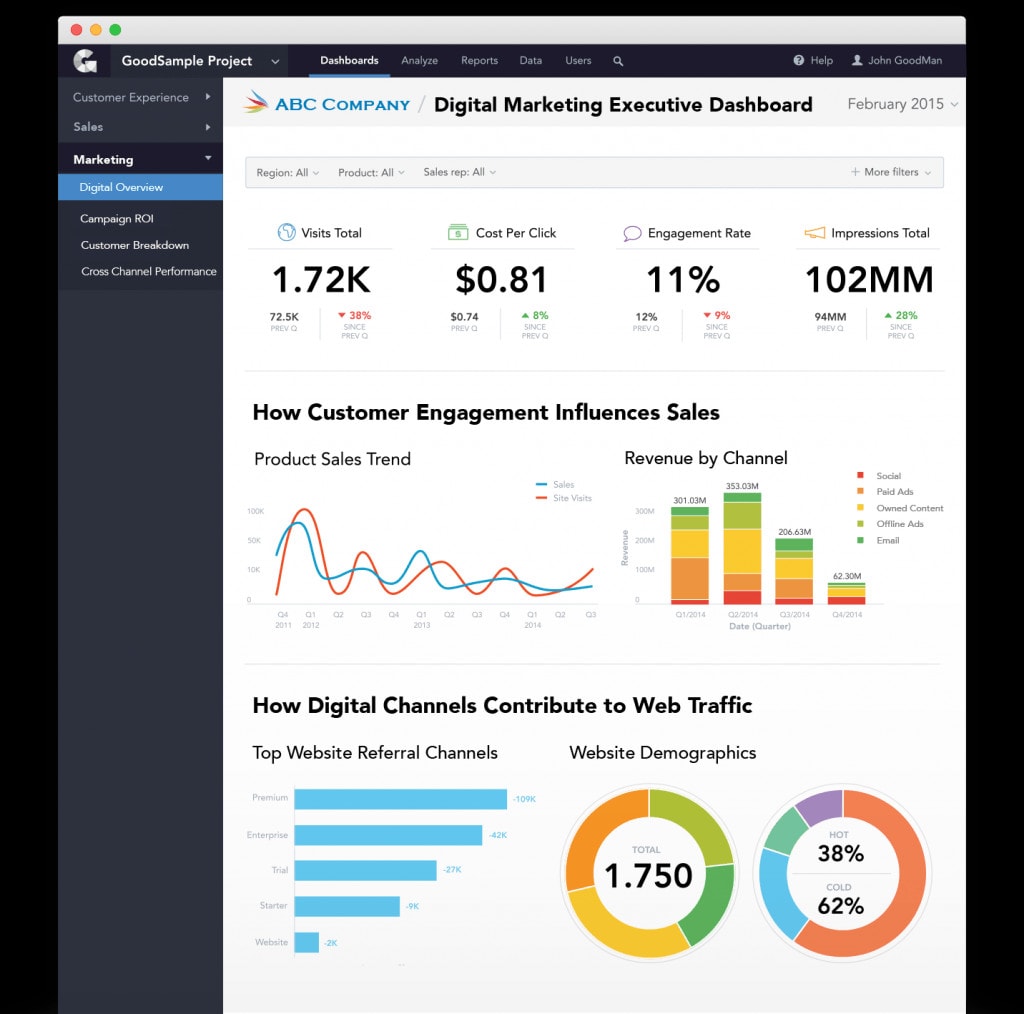 Also, it encourages companies to see and generate more income pathways. These pathways give access to new and advanced data and analytics that will help you with your business. In addition, it should be emphasized that GoodData is actively trying to support and better understanding its users and customers by collecting relevant data from other open-source or independent software.
Sisense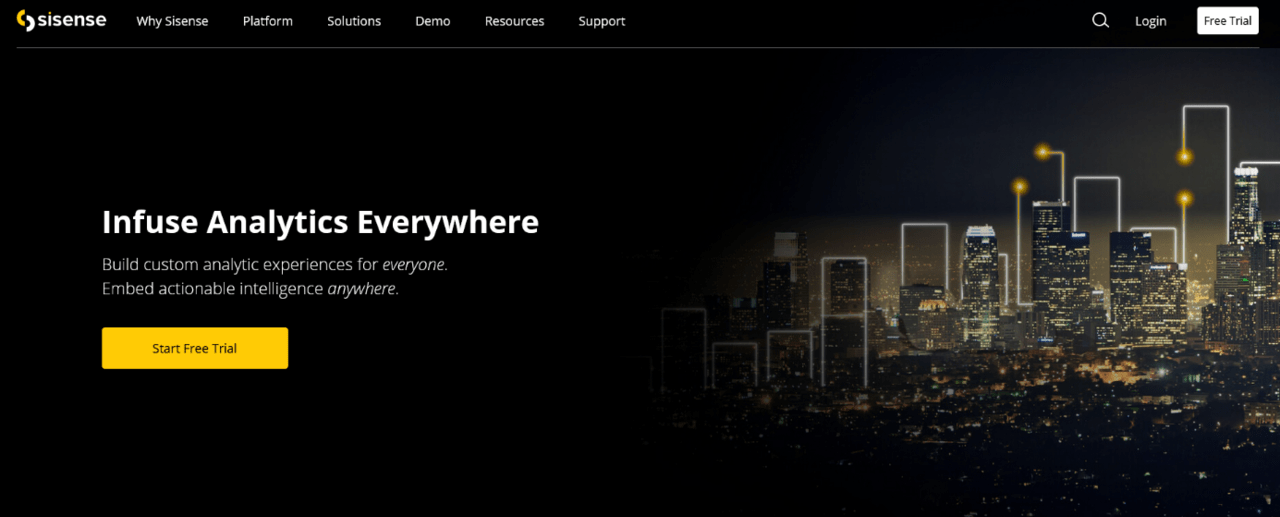 This tool is an excellent system for dealing with business intelligence and analytics or for anyone doing marketing management. The dashboards and charts from Sisense are well-designed and easy to use.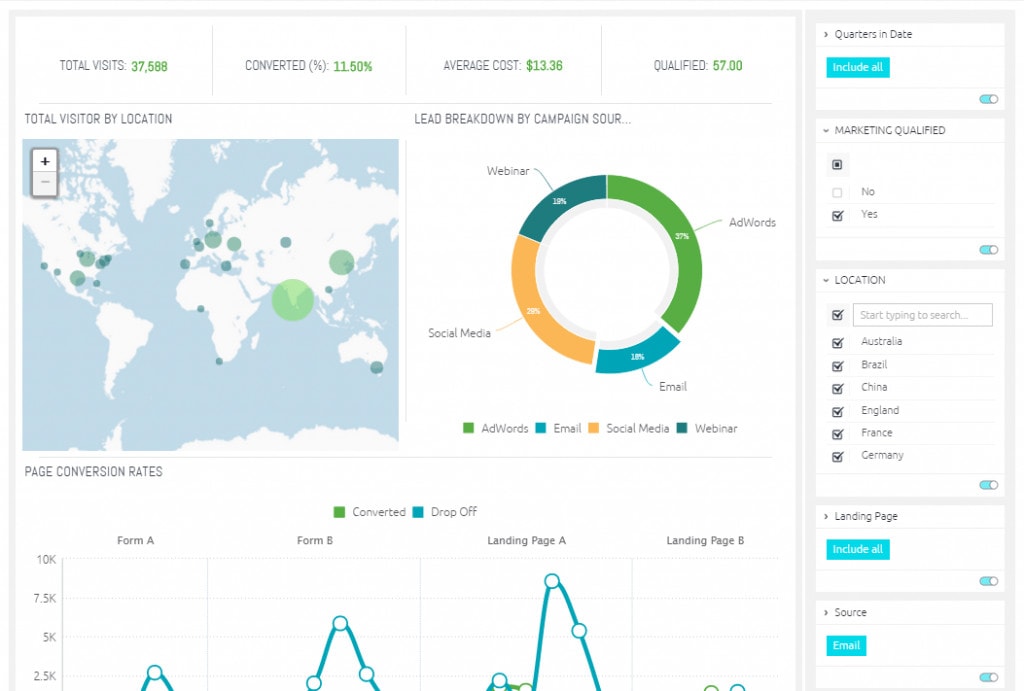 So, what exactly do they have to offer? They include a nice variety of widgets, excellent map features, a variety of chart styles and provide you with insightful KPI and statistics perspectives that will improve and refresh your marketing game. The only problem is that their dashboards do not provide scheduled solid reports that can only be emailed to clients or colleagues. This means that you can only ingesting reports on the web interface unless you find a workaround using a separate program. But you will be impressed with their customization and innovation ability.
Grow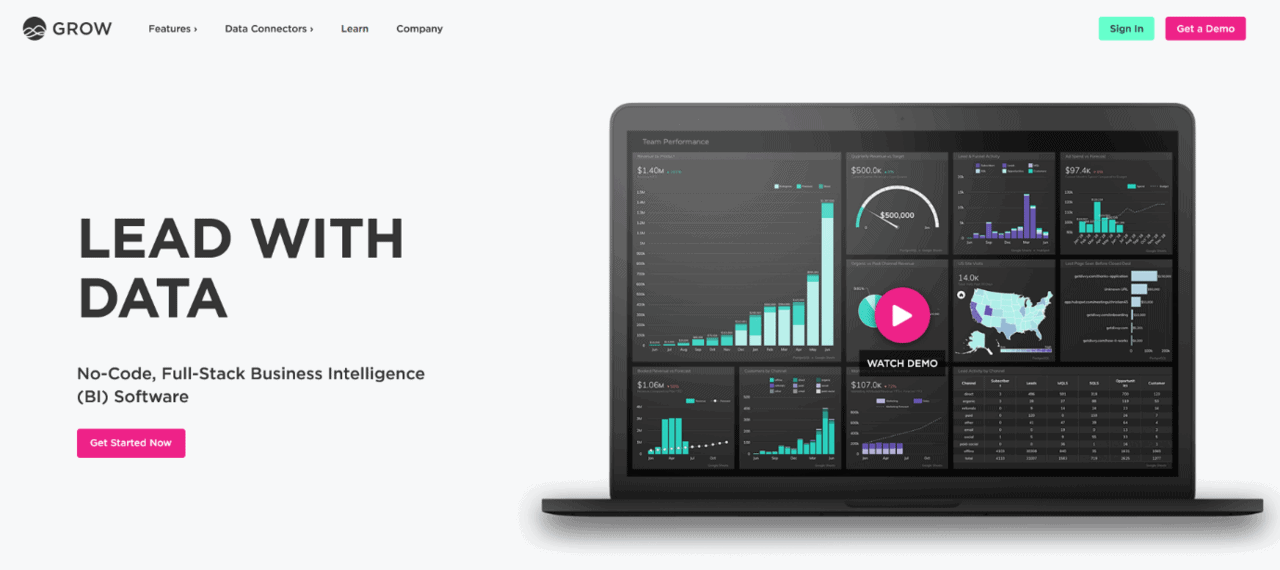 Grow is awesome if you have a smaller company and are looking for a visualization tool that will make your dashboard shine. With the addition of dashboard filters, you can now maintain and edit your data with as much detail as possible while filtering various metrics inside your dashboard.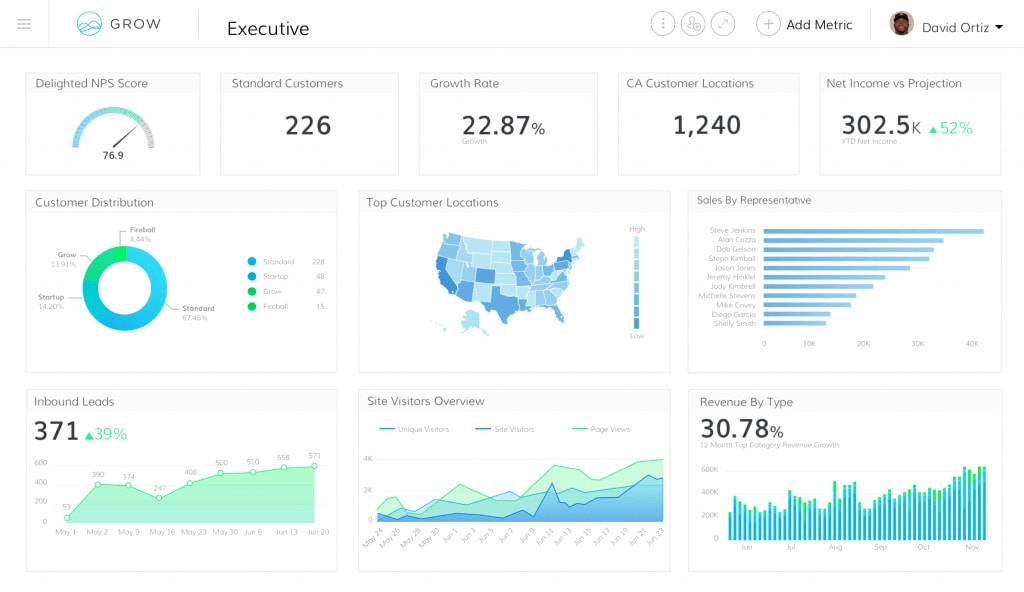 By adding these filters, you will not have to develop new measurements for every topic. It can also help you analyze and convert your data from numerous sources to a single, sophisticated analytics dashboard. Also, it will impress you with its excellent support crew that will respond quickly to any challenges and issues that arise.
Cyfe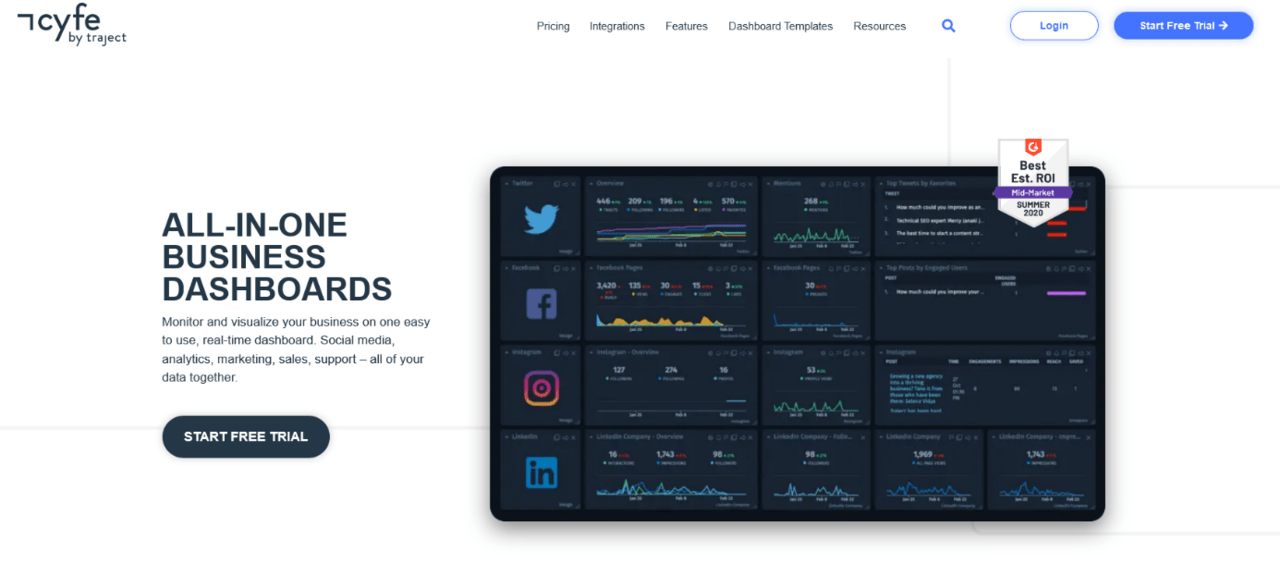 Track and analyze your business on a single, simple-to-use, real-time dashboard provided by Cyfe. Cyfe. Using trusted services, such as Google, to retrieve data, Cyfe can create graphs and charts on the dashboards that are tailor-made for your specific departments.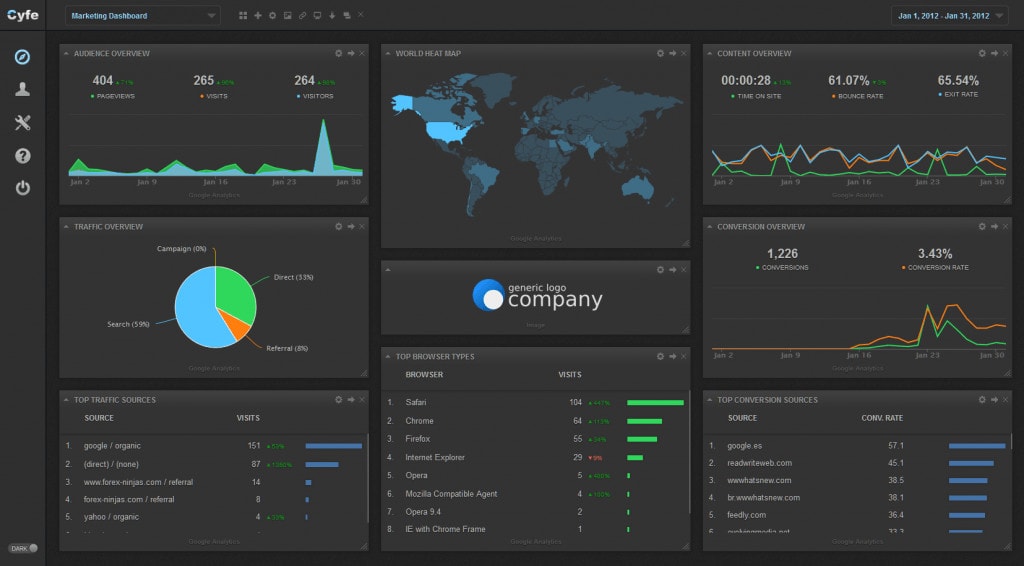 Since you can access this data in real-time using Cyfe dashboards, you can ensure that clients are constantly aware of what is going on. In addition, this reduces the number of notifications and emails that must be delivered to them because communication is done with them instantly and securely.
Conclusion
Dashboards are a type of data visualization tool that can enable all users to comprehend the important metrics to their company, department, or project. With all the benefits they provide, we don't see why you wouldn't give at least one a go. Hopefully, this article will assist you in navigating and selecting the best marketing dashboards for you.