eCommerce is a rapidly growing industry worldwide, and in almost a decade of its dominance in this industry, WooCommerce is proudly announced as the most popular platform in 2018 based on WordPress. This open-source eCommerce plugin hasn't gained the highest rank only for its easy installation and simple customization.
Millions of installs and more than 40% of all eCommerce sites are a result of one crucial factor – its ability to support and grow your business in many different ways. Having an online store in multiple languages is one of them. It's not an option anymore but a must that enables you to act globally and expand your business far outside a local market. Online stores powered by the leading platform increase up to thousands of new businesses every year.
Translating your WooCommerce shop

There are reasons why new online entrepreneurs choose exclusively WooCommerce as an ideal platform for eCommerce business. It is not only important to deal with the most comprehensive and simplest solution for your online store, but with the one which offers you to advance your business and achieve results you haven't dreamed of.
Once you have exploited its power and flexibility to establish the business and conquer a local market, it is the time to take a look at a brighter picture. The next step considers plugins you should install to get out of the local yard.
Online stores are always about retaining visitors and turning them into new customers. Winning them for your wares is a way how you will extend the online store over the global market.
Translating the online store in several languages offers you the opportunity to successfully communicate with worldwide buyers. Although 65 % of all the websites are in English, people will always prefer to receive the information in their own language.
The language turns into a major selling factor and a measure of your business growth. In short, the availability of your online store in different languages increases your selling capability.

Get Closer to Potential Customers Worldwide
WooCommerce is compatible with TranslatePress, the other plugin designed to be able to translate all parts of your wares (title, description, and category) as well as the page title, product's URL and other attributes. WordPress plugin directory offers TranslatePress for free. You can install it and activate it in a few steps. Supposing that you have carefully considered target language, add it in the Settings option and save the changes at the bottom of the page.
After the initial step, you are ready to start translating.
The first move is to connect a new language with a WooCommerce product. For more information, please check this detailed tutorial
To translate each product you should open it in the browser, click on them, and after that click on the Translate Page button in the WordPress admin bar
In the main translation screen, you will find a drop-down menu in the top left corner. Here you can choose target language you want the product to be translated into
The changes on the site are being seen on the screen immediately. The box at the bottom is for the second language. Here you can add a translation, and by clicking on the Save Translation button on the top the title of the product will be automatically shown in the chosen language. Carry on the same procedure for short descriptions, product category or some other part of the product's listing.
Hovering over the part you want to translate enables you quick editing and saving of changes. Another opportunity is to use the string list below the place where you select the language. Whether you prefer to go through the page manually and search what parts need to be translated or you choose to use the strings, localization is fast and simple.
Now, when the product's listing is available in a different language, you have got closer to a wide range of visitors and potential customers.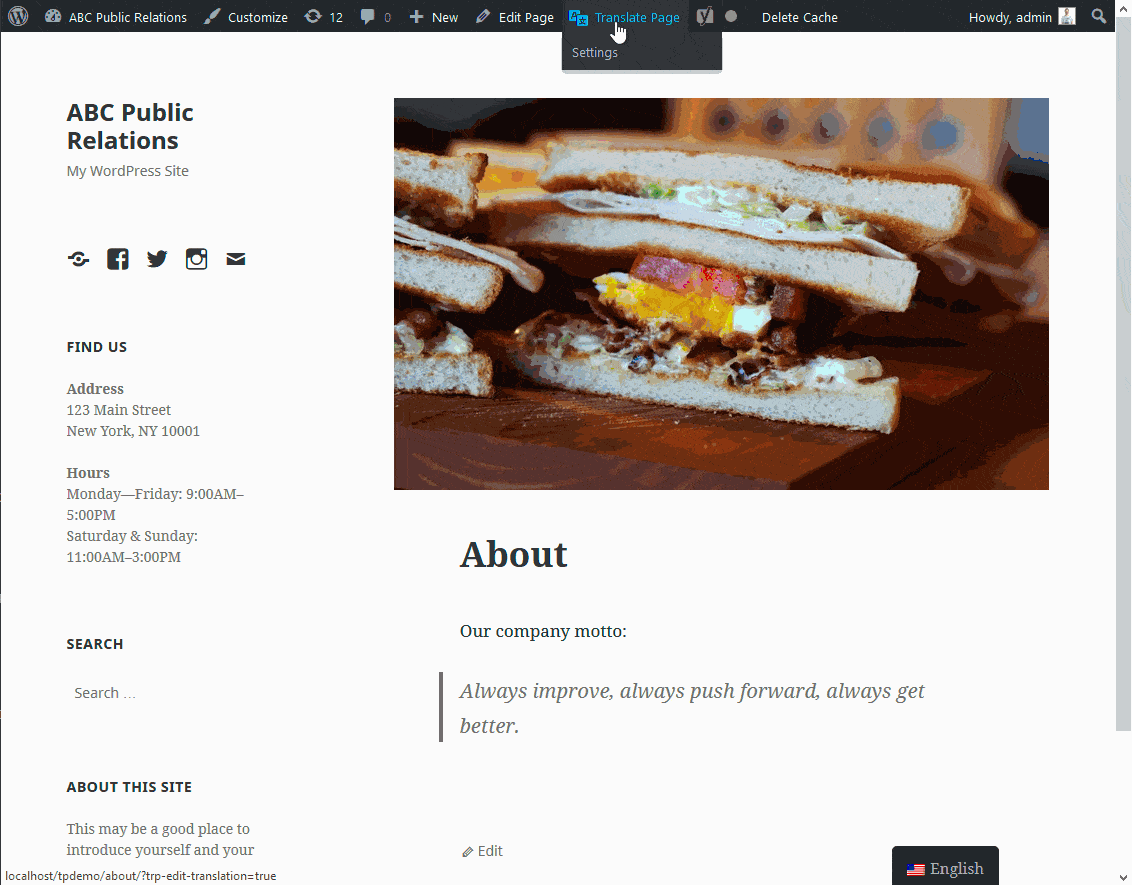 Variable products are those that differ in color and size. Language options for them work in the same way as described above. The option Additional information comprises the variety of attributes you can translate in two steps. Hover over them, and edit in the same way you did with the product title, for example. Previous and Next button make cycling through the attributes easy. If you have added some tags, the same buttons work for them too.
Don't Stop Halfway – Include SEO Pack
However, having your website translated into at least one secondary language is half a job done. Technical aspects of the website are equally important since they have a main role in search engine optimization. Did you know that you can even translate images?
TranslatePress Premium is empowered with SEO Pack which has additional options. The post slug & page title appear in search engines and browser tabs, and therefore it is necessary to translate them to. These last parts of the product's URL can be translated under Meta Information.
The principle is the same as with the other parts of the product's listing. The new page slug and title are visible in the browser. With the right tools and support, transforming a website into a multilingual one is not at all complicated. Just on the contrary, it enables you to communicate with clients better and to be competitive in the global market. It is also a trust indicator that will certainly increase your rating among the customers.
More importantly, your multilingual website will not slow down at any point. Even in one language, it seems hard to deal with SEO, but WordPress multilingual SEO is a good solution to push your website a step forward. Multilingual SEO provides equal chances to each language to benefit and gain a higher rank in Google. The same principles and guidelines of the SEO best practice apply to all.
Multilingual SEO – User-friendly
You can rely on the complete guide on how to use multilingual SEO and how to easily translate WooCommerce products but before doing so, assure that you have created all necessary links and done keyword research. If you have, then Google is ready to index the content of your website and direct adequate translations to customers worldwide.
Remember that each language version requires a different URL with a proper structure. Google advises three URL structures. One of the best approaches is to use subfolders for each language, which is the case with the TranslatePress plugin. Good general SEO strategy recommends using primary keywords in URL slug. SEO optimization isn't complete if the URL slug for the whole content isn't translated in other languages. This is why TranslatePress SEO Pack add-on is so important.
The hreflang attribute helps Google and other search engines recognize which language corresponds with users and chooses the most appropriate one. This is especially useful with different variants of the same language, Spanish for example. Localized version is what makes your multilingual website user-friendly. SEO Pack automatically implements a multilingual sitemap as well. This functionality follows Google's recommendations.
Having your website in multiple languages does require some time and effort, but it pays off and brings you to benefit in short. Your eCommerce ability will increase, but with SEO value included, nothing will stop you to introduce your products globally. Automatic translations are good, but if you tend to rank high, never forget to review all of them.
In the end, the content's title and meta descriptions show up in organic search results. Write quality pieces, and include the main keyword. SEO benefits of the translated content depend on metadata, and TranslatePress supports their translation. On the one hand, you can lean on the WooCommerce, world's best platform, while on the other, the compatible plugin TranslatePress and SEO Pack add-on enable you to act professionally in the global market.