Maintaining a website can sometimes be demanding, while mastering search engine optimization can be even more challenging.
Since it is essential to keep track of your visitors and ranking, many SEO checker tools can help you with that.
One of the best free website SEO checker and audit tools is Websiteseostats. This tool can help you analyze your SEO issues and identify your mistakes. It also shows you how to better optimize your website content and much more for free.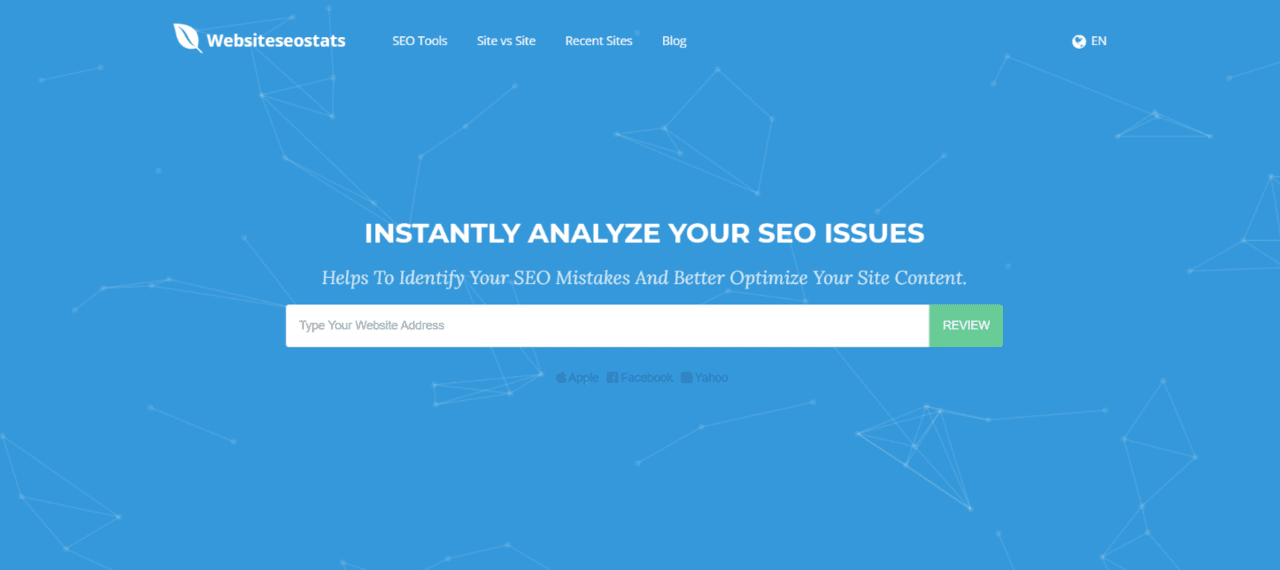 One of the main goals of this tool is to make search engine optimization as simple as possible and adjusted to beginners. Using this tool, you can make an unlimited number of professional analyses on some of the most powerful servers. You can download the reports and easily view the progress of your website and past work. This tool can teach you how to fix your SEO flaws with clear definitions for each SEO metric. There is an option of SEO comparisons with other websites as well.
The best way to show you all of the features that this tool includes is to demonstrate the analysis of a real website. Our "guinea pig" will be a website mywptips.com.
For starters, you have to type in the website address, and in less than a minute, you can have a complete analysis of your website in front of you. In a menu, you can see plenty of categories concerning the overview, SEO in general, usability, mobile factors, technologies, social factors, visitors, and link analysis.
Overview
At the top, there is a general overview of your SEO performance. As you can see, the total score of mywptips.com is 81, including some recommendations for improving the website and avoiding typical errors. There are options of downloading a report, updating it, comparing, and sharing it as well.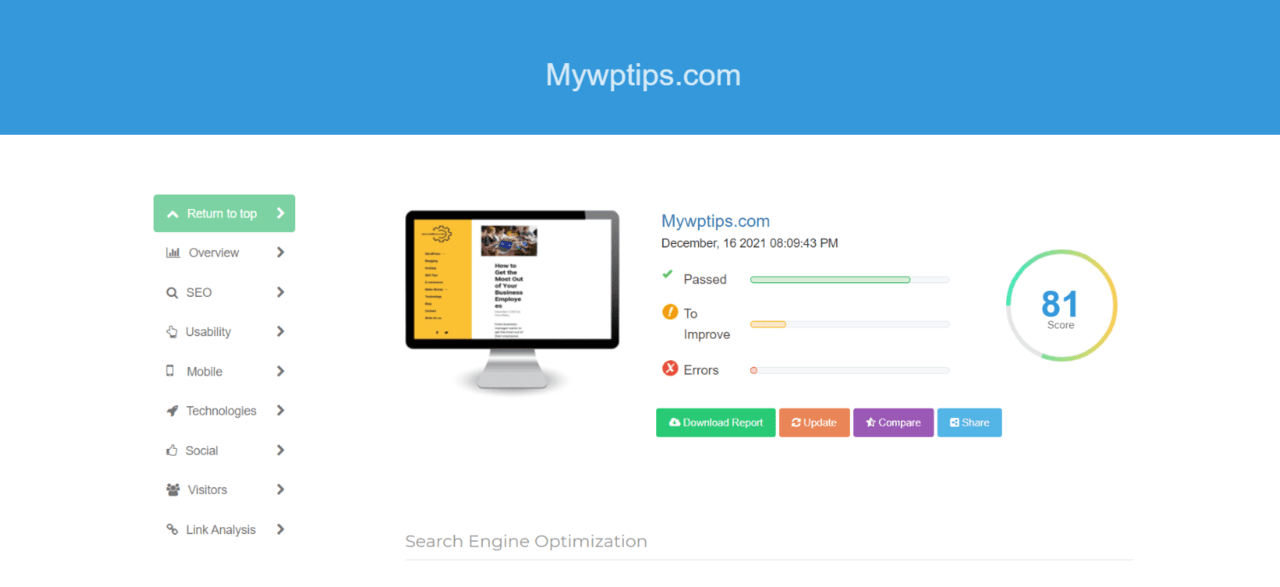 Title Tags, Meta Description, and Headings
When it comes to the SEO department, it shows your performance concerning titles, tags, descriptions, headings and keywords, HTML ratio, XML sitemap, domain registration, WHOIS data, indexed pages, backlinks counter, and many more.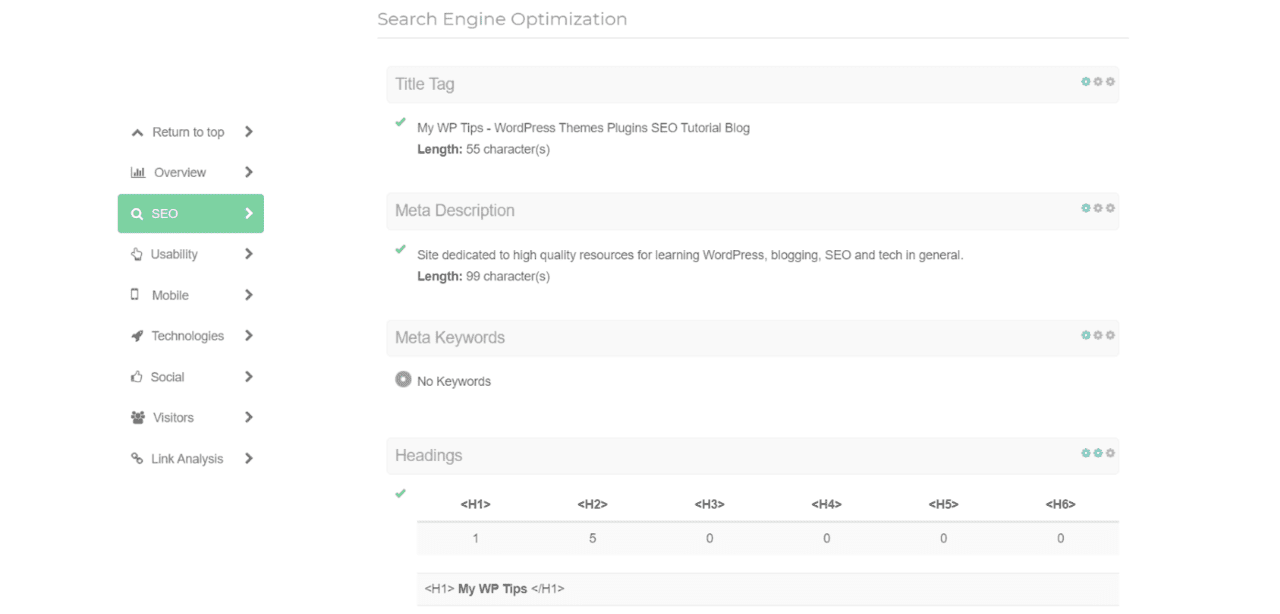 Title tags, meta descriptions, headings, and keywords are probably some of the most important parts of your website which can determine its exposure. This website has "passed the exam" for its title tag, meta description, and headings, all of which fit into the appropriate range of characters.
Keywords
However, the tool highlighted that this website was not so consistent when it comes to the keywords, which could seriously affect the chance of ranking well in search results for a specific keyword. The tool proposes that crucial keywords should be included in the page URL, page content, title tag, meta description, headers, internal link, and backlink anchor texts or wherever possible.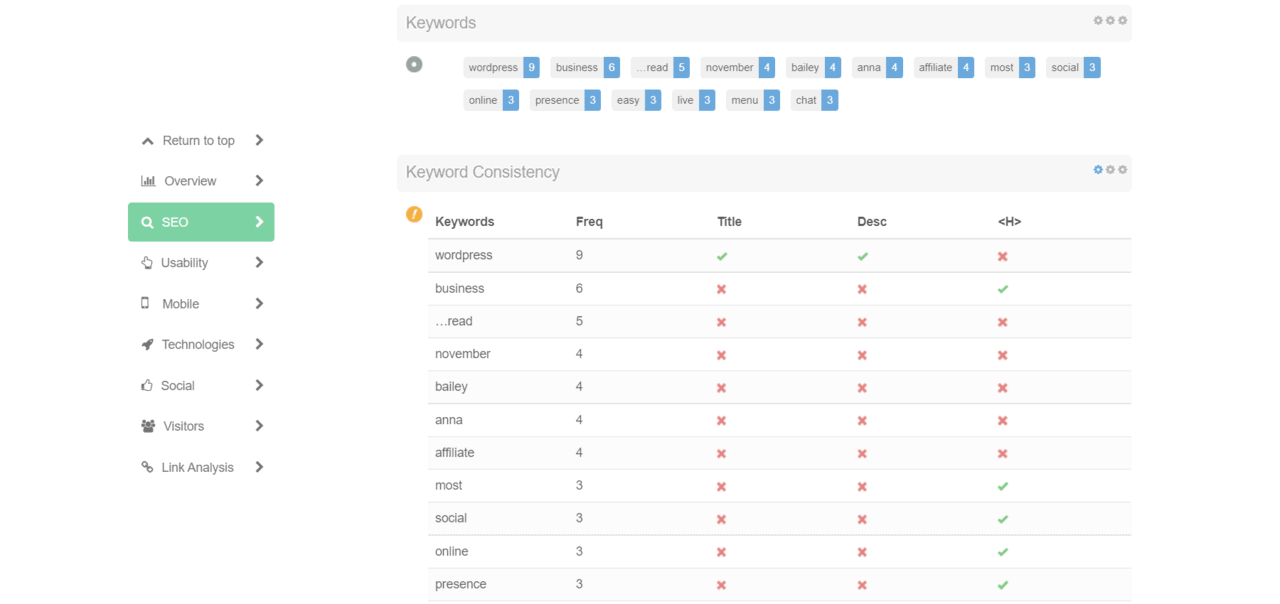 XML Sitemap
An XML sitemap can be really useful because it lists various URLs that are important to your website, and you can make sure that search engines can crawl them. These URLs can also include additional information about the latest updates of your website and the frequency of changes.

Websiteseostats recommends generating the sitemap and submitting it to both Google Search Console and Bing Webmaster Tools.
Domain Registration
This category shows the age of your domain, as well as the date when it was created, updated, and when it is going to expire. The age of a certain domain is important because newer domains usually struggle to get indexed and rank high in search results. This generally happens for the first few months, so buying a second-hand domain name is recommended if you wish high-ranking from the beginning.

WHOIS Data
WHOIS domain information includes all the data about the proper administrator, billing contact, and technical contact for a certain domain. You can also see other information such as basic information about the website, registry domain ID, its status, and many more.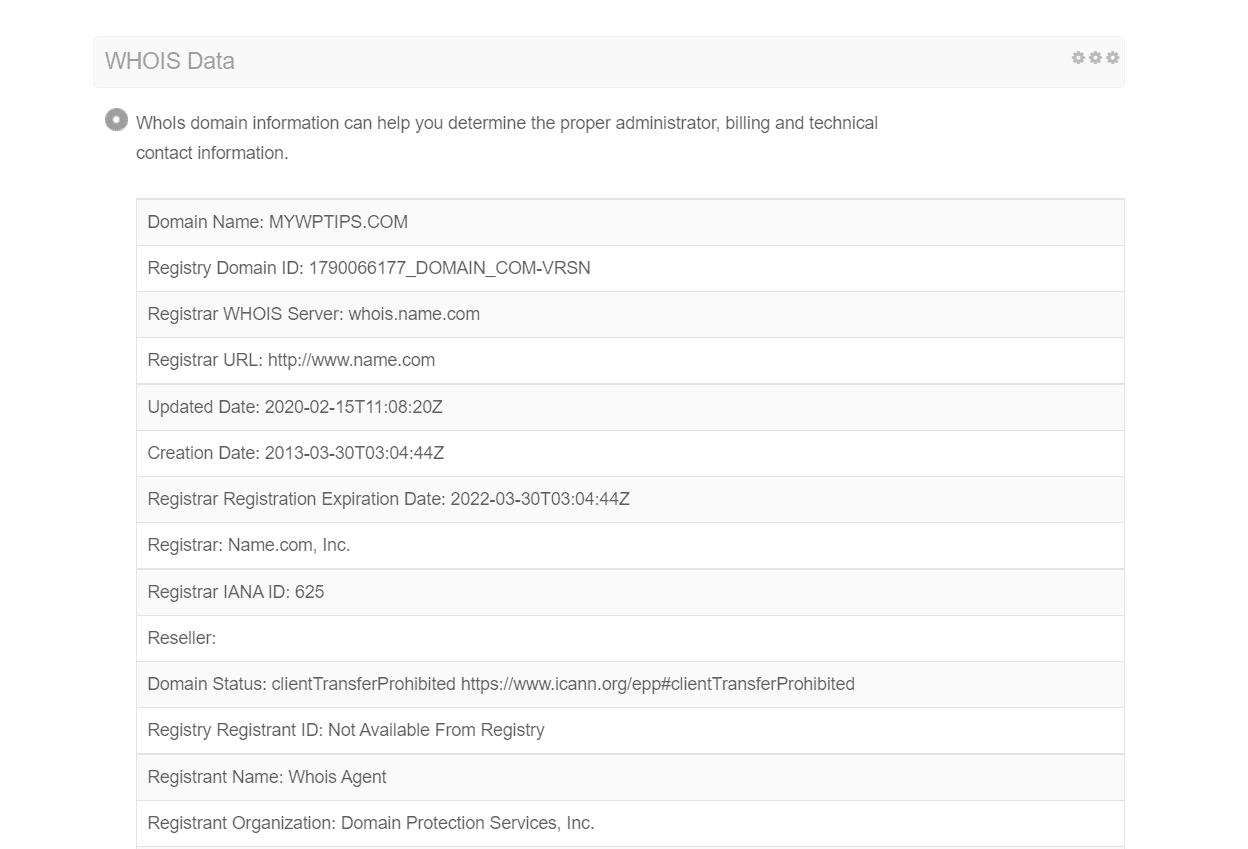 Indexed Pages
This feature discovers the number of pages on your website. When the number of pages is too low, bots cannot find them. This is usually a result of bad internal linking and website architecture in general because these can prevent search engines from indexing your web pages.
In the example below, this tool has discovered that mywptips.com has only 39 pages, which is generally a low number.

Backlinks Counter
Backlinks are basically links from other websites that point users to your website, and you can imagine them as letters of recommendation for your website. This is a significant factor in SEO and website ranking; hence you should work on the number of backlinks.

Mywptips.com has 84 backlinks, a great number, and requires no actions.
PageSpeed Insights (Desktop/Mobile)
Since the speed of your page is of huge importance to your visitors and search engines, it should be properly checked from time to time. This tool shows and rates the speed of your site and indicates if there are any improvements needed. Optimization of desktop version is as important as optimization of mobile version since nowadays everyone uses both of them. There are also available some of the tips for the improvement of the speed.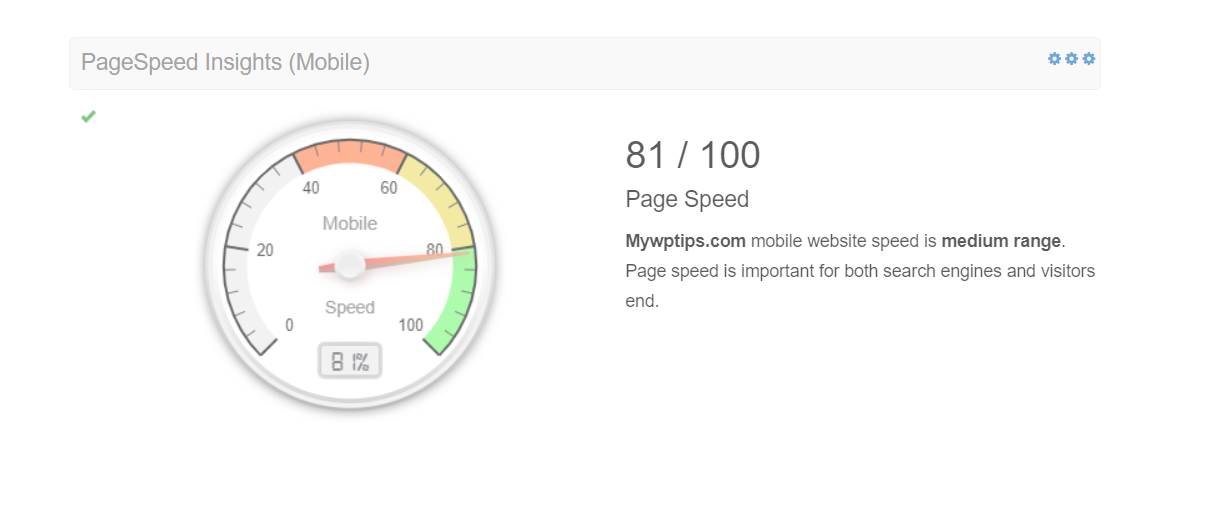 Visitors
Except for all of the listed things, this tool gives you insight into your website's traffic. You can see the estimated worth of your website and traffic rank. It also allows you to see the list of countries where your website is popular and where most of your visitors come from.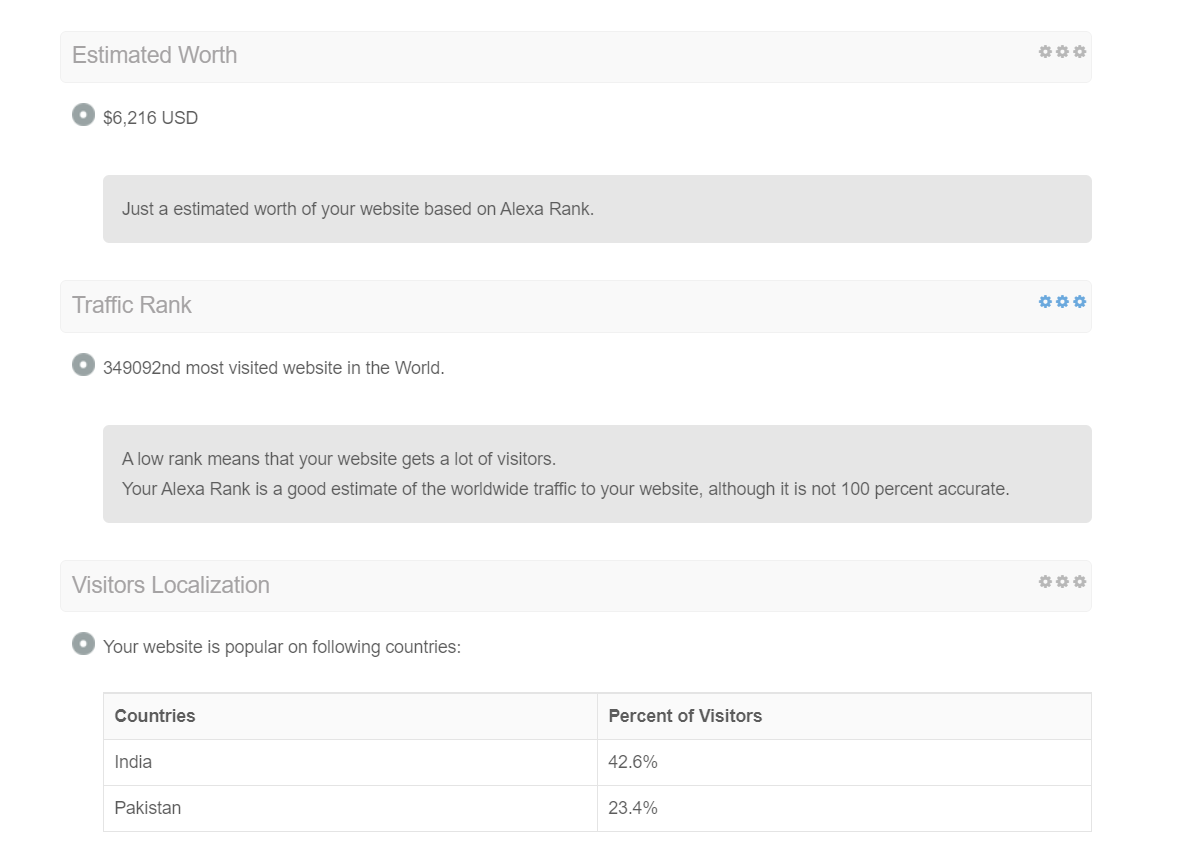 Conclusion
To achieve better SEO results, you should monitor, audit, and optimize your website content and pages. Many tools can help you with that, but Websiteseostats offers a perfect mixture of simplicity and analyticity with a professional and critical approach. The results of its analysis could genuinely help you resolve all of the issues and make your website rank high.