Interested in finding the quickest and most efficient ways of receiving online donations for your WordPress website? Look no further. We've got just the thing for you.
In this day and age, all this can easily be achieved with a single click of a button. In this article, we're going to share the best donation plugins for your WordPress website that will make the whole thing feel like a summer breeze.
Collecting donations is a great way to raise funds for noble non-profit organizations, and if you have such a website built on WordPress, we'll be happy to share with you what we believe to be the most effective donation plugins for your website!
With these top-notch plugins, you'll have zero problem collecting donations, and it won't take your donors longer than a minute to go through with their generous gift. Neat, right? If you're into fancy features and various customized options, we've got you covered, and if you're a fan of simplicity yet efficiency, we've got the perfect thing for you as well!
There are many donation plugins for WordPress, but only some of them will actually do the trick and effectively to their job while leaving you satisfied with their service. So instead of wondering which plugin to choose, not even knowing what to go on, make your life easier by picking one of these foolproof plugins that work like a charm.
Browse through this collection of carefully chosen WordPress plugins and see for yourself why we swear by each and every one of them!

Easy PayPal Donation provides you with the ability to place the donation button anywhere you wish on your WordPress website. Money can be donated to you with the simple use of PayPal of credit card. The most inviting aspect of this option is the simplicity of the whole process. The whole idea is to make it easy for you to connect your PayPal account with WordPress and get a hold of the donation without breaking a sweat.
Here are some of the most alluring factors that will help you decide whether this option is right for you:
Ability to view the history of the activity regarding the donations on the admin panel
It is multilingual which will attract users from all over the globe
You can use up to 25 different currencies
All buttons have a customized image
The added luxury of a simple donation widget

GiveWP is one of the most downloaded WordPress plugins and for a good reason! It offers you plenty of options and methods to sort out all your business. You can use specially-made donation forms, which will allow you a detailed look at the donation history, and it rates the donation campaign's performance over some time. Almost every option is customized, and it certainly isn't lacking in themes and methods where you'll be able to find something to your liking.
Here are some of the most prominent functions that make it a top-rated WordPress plugin on the Internet:
The entire donor history is just one click away at all times
You are the creator of your goals and fields
Connects you with third-party tools with ease and extreme accuracy
Offers receipts that are already tax-deducted (so less hassle for you)
Very easy to manage all your online and offline donations

With Charitable you'll have zero setup fees, and you can forget all about a month to month charges! The plugin is entirely free, and it allows you to create your campaigns in a short period. Donations can come via plenty of getaways; some are as follows: Stripe, Authorize.Net, PayFast, and PayUMoney. Regarding the donations, you are the one who chooses either a fixed amount or a personally chosen amount, totally up to you.
If you end up wanting to upgrade to a more refined function where you'll have the option of peer to peer fundraising, a crowdfunding platform, and donor fee relief, be prepared to pay $99 a year.
Some other amazing options you'll be offered are:
The simplicity of the plugin as the number one appealing factor
Donations can be made offline
Limitless campaigns to your liking
Easy to manage and control the donations
Designer favorable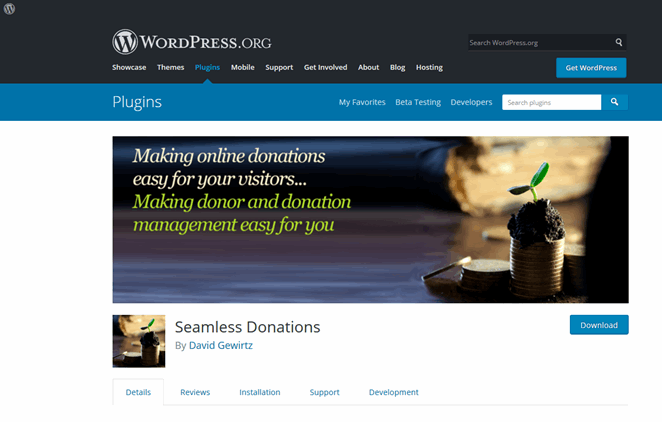 Seamless Donations is an entirely free-of-charge WordPress plugin. It offers you to take full control of your donations, and it also gives you the ability to engage in repeat donations (which can also be easily switched off with just one click!). There are plenty of extensions that offer you different but equally useful and handy options. You can check out the Thank You Enhanced extension, which will provide you with the ability to create customized Thank You cards for your donors.
You are also able to create customized donation levels with the help of The Giving Level Manager extension. And to top it all off, The Delete Monster extension allows you to delete any donations you want simply!
And as if that wasn't enough, here are a few more awesome functions:
Just a few-minute installation process
Encouraged repeat donations (completely automatized!)
Ability to choose between one-time donations or repeat donations
Acceptable currency from all around the globe
Close working relationship with PayPal (donors can easily use their PayPal accounts for their donations)

Donorbox is a unique and mighty WordPress plugin which offers you a variety of payment options, and just a few of them are Apple Pay, Google Pay, PayPal Express with One-Touch, and ACH bank payments for donors originating from the States and Europe.
This plugin allows you to gather donor questions, respect the donor's wishes, and send the donation as they please and also have dedicated donations on behalf of a third party! This WordPress plugin offers the chance to merge with Salesforce and MailChimp as well as to custom-make the receipt text and the use of PayPal donations.
Check out some other functions that are definitely worthy of a mention:
Supportive of various currencies
Donations can be set up as one-time, monthly or repeat (user choice)
A distinct option to accept donations through a Facebook account
Forms can be customized with a multitude of different colors
The existence of the donation meter is appealing and inviting to potential new donors

As the title itself indicates, this awesome plugin uses an actual thermometer to showcase your progress and measure the number of donations you've received! It's convenient because it's hard to visually ignore it, which automatically makes the prospective donors more likely to invest in your non-profit. And that's a very appealing function of this particular WordPress plugin.
Once people see how close you've come to your goal, they'll be highly likely to chip in and help you reach it. All the settings regarding the thermometer are completely customized, and you can choose your own meter size, which colors you believe are most compelling and the font of your text. It's very open to interpretation as it isn't crowded with a variety of features, which is something that will be very pleasing to those who are into simple yet effective methods of achieving their goals.

Out of all the donations plugins, Formidable Forms is surely the one with the most advanced features. The drag and drop builder makes creating intricate forms much easier than it would normally be.
On the WordPress dashboard, there are charts set up as graphs that show your current situation precisely and accurately.
It uses pre-built templates for gathering online donations along with a multitude of other form templates. The best thing about it, by far, is the ability to export the data outside WordPress! And as you can expect with such an advanced plugin, you'll be able to receive third-party donations. Another cool thing about this WordPress plugin is that it is able to translate the form in any language you need it in!
The Main Takeaways
The first thing we hope you've come to see here are the endless possibilities with each and every plugin you've clicked on. Donations can be made with all of them, but everybody's needs are vastly different, and that's what we've kept in mind while creating this. You cannot go wrong with anyone of these fantastic donation plugins, but if you're particular in your wants and needs, you've had a chance to find at least one that fits perfectly with your vision.
If you're super into advanced features that allow you a little more control over your choices (such as donation receipts which come in tax-deducted and custom-made ''thank you'' messages for each donor specifically), then GiveWP is the right choice for you, without a doubt! But if you're more of a visual type, then Donation Thermometer is the one you should go for as the closer you are to your goal, the more visually appealing the color scheme is and more likely the donations to arrive!
Hopefully, you've found a donations plugin for WordPress to your liking, and it meets all of your expectations! You won't regret using any of them; it's only a matter of personal taste and specific needs of your non-profit.