Links are more than just an online navigation method. They can be powerful SEO tools if you know how to use them.
Internal links lead to a new page on the same website, and external links lead to a different website. They can improve site traffic, ranking, and quality of your website.
Good link management is crucial for success, but manually building and controlling every link on your WordPress site is nearly impossible.
To do that, you will need the help of link-building tools. These tools let you easily control and manage all your links. Luckily for you, we have prepared a list of the best Link tools out there.
You can use WP Links to manage internal and external links on your website and keep them under control. You can set follow or nofollow and add "noopener"  and "noreferrer to external links. You can add "external" to mark the link as external, add "sponsored" to mark it as sponsored, and also add "UGC" for user-generated content. You can add icons next to external links.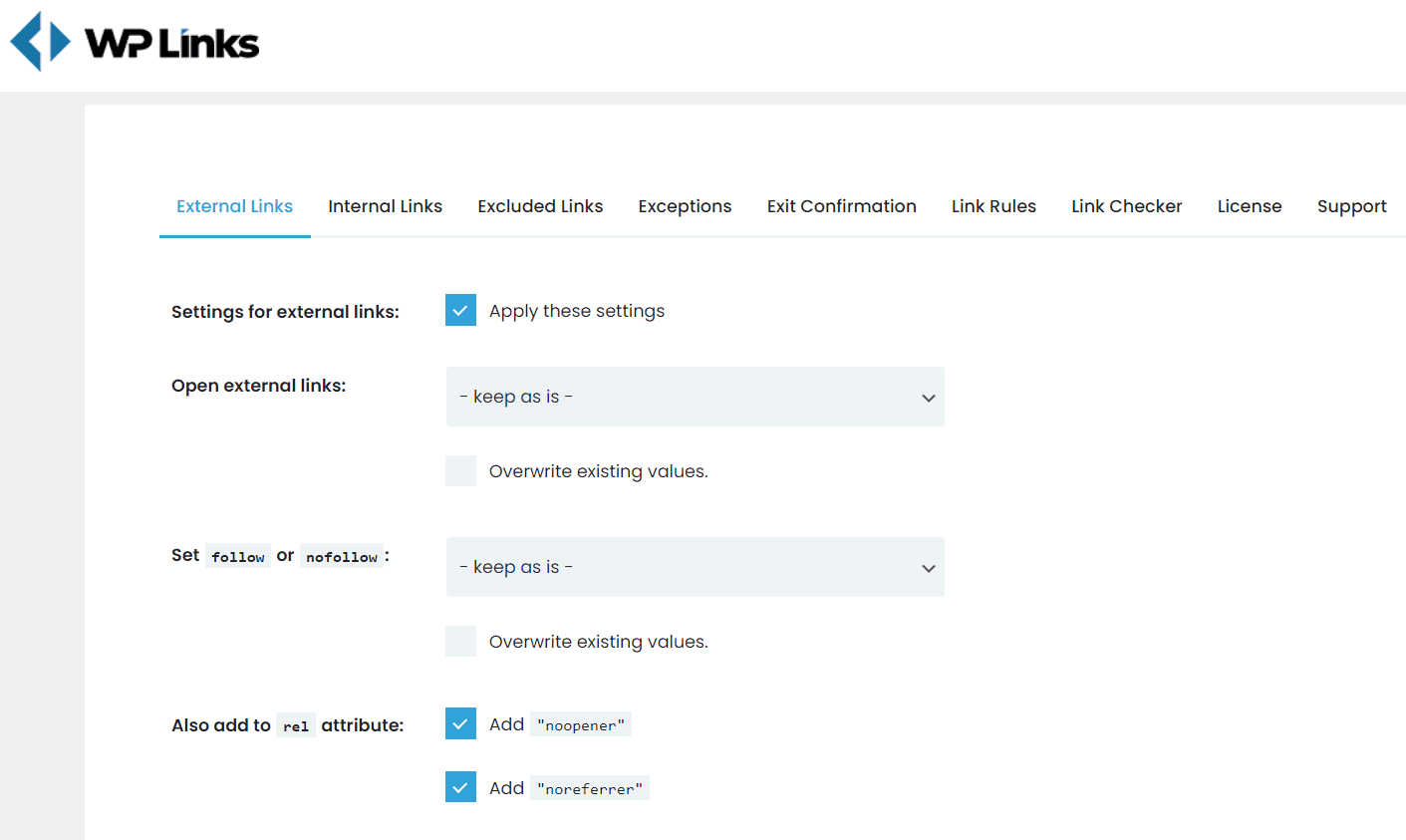 There are three options for selecting icons. You can upload them from your computer or choose from the existing ones. You can change the position, set titles, and add specific CSS classes to external links.
If you want control over internal links, WP Links offers that too. Similarly to external links, you can set follow or nofollow and add "noopener."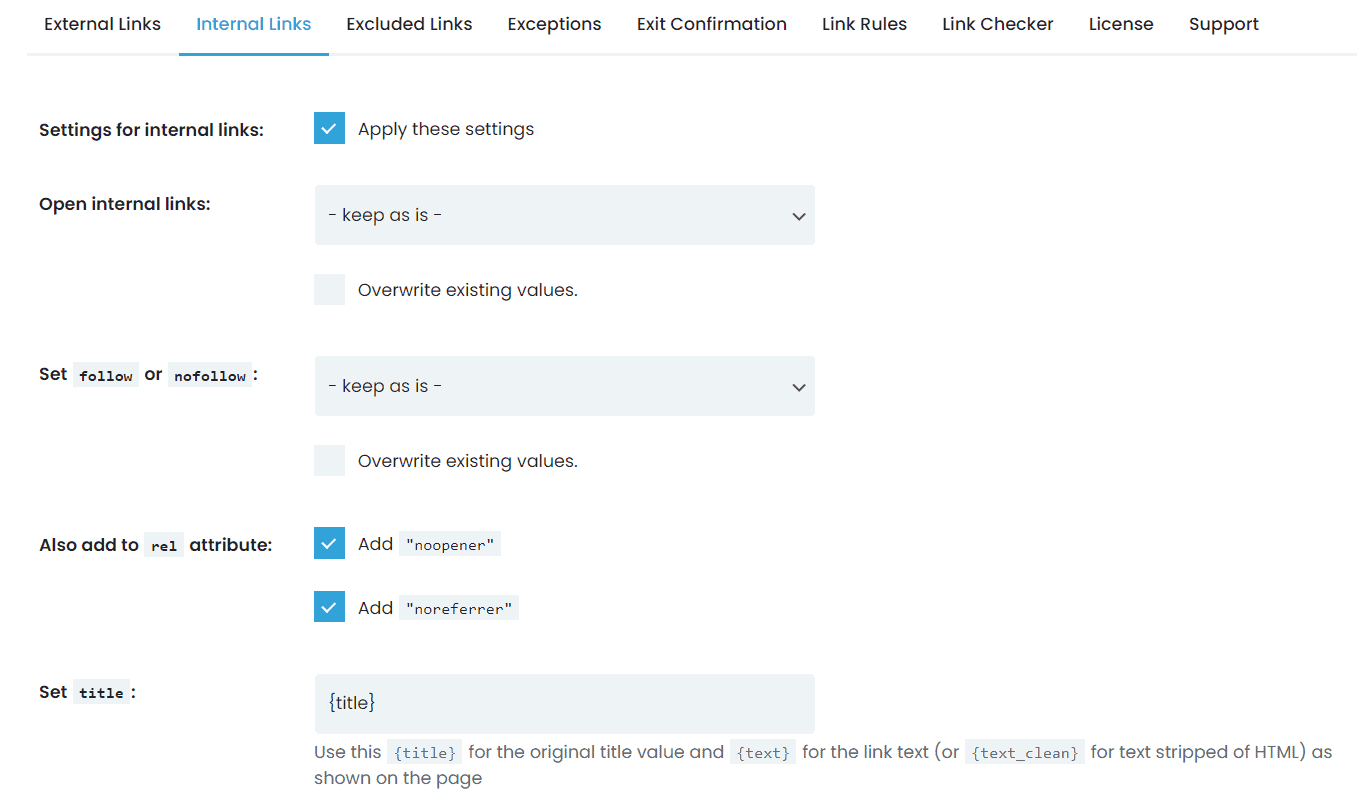 This WordPress plugin comes with a link scanner that analyzes all available links on your website. It checks if they work or lead to malicious sites and ensures that all the links on your site are valid. If you are worried about the speed, it doesn't slow down your site.
If you want to alert visitors about outgoing links, the exit confirmation feature lets you create a custom popup window with a message that lets them know they are leaving your site and going to a 3rd party site.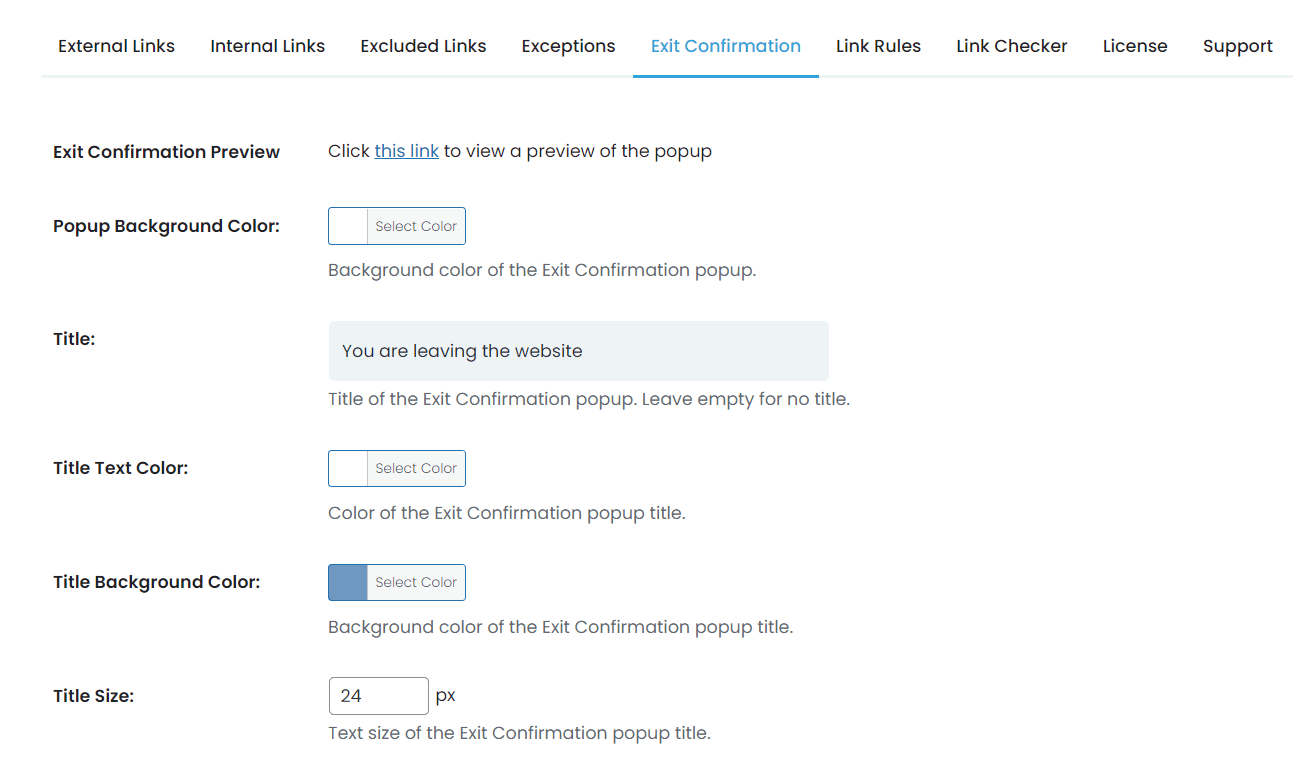 You can create unlimited link rules with the link rules feature to control any link property. Every link with a keyword is recognized, and rules are created based on the keyword.
With this plugin, you can add values, control how your links open, and add link icons and other attributes.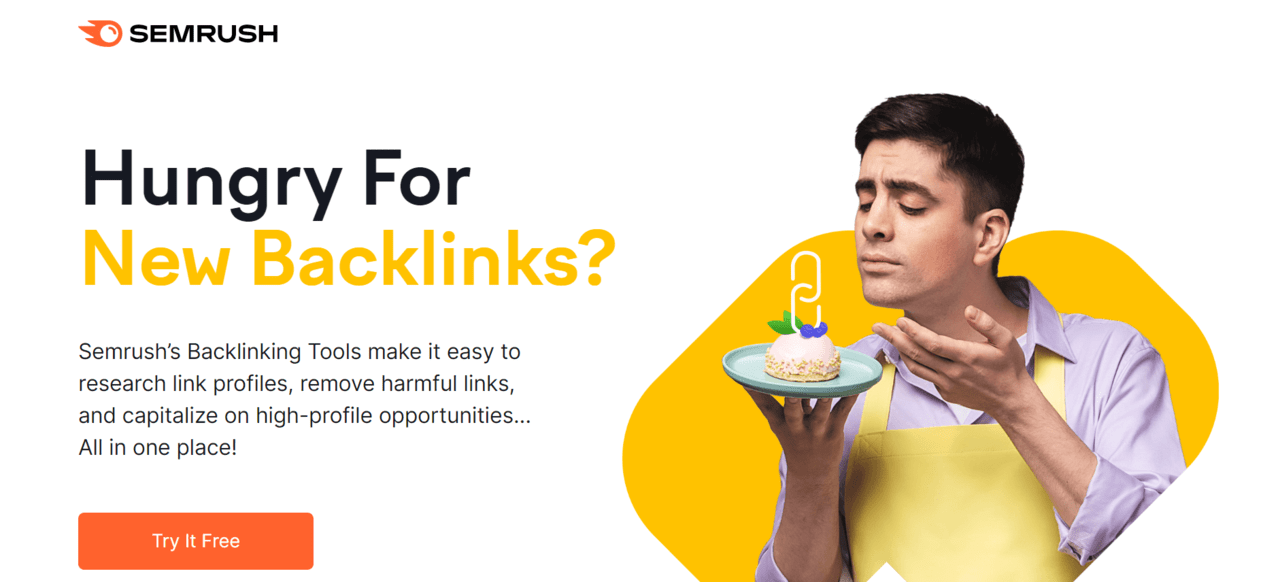 This plugin is trusted by the largest companies in the world, such as Tesla, Samsung, Walmart, and more. It lets you navigate the latest database, generate backlink analytics reports, and discover great backlink sources to gain an advantage over your competitors.
You can see which pages attract traffic, recover lost links, track internal and external links, outreach activities, PR campaigns, and more. It uses Backlink AuditDetect (and Eliminate) to discover and get rid of harmful backlinks.

This tool gives you access to complete link metrics for any website. You can gain insight into your website ranking by reviewing and monitoring links. It lets you research competitor link profiles to build better strategies, and you can find who is linking to their profiles.
You can easily find and fix broken links to your site, check the backlink spam score, and increase quality links. You can also check success metrics, including Domain Authority, Page Authority, and Spam Score.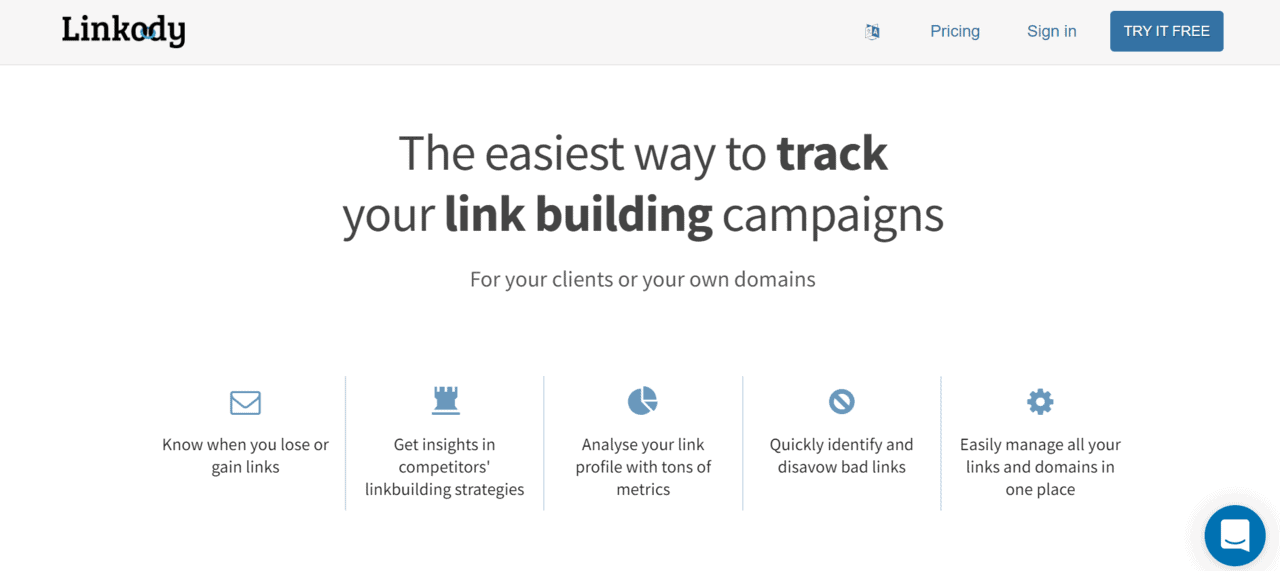 With the Linkody Backlink Tracker, you can easily track your link-building campaigns. It gives you complete reports, essential metrics, and powerful link profile analysis.
You can monitor how your backlinks are distributed across metrics such as DA, IP, Spam Score, and more. And you can also use the link visualizer to locate links with one click.
It helps you avoid negative SEO attacks and identify potentially harmful backlinks. With the help of this tool, you can compare your profile with your competitors and plan new strategies.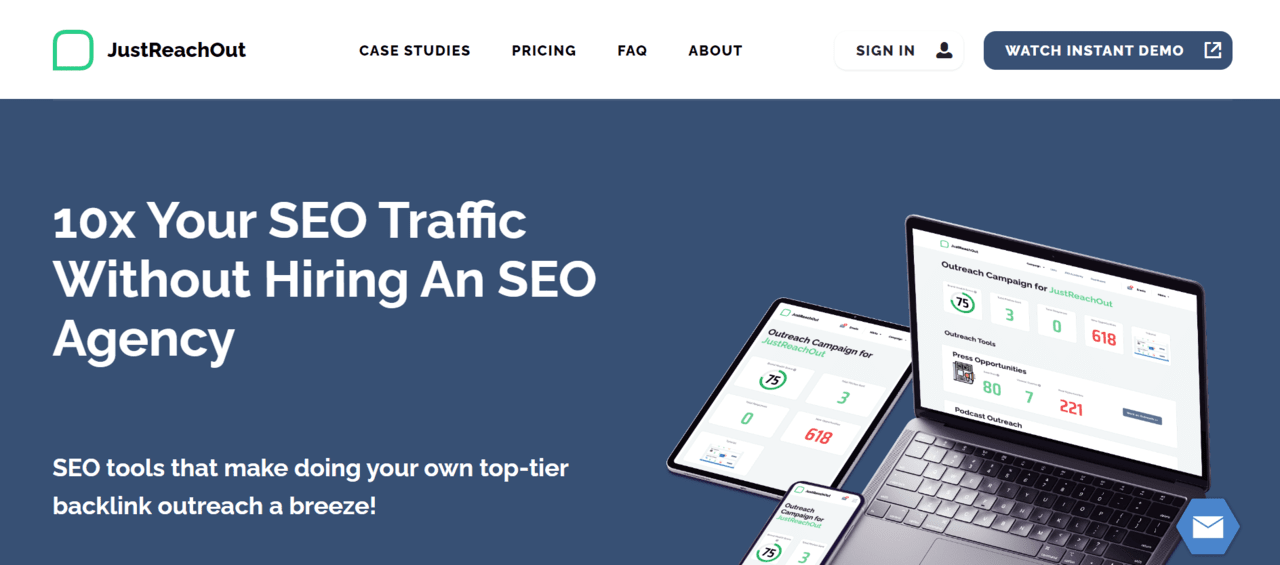 With JustReachOut, you can get the best backlinks and press mentions. The podcast and the broken link-building tools will get you top-notch backlinks that will help establish brand trust.
With this tool, you can find broken link opportunities for your website, check the website for broken links and get backlink wins.
It helps you quickly find blogs that mention your brand, so you can reach out to them and ask them to link to your website. JustReachOut helps you establish authority and gain more traffic and business opportunities.

Ahrefs Broken Link Checker checks your site for broken internal and external links in a few seconds. You can instantly see all broken links on your site, and you can filter and sort the link list. It lets you discover the most linked-to dead pages and eliminates dead internal links.
You can run manual and scheduled checks to ensure you're not linking to malicious websites that could harm your SEO. And you can discover your competitors' most linked broken pages in order to build opportunities for yourself.
Final Words
The tools on this list are great for link building, but WP Links is a must-have link management plugin for anyone on WordPress. It offers free and premium versions, so there is everything for everyone.
WP Links is trusted by over 200,000 site owners, is easy to use, powerful, and will bring you guaranteed success.