In the blogging world, monetization has become a huge aspect of sustaining and growing it. The most prolific way of earning money through either your blog or website is through third party advertising. It promises regular income and does not require constant efforts from your side. Moreover, it is also quite easy to implement in your blog or website.
We all have heard of Google Adsense which is a huge network of advertisers. However, to maintain their reputation, Google has made some strict policies that everyone must adhere to. Although the monetization facilities provided by Google are quite attractive, there is no point if one cannot follow the rules. Thus, to solve this issue and benefit blog and site owners, Adcash has built its own network of advertisers with easy to follow rules.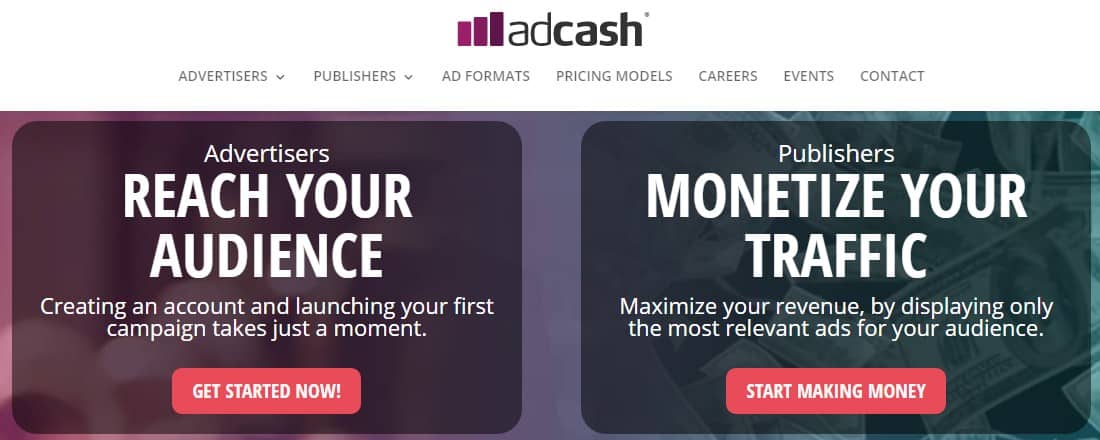 AdCash – A Know-How
Adcash is an advertising network that began its operations in the year 2007 when online advertising was booming. The advertisements served by the network reaches more than 200 million users every month which is a lot of users. In just a decade, the company has managed to have its presence in more than 196 countries and handle more than 150k publishers who advertise on the network.
The company has around a hundred employees who strive hard to make sure that every business and customer has the best ad experience. Adcash is based in Estonia and has a worldwide online presence. The company is trying to make its algorithms and machine learning techniques better to suit the customers well. This will also enhance the efficiency of the advertisements being shown. Also, every publisher has the control to serve the ads manually.
What is required to join Adcash as Publishers?
If you want to display ads on your blog or your site, you just need to mention the name of your site while registration. There are no minimum traffic requirements but the website cannot have pornographic or adult content, it is against the rules of Adcash.
What is required to join Adcash as Advertisers?
Advertisers can quickly get started just by choosing the ad formats they want. The pricing is based on various factors such as CPA, CPL, CPV and CPM. Currently, around 150k publishers are working with Adcash and it's a huge network which you can use to advertise your business.
AdCash Notable Features
There are several features of Adcash that makes it the choice of millions of advertisers and publishers. It works seamlessly well in the current web scenario and can let you earn a handsome amount of money through your blog or website. Also, these features can be equally beneficial for you if you are an advertiser.
Dashboard
Both advertisers as well as the publishers have their separate dashboards to properly manage their tasks. The dashboard makes it very simple to manage and keep a track of the ads. Moreover, you can also view the payment info in real time which is quite fascinating. There are various other useful tools which can be found on the dashboard of Adcash.
Multilingual Website
Since Adcash has a worldwide presence, it offers its website in 8 different languages. The languages in which the website is available are Chinese, French, Turkish, Russian, Portuguese, English, Spanish, and Italian. This is a great effort by the company to bridge the language gap.
Reports
Statistics are highly important in the ad world and you can see the real time stats in the 'Reports' section. If you want it, all the reports including the up to date stats can be mailed to you right away.
Support
There is an extensive support team that is always there for you when you need them. Whenever someone signs in with Adcash, a dedicated manager is assigned to the account. Thus, no matter if you are an advertiser or a publisher, you will definitely receive instant support for your queries.
Payments
There are various modes of payments available in Adcash such as credit cards and even PayPal. The payment scheme that the company follows is known as NET 30 in which the publishers are given money after every 30 days. Once the minimum threshold of 100 Euros is reached, the money can withdraw through various means such as WebMoney, Skrill, Payoneer, Wire Transfer and PayPal.
Different Ad Formats
One of the core reasons why advertisers and publishers love Adcash is because of the availability of different ad formats. There are many formats for desktops, tablets and mobile phones that the advertisers and publishers can choose from. Some of the different formats that are available are as follows:
Banners: Banners are the most popular ad format for desktop users. Different size of banners that are available at Adcash includes – 250×250, 728×90, 300×250, 336×280, 468×60 and 160×600.
Sticky footers: If you think that a footer ad can engage your users well enough, you can use the sticky footer ad format. They come in the size of 728×90 pixels and one of the major benefits of this format is that they always stay in front of the user.
Interstitials: These are full page ads that take up most of the visitor's screen and consume 800×600 pixels of space. They have a better chance of conversion since users see it as soon as they land on your blog/website.
Background: Background ads are good for conversions as well and have been proved to increase the CTR. They are of the size 2000×150 pixels or 340×770 pixels which can accommodate the blank space in the sides as well as on the top of your blog or website.
Pop-Under: Pop-Under ads perform great on both, desktops as well as on mobiles. The best part about these ads is that they don't interrupt the user in any way as they open in a separate browser window.
Slide-In: Slide-In like the name says slides through either side of the site and it comes with a close button. This can be useful in grabbing the user's attention.
Mobile websites have become very popular and Adcash provides some special formats that are meant to look best in mobile devices.
In app Interstitial: These types of ads appear full screen either horizontally or vertically and are said to enhance the CTR.
In app footer: The in app footer ads are similar to the desktop website and stick to the bottom of the mobile device. Since it always stays in front of the user, it can improve the CTR.
Unlike other ad networks, even video ads are provided by Adcash which is an added advantage. You can easily run these ads on the videos on your website.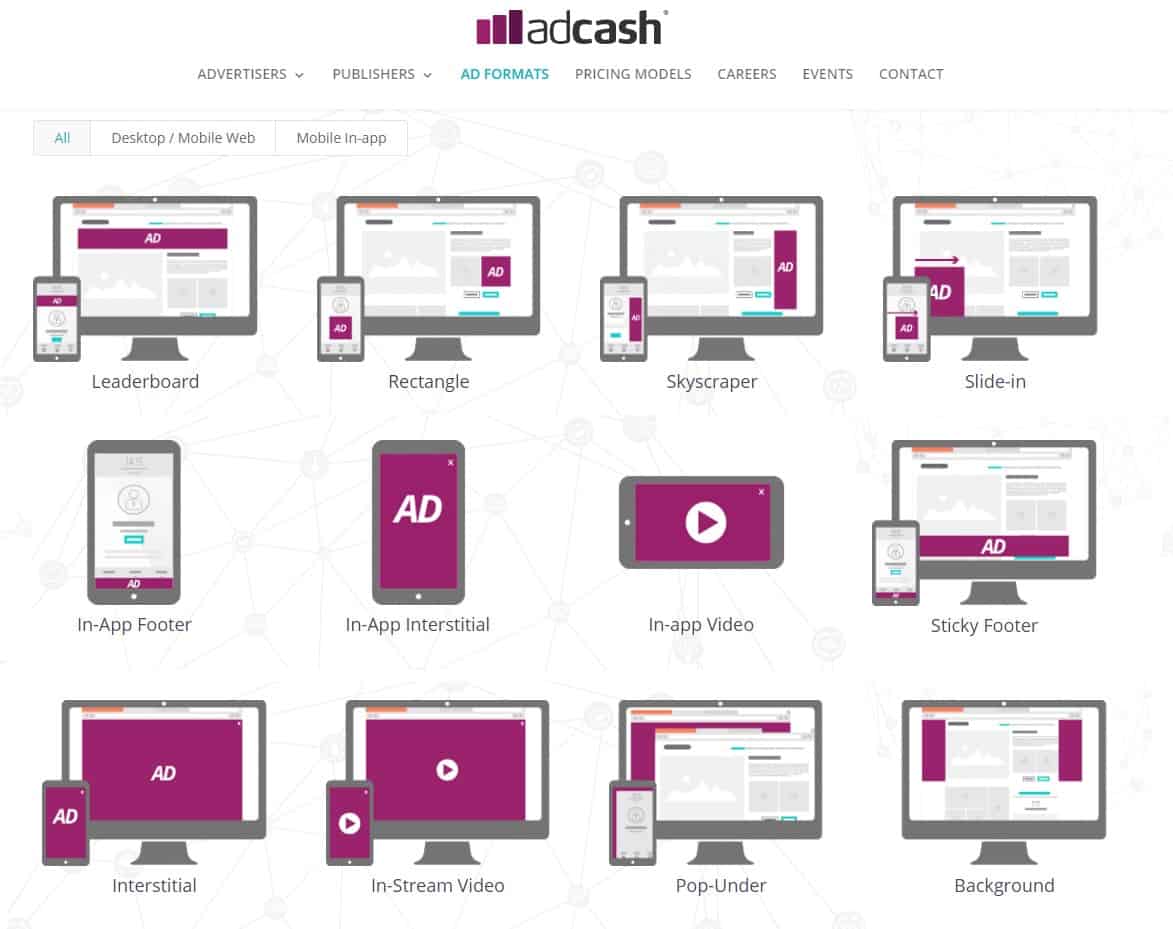 The Bottom Line
Adcash is one of the best ways to earn money for bloggers and site owners. For businesses, it is among the widest ad network which can serve your ads to a multitude of users around the world. Unlike other CPM based ad networks, Adcash provides the complete control of advertising and publishing to the concerned people. If you want a wide ad network to show your ads, Adcash can be the one you are looking for. Even if you are looking to monetize your blog or website, it can help you in a big way.