301 redirects belong to the array of core elements SEO experts most often use. It is basically a permanent redirect from one webpage to another, and it is used for a variety of purposes. However, those more observing among you probably noticed that I said "permanent," and that probably got you worried to an extent, as it should. Putting "permanent" in front of something web-related is like putting chronic in front of an illness that otherwise sounds harmless.
Needless to say, before you get involved with 301 and 302 redirects, you better make sure you are well informed and that your tools are proper and trustworthy.
In this post, we will discuss one such tool, the 301 Redirects Plugin. So, if you are about to try and fix some links and clean some messes, stick around because this plugin could be exactly what you are looking for.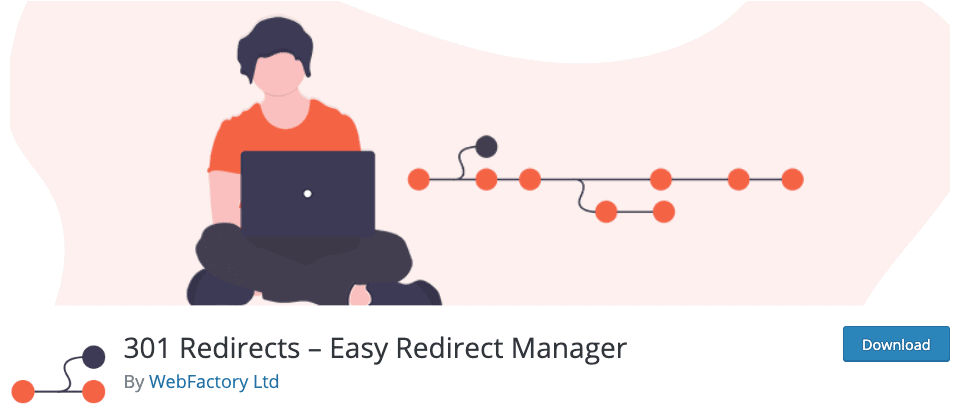 For arguments sake, we'll say that there are three major reasons why you should set up a 301 redirect:
Maximizing Domain Authority
Once you decide to allow the 301 Redirects plugin to do its magic and redirect your audience from one URL to another, the URL the traffic is directed to retains the search engine authority related to inbound links to both URLs. The second link will, for example, have an http:// at the beginning, but by the time your visitor comet to the webpage, the URL in the browser will look the same as the original. This particular operation is essential for the improvement of the search rankings.
Rebranding or Renaming a Website With a Different URL
In this case, if you are changing the company or website name, 301 Redirects Plugin will be integral for preserving the potential and power of inbound links to the initially used URL on the migrated domain. Furthermore, the 301 Redirects plugin will have the crucial role of sending website visitors to the proper address to get what they need.
Generating More Search Traffic Through Other Domains
In this scenario, the 301 Redirects plugin would make sure that the original domain keeps the search authority. Developing brands sometimes buy domains similar in name or subject matter to their own brand. That way, they generate more traffic to their website, and a 301 Redirects plugin plays the role of a loyal mediator.
In addition to these cases, 301 redirects are also usually used during a re-organization of the existing WordPress content, as well as if the particular content is expiring, so the users should be redirected elsewhere. Needless to say, regardless of the particularities of a blog or business you are running, you will definitely make use of 301 Redirects Plugin.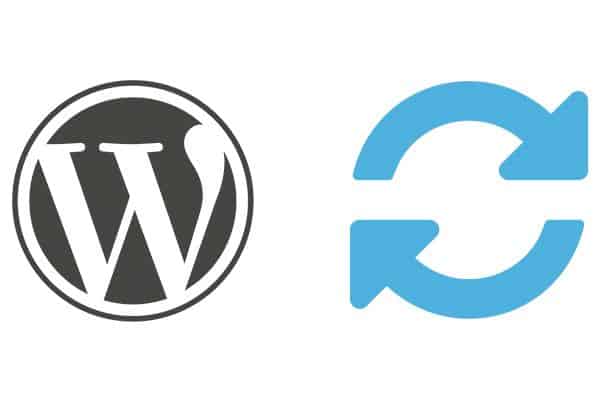 Aside from taking care of your 301 redirections, the 301 Redirects Plugin will also take care of your 302 redirects. 302 are temporary redirects, and there are usually two kinds of them, on-domain redirects and the off-domain redirects. With 302 on-domain redirects, a particular URL is replaced with some other URL from the same domain, while with an off-domain redirect, it takes the browser from one domain to the other. Just like 301 redirects, 302 are also used for a variety of different reasons, and it can be highly beneficial for the condition of a URL as it can clean and simplify it significantly. However, 302 redirects are used less often than 301, but in case you want to go for them, 301 Redirects Plugin will have your back bruh. *insert fist bump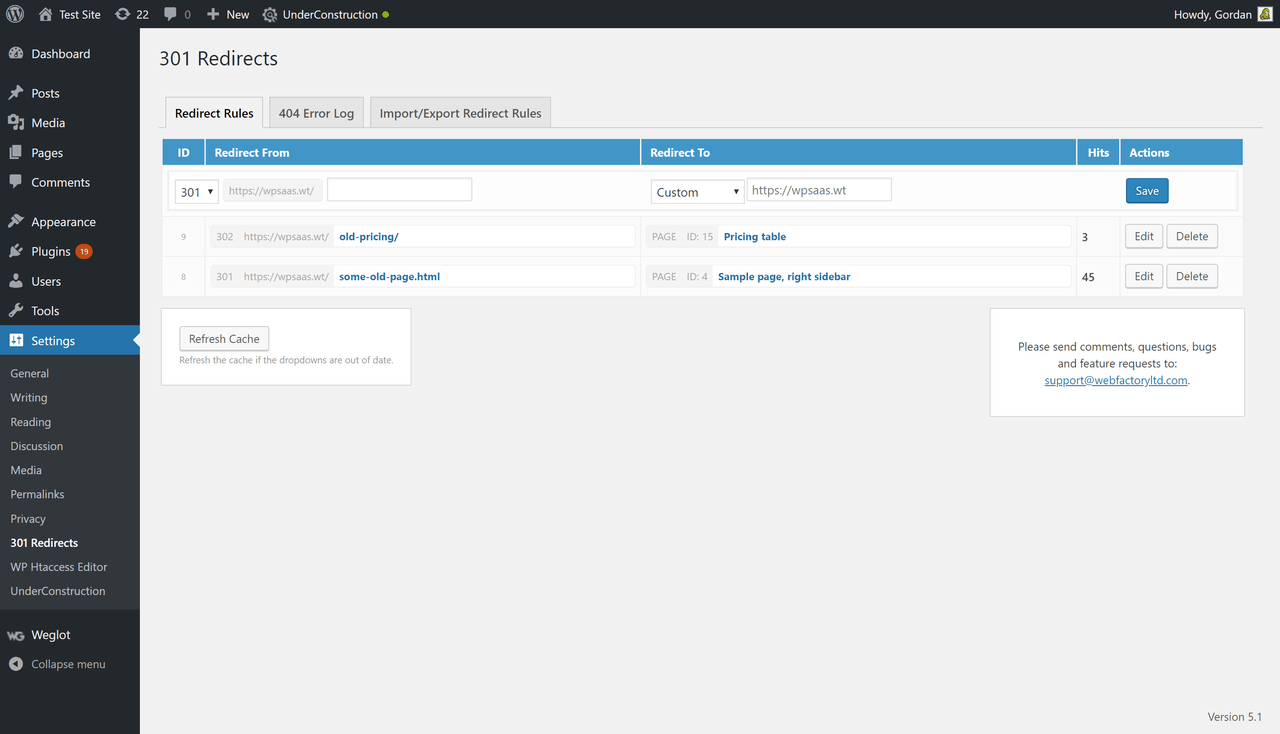 In addition to doing all of these highly important work, 301 Redirects is also easy to navigate with a user-friendly interface. 301 Redirects GUI is located in WordPress Admin Dashboard – Settings – 301 Redirects, and some of its terrific features include:
A rich dropdown menu allows you to choose from Posts, Custom Post Types, Pages, Archives, as well as Term archives from
Set a custom destination URL
Get super-fast redirections
Retain query strings through redirects
Import and Export for bulk redirect management
Redirect statistics, so you can have an insight into how much a redirection is being used.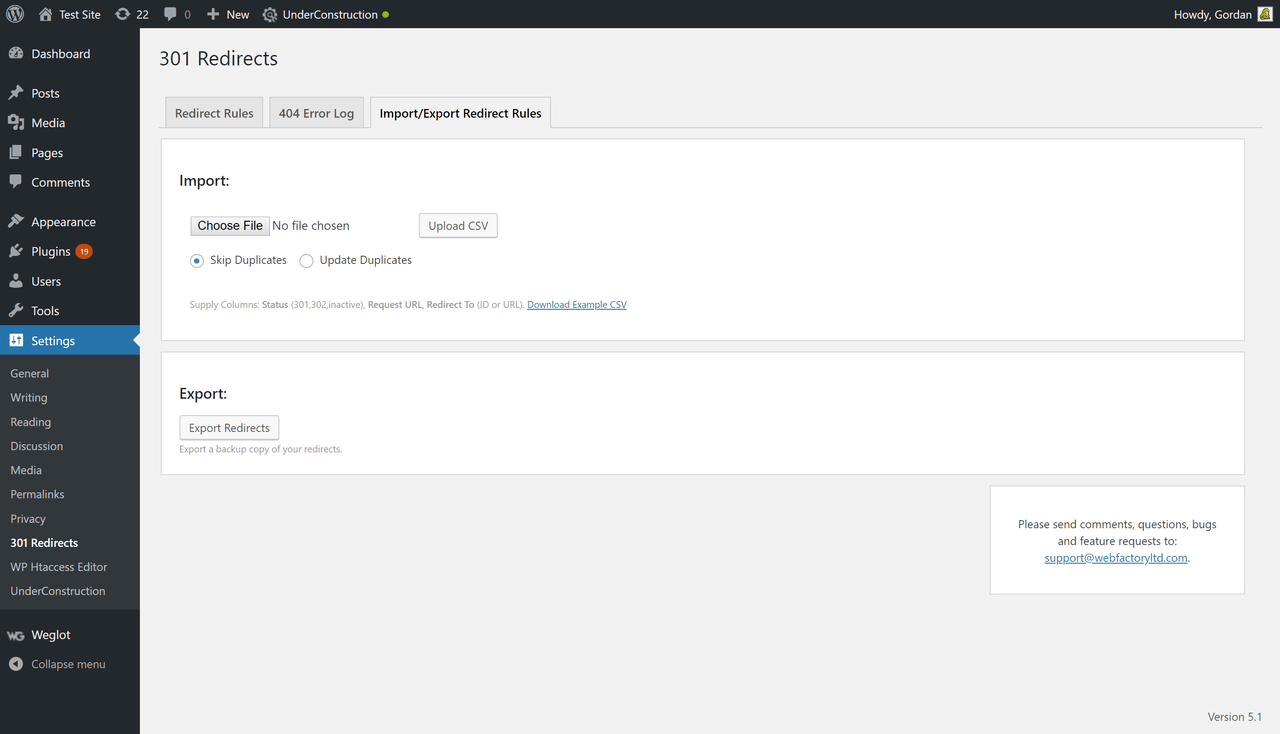 The whole 301 Redirect matter is still considered to be somewhat controversial since up until 2016, the use of a 301 redirect meant around 15% loss of PageRank. However, Google tended to the issue, so if you use 301 redirect now, the redirected page has just as much web-power as the original one did. However, there is a large number (the understatement of the year 2019) of misinformed users on the web who are still reluctant to use 301 redirects, thinking it will cost them their visibility. However, that is completely untrue as 301 redirects are now even used to boost organic traffic and fix a variety of SEO related issues. That doesn't stop the search engine conspiracy theorists (read: ignorants) to "imagine" and spew out a chumbucket of sourced claims that will make you question your own sanity, let alone 301 redirects "intentions." Google is out to get you average web-user, BEWARE. Smh…
Last but not least, one of the frequently asked questions about 301 redirects is how long should they last. The short answer would be – forever. Sounds like a total bummer to say the least, right? Wrong. Now let me hit you up with some philosophy: once you've fixed something that was broken, why would you stop using it now that is fixed? I'm pretty sure Plato said that at one point. Or was it me? We'll never know. All jokes aside, once you make a redirect, you shouldn't try to remove it, as its removal could potentially cause the URL to start freaking out and turn into 404, and we don't want that.
Once a 301 Redirects plugin creates a redirect, it can stay that way virtually forever. It won't create any technical issues or burden your server in any way, so just keep it and chill.
And before you start overthinking whether you should install this magical fairy dust of a plugin or not, keep in mind that overthinking is exactly why Marvel doesn't have Spiderman anymore. So, stop overthinking and install a 301 Redirects Plugin. It will make your online existence easier, and it might even make Peter Parker happier. Who knows? Stranger things have happened…