The Internet has completely revolutionized sales and marketing models which had been hitherto followed as Bible by the marketers all over the world. There have been significant shifts in the marketing strategy especially the AIDA- Awareness, Interest, Desire, and Action Model and had led to the creation of the Digital Marketing Funnel which explains the entire journey of a customer from product awareness to brand loyalty. The underlying theme is to take brand engagement to an entirely new level directed at internet-savvy customer base. The Digital Marketing Funnel The new digital marketing funnel, therefore, is based on six broad stages-namely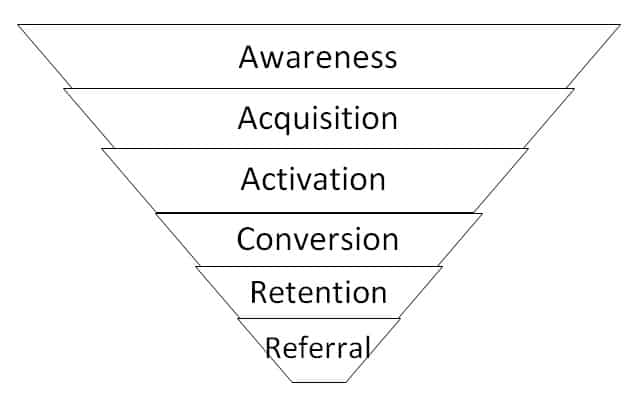 Many times, it is seen the steps have been expanded to accommodate various newly developed marketing models. Let's, have a look at these in detail:
Awareness: This is the first stage of your marketing funnel. The idea is to tell the customers about what your brand is all about. At this point, it does not matter how many people will buy your product. It only caters to the aspect that how many more people know about your brand and the products it has to offer. You will not work towards developing any sales strategy or give any sales call but will only focus on content that will match the keywords of your potential customers when they conduct searches online. This kind of content is highly instrumental in developing your organic search rankings and creates an air about the new things which are in the offering. Here at this stage, the best content will be which does not create any hurdle to engagement or search.
Marketers generally resort to using IGTV or Instagram TV which is known for featuring vertical videos which usually end in a call-to-action e.g. to follow the channel etc. Other kinds of informative videos or YouTube ads, various infographics and even writing educational articles go a long way to create brand awareness.
We live in a world where people can't seem to function without a cellphone. In recent years, SMS messaging has become a fundamental means of communication for millions across the globe. Therefore, if you want to connect with your customers and increase your brand awareness, consider an SMS marketing strategy. You can use an SMPP gateway API to send hundreds or even thousands of text messages to your clients instantly.
Acquisition: This is another critical step in your marketing funnel which will define the strategies leading to the real acquisition of your clients. At this stage, mere giving of information will not break the ice, but the information must be sparky enough to catch the eye of your customers and should be able to hold on their interest for a reasonable amount of time. Most marketers usually prefer seeking information from the potential customers with the help of an email pop-up which also at times asks for the occupation of the customer. As a thumb rule, it is safe to ask for more information as one goes deep into the funnel as these customers have reached very near to the conversion level. However, do not try to overload with information. The idea to get the email id is to be able to reach the customer even after a long time he/she has visited the website. Emails generally keep you in their minds and create a chance for a revisit if a product or offering of their interest shows up.
The content at this stage should be more valuable as compared to the previous stage. Do not try to ask for any commitment at this stage as well but just offer good engagement. Marketers use stories which have links on social media channels like Facebook, YouTube, Instagram, or even emails, e-books etc.
Activation: The aim to increase the level of engagement with your business and again it is done with the help of social media channels, emails, websites etc. Herein, the difference lies in the fact that the messages and marketing decisions will become more personalized and tailored to suit the needs of the potential customer. This precisely means you will have to deeply study the internet behavior of your potential customer and then direct your information based on the results. Marketers often also customize their landing pages to make them more clickable like by addition of call-to-action buttons. Things like changing headlines to taglines, re-positioning of the sign-up forms etc. usually prove useful at this level.
At this stage, you should be looking at more directed emails which are highly customized and give a personal touch, or can consider offering free consultation sessions, webinars etc. the utility of the webinars is that people have to quickly reserve their place to be a part of the same. You can also consider offering some freebies.
Conversion: You need to remember that as you go down the marketing funnel your strategies need to be more streamlined and closely knit together. This is the stage where you will ultimately convince your potential customers to purchase your product. Any communication at this stage is highly significant and crucial. The content must be highly persuasive like case studies and other kinds of demos. The role of influencers is also highly pronounced at this stage and thus it is advisable to introduce various customer reviews, testimonials which support your product. Even the ads on social media should be limited to the routine feed but can be put in Messenger. Videos also serve as a potent tool to convince the people just before they make a purchase. They can show the exact experience which the customer will have after they buy the product or service.
Marketers also measure conversion rate at this stage very specifically considering many other specifications with digital marketing Services.
Retention: This is a relatively safer stage as you have won your customer once and are best positioned to win them again. This will purely depend on your communications henceforth and the frequency at which you launch your new products. This is also a passive stage with regards to content as you are not showcasing any product or are not building your brand image. The content thus must be helpful like offering some tips, directions or even purely entertaining. It is also a good time to seek feedback and regular assurances that you will keep refining your product and service.
Referral: Lastly, this is the final stage of the digital marketing funnel but also the most important one. Remember, happy customers are the best brand ambassadors and they market the product which cannot be matched by any number or kind of ad campaigns. You have now transformed your happy customer to a real-time brand endorser by asking for a generous review. You can also throw some premium offers for referrals. Also, always remember your customers on important occasions and days. This will add to the relationships which you should have developed with the customer.
Conclusion Thus, digital marketing has outgrown the traditional marketing models and is continually evolving. A lot will depend on the expertise and experience of your marketing team as every stage in the funnel calls for well-directed communication and content with specificities one cannot afford to ignore. Each stage comes packed with its own set of advantages and as a marketer, you have to walk through each one of them with care. Remember, each product is different and there is no one-size-fits-all.
Extract or delete some HTML tag attributes from the desired tags, based on your criteria with the online HTML editor. Other useful features will help you to make web content composing a piece of cake.