Looking for the best social media plugins for WordPress? Look no more because here is the ultimate list of the most effective and easy to use social media plugins that will increase the traffic of your website in no time!
Social media is gaining more and more popularity, and it's one of the best tools out there when it comes to attracting an audience, engaging the audience, and increasing the overall performance of your website.
So, if you've been looking for the best way to promote your website and integrate social media features, then social media WordPress plugins are the "Holy Grail," aka your best bet!
Now, when it comes to integrating social media features and turning your website into a magnet for a new audience, there are several aspects that you need to pay attention to:
the quality of the social media plugin,
its demand in terms of performances (to prevent affecting of the loading speed of your site),
perfect designing and placement of share buttons,
(and many others).
And that's exactly what you'll find below. The following plugins belong to the 'best social media plugins' crew for a reason: They are easy to use, perfectly customizable with attractive designs and multiple options, which are the key ingredients when it comes to increasing the traffic of your website!
9 Best Social Media Plugins for WordPress
Simple Social Icons

As the name implies, Simple Social Icons is a simple and extremely customizable plugin that displays icons that lead visitors to all of your social media profiles. You can change to which profile each of them link to, change their color and size, and it also allows you to align them up, down, left, or right. Unlike the majority of other plugins out there, Simple Social Icons is not demanding in terms of performances, and it's straightforward to use!
WordPress Social Login

WordPress Social Login comes with a fully customizable widget and allows your visitors to login, register, and add comments through their social media account. They can simply log in via social networks and services like Facebook, Instagram, Gmail, and so on.
This feature removes the need to register a new account and go through the unnecessary trouble of creating a new username and password (and trying not to forget it). It also gives you total control over each user's access to your site and what restrictions and rules you want to have on your website as well.
Smash Balloon Social Photo Feed

Unlike other plugins, Smash Ballon Social Photo Feed is specifically concentrated around your Instagram posts and pictures.
It's really simple to set it up, and the moment you install it, you can start displaying your Instagram photos within seconds! What's specifically impressive about this plugin is that it allows you to link multiple Instagram accounts at once and choose to put them on the same feed or in separate feeds. It's fully customizable, and it includes a Follow on Instagram button.
This plugin will definitely save tons of your time, and it will help you increase the number of followers on Instagram!
AddToAny Share Buttons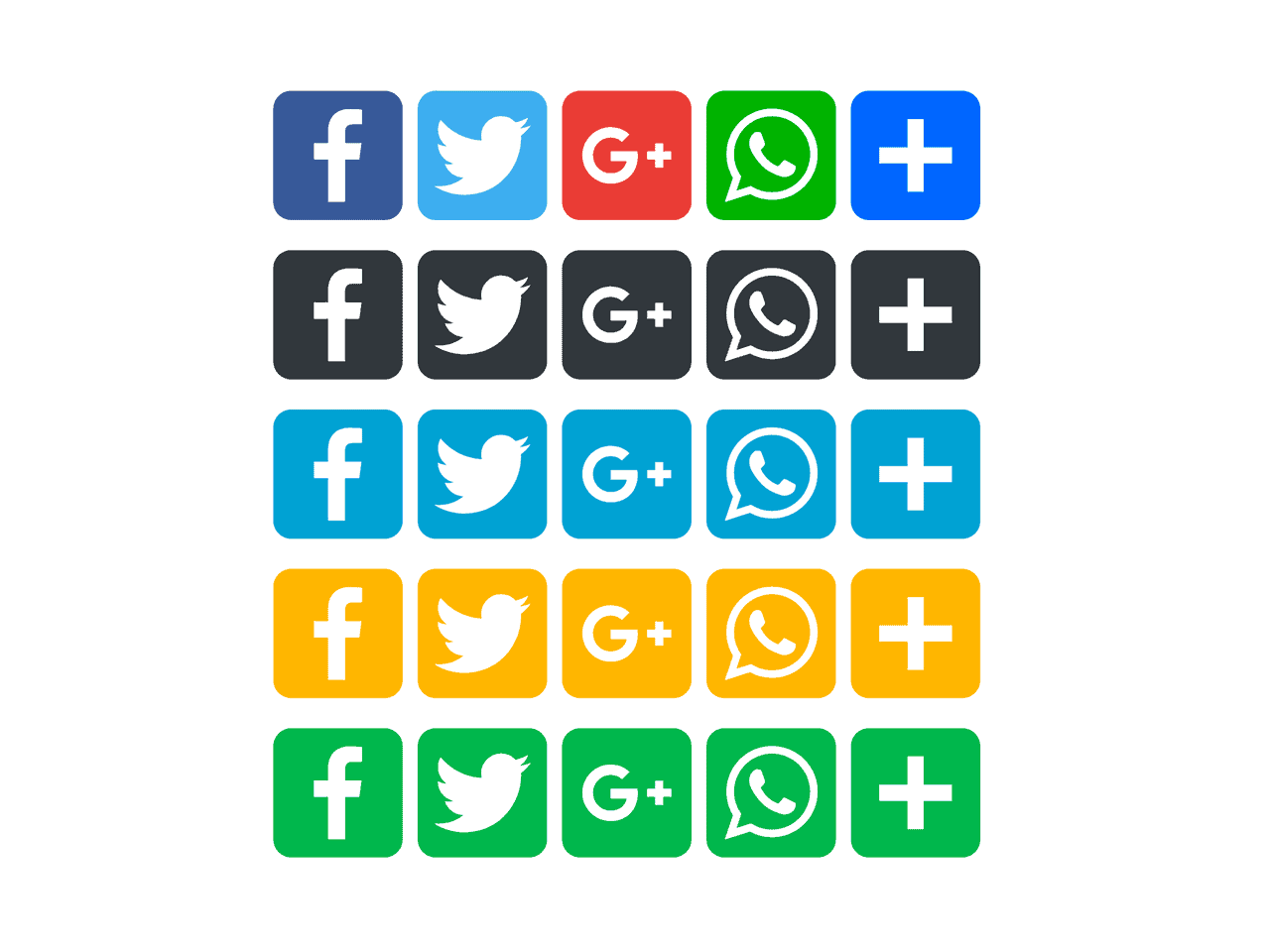 If you're looking for something that will help people share your posts and, in return, bring you tons of new followers, then AddToAny Share Buttons is the best choice for you!
AddToAny Share Buttons helps you gain more traffic by allowing people to share your posts and pages to multiple social media sites and other services easily (Facebook, Instagram, LinkedIn, Twitter, Tumblr, Pinterest, etc.).
This plugin offers multiple choices of share buttons like standard share buttons where you can share the whole post, fully customizable floating share buttons, follow buttons, buttons for sharing images, etc.
The best part is that it uses only one icon, which, when clicked, gives you a list of all the available social media you can choose from.
Social Icons Widget

Social Icons Widget is another simple plugin that allows you to add social media icons to your WordPress sidebar on the fly! It's really simple to use and quick to implement into your site.
All you have to do is pick the desired icon, adjust its size, color, and choose the style of the icon (rounded corners, round, square) and add the link to where the icon will lead upon clicking on it. (Yup, it's really that simple.)
Revive Old Posts – Auto Post to Social Media

Managing all of your social networks by publishing posts on all of them at once is kind of a pain and time consuming, right? Well, with Revive Old Posts, you can simply and efficiently manage your accounts and posts by continuously distributing them across all of your social media profiles! Wow.
Revive Old Posts allows you to automatically share older posts that have been posted on your site, thus removing the need to multitask all of your social media accounts at the same time! It's a brilliant way to both save your time and continue providing 'old but gold' content, which will help you boost user engagement.
Social Warfare
Like the name? Then you will appreciate even more the number of fronts that this plugin covers!
Social Warfare is a simple tool that does not cause too many performance issues as the majority of other plugins. All you need to do is choose the social network sharing button and the place where you want it to show up (above the post content, below the post content, and similar).
It also has the option to display the number of times your content has been shared, which is one of the best ways to motivate others to click that share button as well and increase the number of shares. It works on the 'Social proof' principle meaning that the content is approved and shared by other users, which instantly motivates others also to join the sharing crew without much thinking.
With [social_warfare] shortcode, you can place share buttons in the middle of an article, and you can create tweetable quotes anywhere on your site, making it easier for users to re-tweet and share. Sounds perfect, right?
ARSocial

ARSocial is an extensive social media plugin offering features like social sharing, liking, following, subscribing, social locker, social media fan counter, etc. It's a multi-purpose plugin supporting over 42 social media sites.
It offers you options to automatically display social media buttons at desired locations, to customize the placement of social media buttons for mobile phones, and to change the styling and design of your buttons according to your preferences and needs.
On top of all of that, a built-in analytics feature gives you an insight into your social sharing activities.
ShareGrapes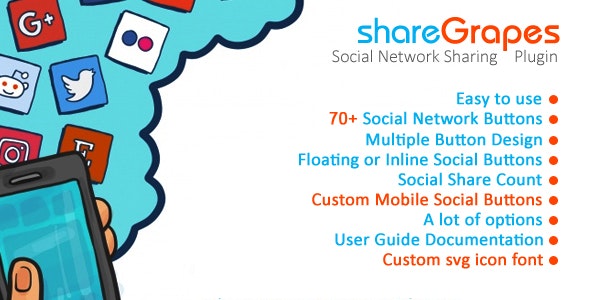 ShareGrapes is another brilliant, easy to use, and customizable social media plugin with over 70 social networks. It's a versatile plugin offering multiple sharing button designs that can be shown at multiple locations and as floating or inline social buttons.
This social media plugin is mobile-friendly, which means it gives you an opportunity to create impressive custom button designs for mobile devices as well. It also includes social share counts and the customization of all the other details that are crucial for increasing the engagement on your social media sites.
Conclusion
Social media is an inevitable part of every successful website and investing in quality social media plugins is one of the wisest decisions that will definitely pay up sooner than expected.
Whichever of the above plugins you choose, take some time to improvise with the adjustment and placement of sharing buttons and the ordering of social networks to find the perfect combo that will boost your sites reach and bring you the abundance of shares, likes, and all the other traffic boosters of the modern era.