Running any business nowadays is tough and complicated. We aren't even talking about retailers where you're presented with a whole new bunch of logistical and other issues. Even the simplest feats (on paper) require knowledge and effort, as well as an accompanying platform that will enable you to realize your ideas. The platform we're talking about is tied to a practically mandatory internet presence. Unfortunately, the more removed from the field you are, the harder it is for you to tie everything you need in a complete package. It's hard to think of anybody more removed from the tech industry than artists. The "starving artist" moniker has a certain romantic feel to it, but let's be honest, it's not something you'd want to go through.
A great way to both show your work and attract business is through web galleries. These will enable you to put your art out there for the world to see. The goal, of course, is not to stop only on viewing but actually selling. To reach that goal, your presentation will have to be on par with content quality. Most of the time, you won't be looking to pay somebody handsomely to take care of everything for you since prices tend to get high. The alternative is for you to roll up your sleeves and get to work yourself. To get through the process as painlessly as possible, you'll need a good gallery plugin – something like NextGEN Gallery.
No. 1 On The Market
With NextGEN Gallery, you'll be getting a WordPress gallery plugin that's on the market for over a decade and still going strong. It's the most used gallery plugin where, over time, all the kinks have been ironed out, and new features have been added regularly. Even though "gallery" is in the name of the plugin, it's so much more, and we'll go through the features so you can get a sense of everything available.
Keep in mind that we'll first be focusing on how you'll get to display all your images. This is important because if you're selling photos and/or your services in taking them, the visual presentation is the essential thing you'll need to know about. When you know how you'll be able to express yourself and your work, we'll get to the actual business of it all. If you're an artist, the art comes first after all, and everything else is secondary.
Galleries Galore
Even though it is so much more, as we've said, it's natural to start running down the features with the main one – galleries. Creating and managing images and galleries has honestly never been easier.
Even though managing everything is easy, that doesn't mean it lacks options. The interface you'll be using isn't that much different from the default interface of other WordPress functions, so you'll get into it pretty easily. Adding new galleries to your page is also streamlined to the point you'll be adding them just like any other block.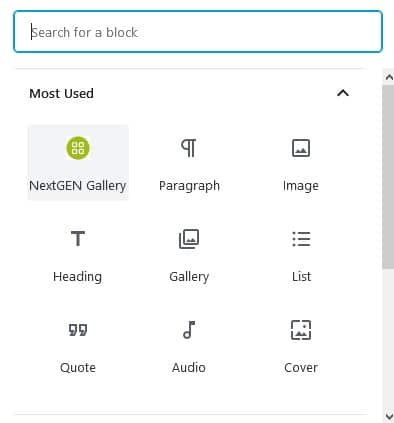 A default gallery isn't that exciting; however, is it? We've emphasized visual presentation so much it, and it would be excepted you can set everything up to be really eye-catching. Fortunately, NextGEN can display your images, which are really raw material at this point, in a way that makes them pop. You'll get to adjust everything from the basic layouts, effects, slideshows, etc.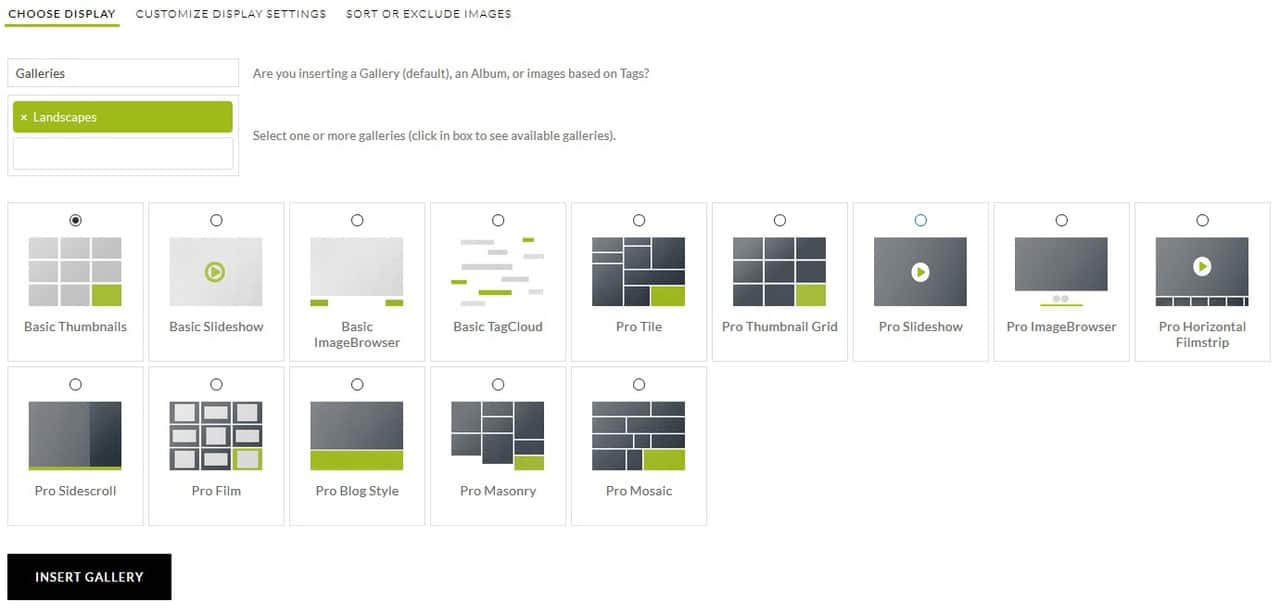 Both basic and pro options will be available to you, depending on your plugin tier access. The pro options work in the same way, there are just more of them and they give you a little more freedom with things like customizable mosaics, slideshow speeds, etc.
Stepping back from pure display features, we get to the things you can do for images within those galleries. To get both your images and your galleries to the next level, you can use lightboxes that enable you to set up everything to the smallest details.
Nothing is out of reach; you're only limited by your creativity – insert social media connections, use various transition effects or just simply change the color pallet.
Using everything that's at your disposal will give you the chance to present your visitors with unique creations they won't be able to see anywhere else, making them that much more memorable.
We've spent a lot of time dissecting how you can use galleries to enhance your work, but when it comes down to it, photos are the core of what you do. No amount of gallery wizardry will be able to mask sub-par content. The reason we're even mentioning this is that if your work is good, you'll need to protect it and not let just anyone take credit for it pumping their galleries with your content.
NextGEN Gallery offers you two pretty standard protection options, both of which we suggest you use. The first of these is the watermark.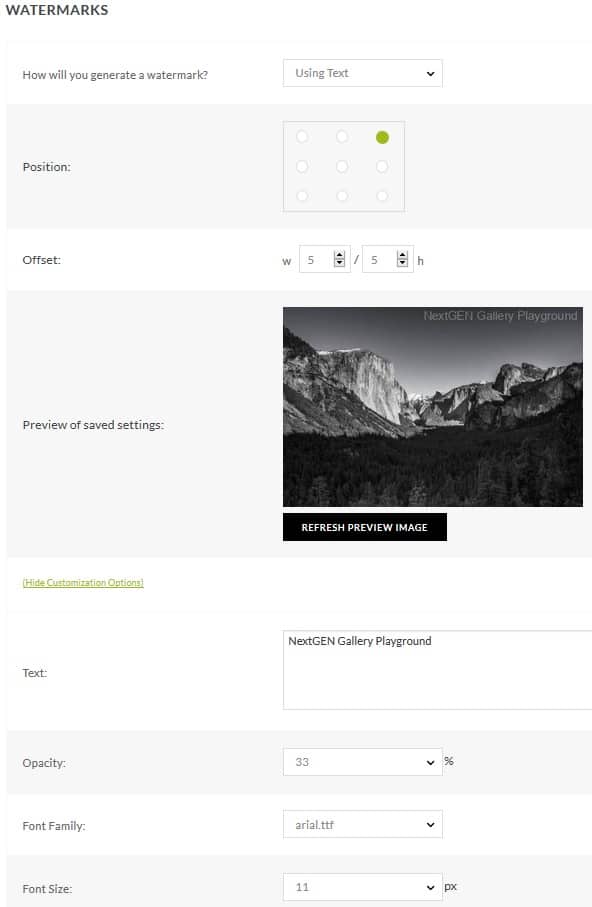 Watermarks have been used on both physical and digital content for decades, and they represent the easiest way to detect whose work something is. It's easily used and easily identifiable, making it the perfect solution.
The other feature is the image download blocker disabling your images from being downloaded from the source.
After you're done protecting your photos and displaying them in perfect unique galleries, it's time to bump up your SEO rating and add tags.

Adding tags will instantly make it easier to navigate your pages, but it will also help to get your content as a result of random searches. Trust us; you'll want to be high on those results pages. The easiest way to get new visitors is not relying on those who come regularly, but those who are searching for "something" and get redirected to your site. This is simply because there are so many more of those from the other group that they'll easily match numbers from constant visitors.
Sell, Sell, Sell
By now you have an idea how you'll be able to present your content, but now it's time to cover all the features that will get you selling photos with WordPress.
The first thing that needs to be pointed out is that with the pro feature, you'll get to implement an e-commerce function to every image you have. This little, but very important detail is maybe the most crucial in the entire process of selling images both physically and digitally, transform your site into a full-fledged webshop. Be sure to remember that to use all the e-commerce features, the function needs to be activated – if it isn't, it's as if the photo isn't for sale.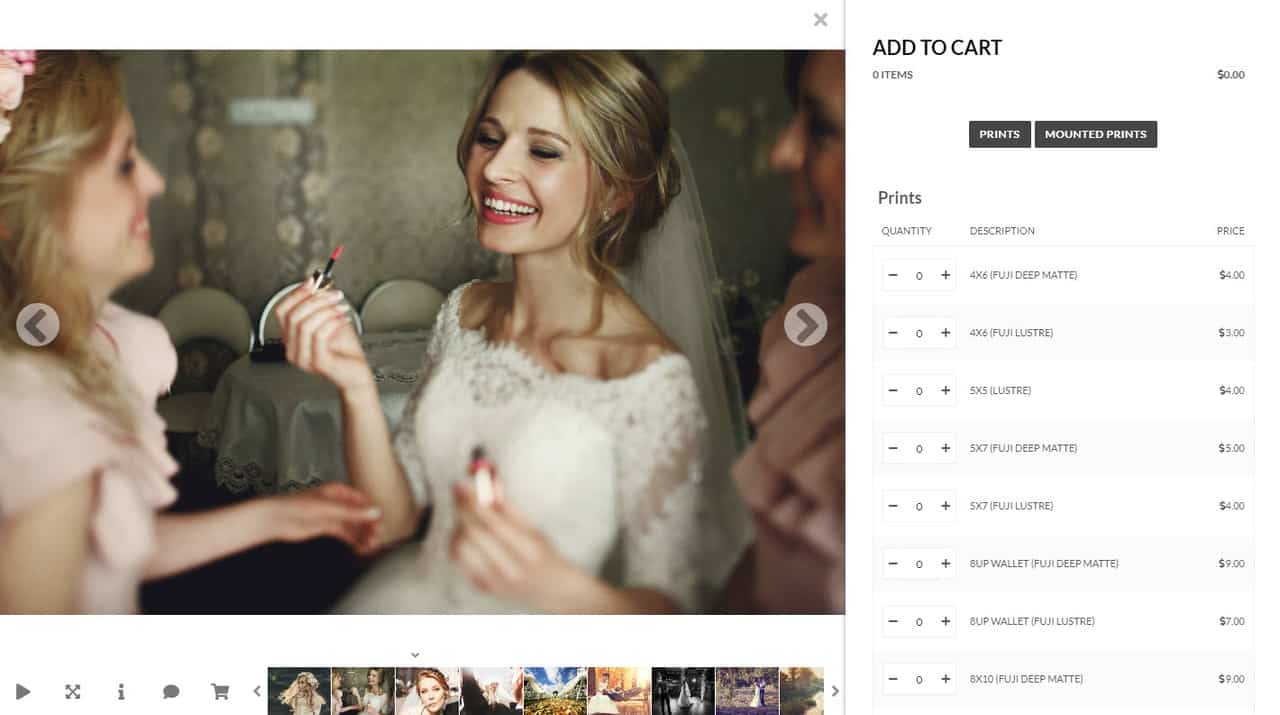 It doesn't stop there, however, since your customers will get to choose the format (for physical, printed copies) and resolution (for digital copies) in a handy lightbox that lets them see all the details of the photo in a bigger preview window.
If you've ever used any kind of e-commerce, all the core features will be familiar to you. The very first thing you should do is set up the parameters that will define the customer's interactions. These include the main currency and various default webshop pages like the checkout or thank-you page. In essence, these are the quality of life things that make the shopping experience a satisfactory one for your customer.
Right after that's done, you'll need to figure out what payment methods you'll be accepting. Luckily with NextGEN Gallery, you won't get shortchanged since all standard methods are supported.

Before going live with your shop, the price list needs to be created. It whole process is pretty straightforward. When creating an item, you need to put into one of three categories that fix the product to certain distribution format.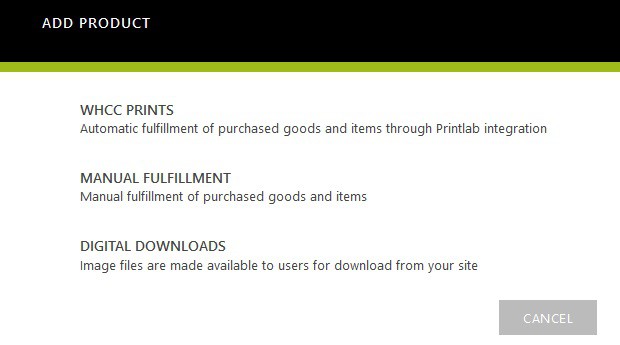 Manual fulfillment and digital downloads are pretty self-explanatory and represent the way most photos sellers conduct their business. The WHCC prints automate the whole process of fulfillment after the orders have been placed, but we'll get into that a little more down the line. The only other data you'll need to input is the name and category along with the cost and price of the piece. After you have a full catalog of items, you're ready to start selling.
To help you get better sales numbers, you'll have the option of integrated coupons that will be available to your customers. Coupons work here just like everywhere else; they need a code, discount rate, and a start/expiry date. Creating one is a synch, and you'll be done in no time at all.
Integrations
If we stopped here, it would be enough to see why NextGEN is the best gallery plugin around. However, they've taken it a few steps further with two crucial integrations that will make your life much, much easier.
The plugin has a partner in Taxjar, a solution that handles all your sales taxes for you. With everything calculated for you on the fly, in the background, you'll get instant, detailed reports that will enable you to run your business with a dose of precision you probably wouldn't have if you had to do everything manually. In the very beginning, we've touched on the difference in skillsets artists usually have with people working in IT, where running a site is second nature. The same conclusions could easily be drawn between art and taxes – things on two opposite sides of the spectrum.
The newly added automated print fulfillment feature represents a partnership with White House Custom Colour, a popular print lab in the USA, and is the first of its kind in any WordPress plugin. What this actually means is that after the order is placed for a printed article, neither you nor your customer have to think about how it will be printed and delivered. All work is forwarded to the aforementioned printing lab that handles everything for you –  that includes the dispatch of the merchandise to the buyer. Now that we see something like this can be implemented as service into a plugin, it's hard to fathom why somebody hasn't done it before.
Speed
High-resolution images tend to weigh heavy on a site, slowing it down because of their size. NextGEN Gallery will not only remain unaffected by this; it will actually be faster than any other gallery plugin available. Having a fast site is universally expected of every site, so it's your obligation not to disappoint. Nobody has the time nowadays to lose it on slow sites, people will simply avoid it, and on top of that, if your response time is low, it won't be shown high on results pages (or at all in extreme cases).
Pricing
As robust as the plugin is with its features, it's the same with its pricing plans. If you've gotten this far you know how much you'll be getting from the plugin, but for a successful business, you'll need to know both your expenditures as well as incomes to get the complete picture. You'll have four tiers to choose from (free version plus four premium tiers), along with one special variation:
NexGEN Gallery (free) – barebones only when compared to other, premium tiers, it still has enough features to hold its own with all other free gallery plugins and even some paid ones.
NexGEN Plus – the second tier upgrades on the free version with primarily with gallery display types and image protection with a few other smaller improvements.
NextGEN Pro – the ultimate solution, the Pro tier gives you access to all the features, most notably the e-commerce and automatic fulfillment features.
NextGEN Enterprise – the Pro tier is usable on three sites, so if you're running more than that, you'll probably have to for the Enterprise tier. All other features are the same as the Pro tier.
Lifetime access – just as the name suggests, you get access to everything, forever.
Be sure to check out the official site for all the details.
Summary
We can safely say that when talking about this plugin, the numbers speak even louder than we can. It has over 900,000 active installs, it's downloaded around 1.5 million times per year, with over 27 million since 2007 when it was released. To show that it isn't all about quantity is the 4,75+ average rating over the last two years, meaning it's still improving all the time.
Simply put, if you're looking to cash in on your art, there isn't anything better to get you what you want than NextGEN Gallery.