Logo design is one of the biggest burgeoning fields in the online work community thanks to a lot of talented people and an amazing array of tools, many of which are available free of charge to download.
It doesn't even matter if you're using a full-size computer, a laptop, a tablet, or even a smartphone, the ability to create fresh new logos for your own business or for your latest clients can be achieved in a short amount of time or through numerous iterations as you find the perfect combination of styles, elements, colors, and fonts.
One such platform is Logo Foundry, which is a smartphone app for both iOS and Android that can create classy, original logos based on your input and selections. Here's the breakdown of what it is and how it works.
What is Logo Foundry's Logo Maker?
With 4 million downloads already under its belt, Logo Foundry is a design suite that can be used by professional graphic artists or small business owners looking to create their own iconic image.
Logo Foundry has more than 3,000 icons, shapes, and symbols to pick from, and they are arranged by category so that you can easily search for them using keywords.
Typography is a snap with Logo Foundry thanks to advanced text editing tools that allow you to bend, flip, and warp text without having to know the first thing about Adobe Photoshop or Adobe Illustrator.  You can even create text on a wave or in a circle with a couple of clicks of the mouse.
When you're ready to save, you can export your work to a transparent image file so that it will reproduce in any format or as a flat JPEG. And once you've downloaded it, it's never really gone. You can save, restore, or reuse the logo at any time.
Advantages of software like Logo Foundry
Just because you have a great business idea does not mean you are a great graphic artist, illustrator, or any other sort of creative. When you're starting your own business, the best advice to take is to do the things you're great at and hire someone else to do the rest. But when you are on a tight budget, hiring someone else might not fit with how tight your purse strings already are. That means a low-budget or free app can be a lifesaver for your company.
Additionally, there are enough choices on shapes and symbols that you're likely to find something you can use, but unlikely to have it be the same as someone else's choices.
You don't have to keep this logo forever; you can also think of it as a temporary template while you're getting your business up and running.
Other than for social media and their own websites, most companies don't need a logo right away, as things like print and web advertising, or putting the icon on business cards or convention banners is more of a long-term project.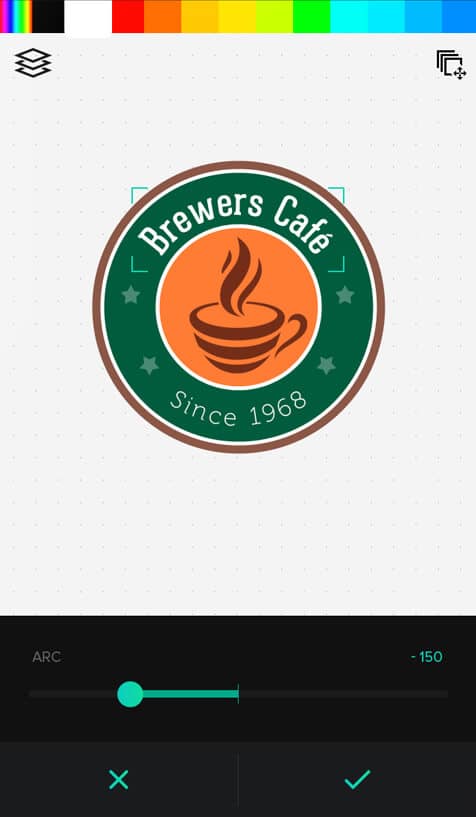 Another advantage is that the software will guide you step by step rather than just dumping you on an open campus and saying, "OK, go crazy!" This allows you to see how different choices impact the overall look of a logo and how different elements can really clash if used incorrectly.
Alternatives to Logo Foundry
Considering Logo Foundry's Logo Maker is used on smartphones, it definitely trends towards younger generations of people who use their smartphones for pretty much everything. That can be seen as a limitation to others who still do their best work seated in front of a large screen. For that population, Wix Logo Maker is a strong consideration. Not only does it boast an enormous range of symbols, icons, and fonts, but it also incorporates elements of Artificial Intelligence to guide you if you are unsure what looks good, what step should come next, or what colors clash and distract.