I have used various web hosting services till now and in last many years i have hosted my websites on many popular hosts like Hostgator for near by 1 year,  Cloudways for a few days and hostingraja also. But my search for the best and cheapest web hosting service continued.
Before few days i got email from host1plus that i should try their services to host my website and luckily i got offer for using their hosting for free for 1 year and without making any delay i have tried their services after reading so many positive reviews also about them.
Very soon i tried one of my new domain name – Livenewshindi.com to host on their server. It was really great experience for me because very easily i installed WordPress from the cpanel of host1plus hosting and in no / very less time. You can Find Host 1 plus Coupon code here for 35 % discount.
Host1plus Review –
Pricing – 5 Star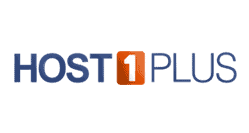 Support – 5 Star
Speed – 5 star
Security – 5 Star
Extra facility – Awesome
There are so many great features available in the hosting service by host1plus which i am describing in this Host1plus review here.
1 – Their support is very fast and and we get quick response when we email them any important query.
2 – It is the most common habit of every blogger and web master that they want to get cheap and fast with reliable hosting to host their own websites.
3 – Support is also the most important thing which we want from our hosting company when we feel any trouble on the technical side or any other related problem then we ask for help from company and i can say host1plus is awesome for supporting hand they are very helping by nature for the clients.
4 – Just like all other popular hosting services they also offer cpanel and every web designer and blogger are like to use cpanel and we find 1 click installer softaculous for easily installing applications like WordPress.
So i would like to say this review of of host1plus is very helpful for the readers for choosing the nest and cheapest web hosting service at this time. So you can try this best web hosting provider company also. Thanks.