When it comes to marketing then generating email marketing campaign is the first choice of every business. The modern era has eased up the jobs of many employees and had provided affordable solution to small businesses to carry out successful marketing campaign without the requirement of extra labor. This means that small businesses need not to hire a marketing team, just to carry out email campaigns. GetResponse and Aweber are two such extraordinary tools that can help out any business to attract bulk customers at a go. Let us go through this healthy comparison between both these tools.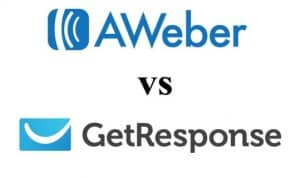 GetResponse: What's in the Box?
GetResponse – the best effective email marketing tool in the market has gained popularity among thousands of people across the world in no time. This tool is a complete email marketing package in itself. You can easily carry out successful email marketing campaigns after buying this tool. Though a free trial package is available, but you need to go premium in order to expand your business over the time. Moreover, you get the performance analysis reports, exclusive template range, and many other services too with premium package.
Aweber – What's in the Box?
Aweber – I am using Aweber to collect my email subscribers for my blog and it is another email marketing platforms which is loved by worldwide users as it facilitates the business growth and helps many businesses to stay connected with their customers. Users can easily customize the design of email template in and influencing manner so that thousands of customers are attracted and opt for their services. Any business that needs quick expansion can trust this awesome tool and go with it for branding and promotion needs. All the promotional work through email will be managed by Aweber for any business.
GetResponse vs Aweber: Telling the Fight
If you are looking for most trusted email marketing services then Aweber and GetResponse are the best players to go for. Both these tools will look effectively towards your branding needs and will help you in attracting more and more customers through email marketing campaigns. To pick up the best, you need to go thoroughly over this comparison and decide which one to choose for your business.
Functionality
GetResponse: It is a user friendly tool that owes easiness to every user going for it. With over 350 exclusive templates and auto-responder system GetResponse takes care of everything well. You can make use of striking calendar for easy scheduling of the email newsletters. Also, the templates can be presented to the reader in a way you wish because of their customizable nature.
Aweber: Aweber is another benchmarking email campaigning tool that sits beside GetResponse in few aspects. It has thousands of happy customers around the world the appreciating the phenomenal graphics of the templates making them more presentable. The highly customizable nature of these templates makes it really simple for every user to modify the template design according to his/her requirements. Scheduling of newsletters can be done in an easy way and you have an option to select a particular time of the day for the delivery of email.
Performance Tracking
GetResponse: The graphs and tables make it simple for the user to understand the performance of their newsletters in a precise manner. These details are intact in such a way that every minute data can't go away from the user's eye. The number of bounces, unsubscribes, clicks, high performing links, and various other useful details can be viewed. You can add Google Analytics to get more exact data. The 'Intuitive Intelligence Technology' of GetResponse pays off well to the user.
Aweber: When it comes to reports and Analysis, Aweber performs equally well as GetResponse. Though, Aweber has a stronger emphasis on tables over the graph, but this makes it easier to grab the tabular information as compared to the graphical one. So, you get to know about the performance of your newsletters over the customer end. Option to add Google Analytics to the email newsletter is present to keep a close eye over accuracy of data.
Segmentation & Subscriber Management
GetResponse: You get a good range of option for managing & segmenting your mailing list. Multiple groups can be created so that a particular newsletter can be sent to that group. In this way, different customers can be targeted from your list. You can easily start in an easy way as segmentation rules of GetResponse are easy to get away with.
Aweber: Aweber also allows you to segment the mailing list in different ways. This mailing list can be easily segmented on the basis of products purchased, location, emails opened and different other aspects. Custom options can be set for segmenting people to different lists. This is really effective as desired emails can be sent to the selected group of subscribers.
Landing Pages
GetResponse: You can create authentic landing pages with appealing design using GetResponse. You can design GetResponse's landing page in little time using its landing page editor. It offers more than one hundred landing page templates to users opting for its service. These templates can be customized at ease without HTML knowledge. You will be amazed to know that all these templates are highly responsive.
Aweber: Aweber does not provide you landing pages for free with their service.
Pricing
GetResponse: You have to pay a minimum of $15 every month to opt for premium package for 1000 subscribers. As your mailing list expands, you can upgrade the package as per your needs and number of subscribers.
Aweber: You need to pay a minimum of $19 every month in order to enjoy the premium services of Aweber. You can move to higher plan as your subscribers' list grows.
Conclusion
Aweber and GetResponse, both are the popular email campaigning tools that can be used for marketing your business and taking it to new level. We have shared the main features after reading from their official websites now you can judge after visiting their both official websites to decide which one worth buying it.