When you run an online business, you always want to increase your traffic and improve the quality of your products and services. The main goal is definitely to turn your visitors and casual browsers into new customers and clients. Conversion is the key to that work. It is not easy to achieve since many businesses and online stores have a big issue with this. They fail to gain credibility, positive feedback, and problems with the marketing strategies they use.
You need to gain trust and recognition among your users and customers, and without a good marketing strategy, it may not run smoothly.
Honesty and reliability are important in getting the credibility you need to make success in your branch. Keep in mind the importance of human emotions while you present your products and services. Humans mostly buy products solely based on emotions, and one of the most powerful emotions is FOMO- fear of missing out(something). In marketing, this phenomenon happens when potential customers that are casually browsing through the internet get the sense that they are missing something important if they don't buy your product. Thanks to FOMO, people are more likely to become your customers and buy your products and services. All you have to do is find the best possible way to capitalize on these emotions and show your business in the best way possible to your audience. Thankfully, there is a tool with whom you will give your audience honest social proofs, earning yourself credibility and more conversions.
WiserNotify
WiserNotify is an enormously valuable tool, and it is a unique gem among other similar tools. It will help you deliver customizable social proof notifications to your users, increasing your credibility and improving your sales. Thanks to its pixel code installability, you will quickly be up, and you can start to work in a few minutes; this feature works well with website and page building tools. There are different WiserNotify Notification types that you can use. For example, the live notification type gives your audience insight into how many users are online at the present moment, showing them your brand's popularity. The "Recent" option does a similar thing, only showing how many people engaged and browsed in the last couple of days.
"Purchase" notification is particularly catchy if you aim to sell some of your products and services at limited editions and time. This notification will show your audience how many products are sold in the last couple of days or how many of them are left, letting them be notified that they need to act fast if they want to acquire your products.
"Review" notification provides additional info to your potential users by others who already purchased your products. You can also use social media notifications, review feed, widgets, and announcement options, all based on the type of your business and your marketing strategy. With WiserNotify, you will even become a designer in some artistic way. Thanks to many of its options, your designs will look professional and striking. This tool offers you more than 60 notification templates that you can choose from, and they are completely customizable. With CTA Label and Link, you can also customize your text, font style, BG Color, and many more. Among other options here, you can manage text formatting, and even you can count on a Language translator to help you expand your audience with several languages offered to you for translation, making you even more professional and open to others. Other options allow you to sort your Branding by different categories and Background and Shadow together with a Border design.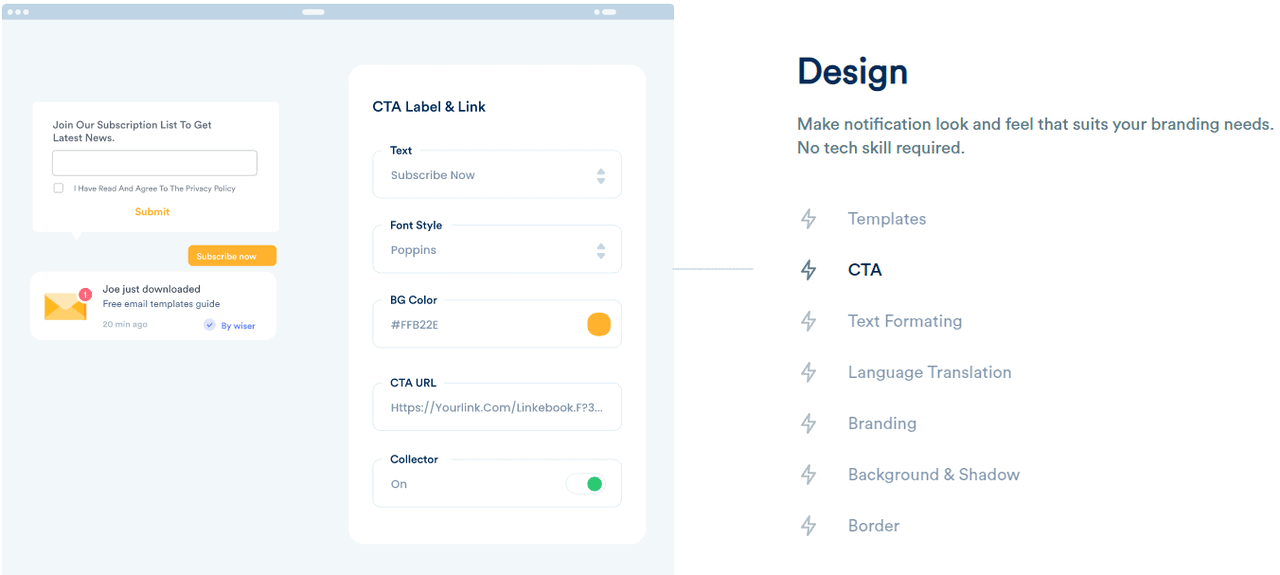 All these options can help you to design one amazing story about your work and your products. The display feature on WiserNotify helps you to send the right messages to the right people all the time. You can decide how and when to show your notifications with all the display options provided to you by this tool.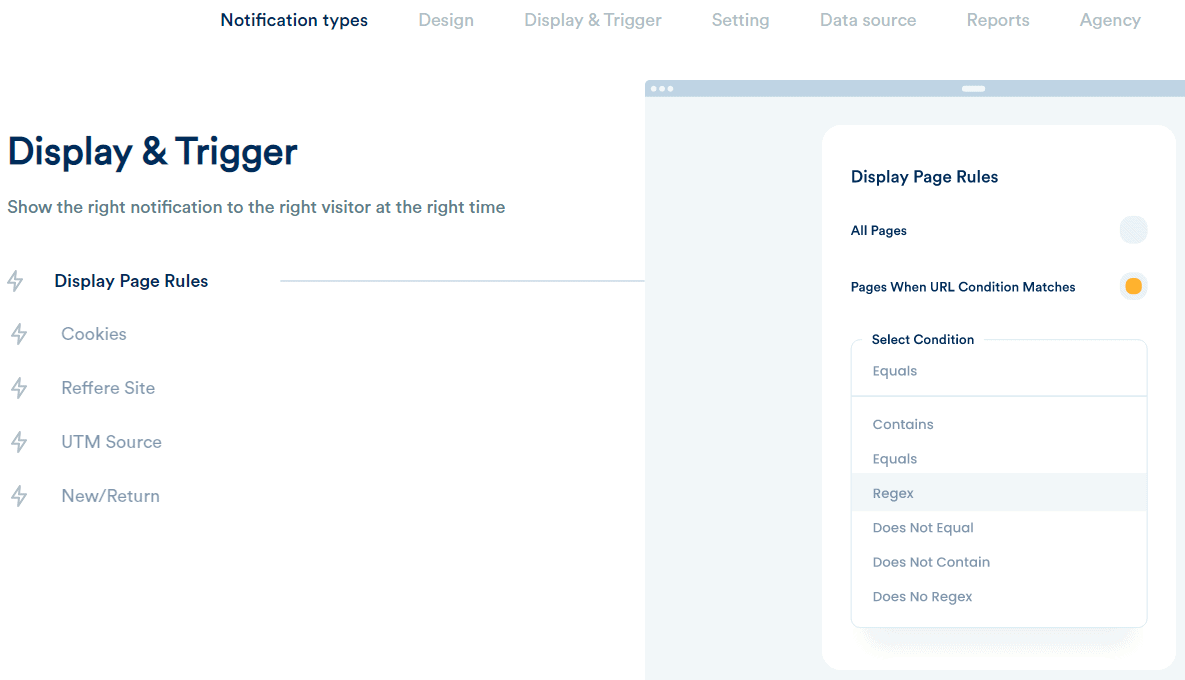 You can add cookies, referrer the Site on different conditions, then you have UTM Source and info about New or Returning Visitors. These options allow you to target a specific audience thanks to real-time data pulled from integration with over 150 platforms. Besides its design, this tool is analytical and reliable. As you can see from these features, the Notification setting allows you to apply timing and data-related setting at the notification level. You can also plan your notifications, thanks to notification level, and set notification loop and order on website level. These options allow you to adjust your notification time, data, animation, position, and order setting. Making them more sophisticated and reliable, helping you to target the right audience. Data source feature makes your site integrated with e-commerce, gives you additional help with Website and landing page builder, e-mail marketing tool, Live chat, and other useful tools. Another feature dealing mostly with analytics is the "Reports" option. This feature enables you to learn and understand your audience better, especially their behavior on notifications. This helps you to improve and develop new strategies. This platform is white-label friendly, meaning that you can use it for your clients and enhance future marketing campaigns quickly. You can add staff accounts to allocate your work; you can create agency plans and tag-team large projects. This all can help you to enhance client marketing campaigns, which are very lucrative and far-reaching.
As for pricing, you can use 4 pricing plans offered to you by this app's developers. Free, Startup, Standard, and Premium. Each plan is elaborated in detail on the WiserNotify website, and you can also count on a 14-day Money-back Guarantee.
Conclusion
Making quality strategies is very important if you ever think of improving your business and sell more products. This tool offers you all in one as you can count on many of its options that will make you an expert in marketing and analytics. You will get good insights on what to improve, you will learn your audience better, and you will be able to provide them with products they need while expanding your business more and more.