PowerPoint has become almost synonymous with creating presentations, so much so that many people don't even think about there being alternatives to it, or maybe they just don't see a reason why they should look up other options. Regardless of this commonplace problem, a vast array of tools do the same thing ( some even more) as PowerPoint that unfortunately get largely overlooked due to PowerPoint's planar popularity.
So, if you've ever wondered what else you could use to create a beautiful presentation or just perhaps if there was a program that could help you share it easier, keep on reading and check out a few of our top picks.
Decktopus
If you want to make your presentation look professional and cut down on the time you spend making it, then Decktopus might be just the thing you need. With it, you can browse and choose from many presentation designs and just add your content; Decktopus will take care of everything else from alignment to the font size. This tool also comes with a content suggestion tool that helps you rock your presentation and suggest gifs, relevant quotes, and much more. Plus, Decktopus integrates with more than a few image apps so that you can be sure everything is spot on. One of the best parts of this tool is that it doesn't require an app, and you can share and store your presentations with a link. If you happen to realize you've made a mistake on your way to work, you can easily tweak it on your phone as it has a very-well functioning mobile platform.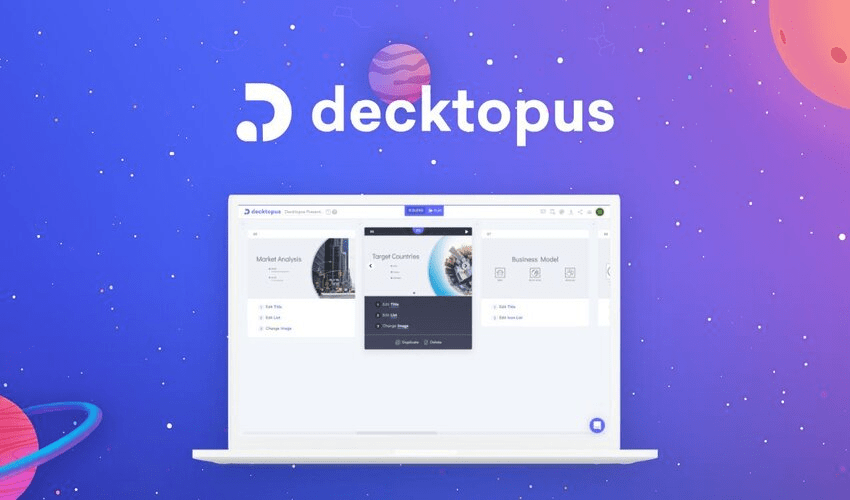 FEES: Appsumo is currently offering a special deal on purchasing Decktopus. All versions include every feature mentioned. The only thing that changes is the number of users. The Single version (available for use to one person) costs 49$, the Double  (5 users) 98$, and the Multiple (10 users) costs 147$. All 3 are one time purchases.
Visme
Visme is a fast functioning drag-and-drop design software. With it, you can make more than presentations; there is an option to create infographics, charts, documents, and social media graphics. The selection of premade templates and side styles is quite good, and you'll be able to match your desired tone in no time. Once you're done with creating your masterpiece, upload it and use it online. You can also find graphics, slides, or any previously used material and just copy and paste it into a new presentation. Visme also has an option to animate a lot on your presentation, as well as add audio or video.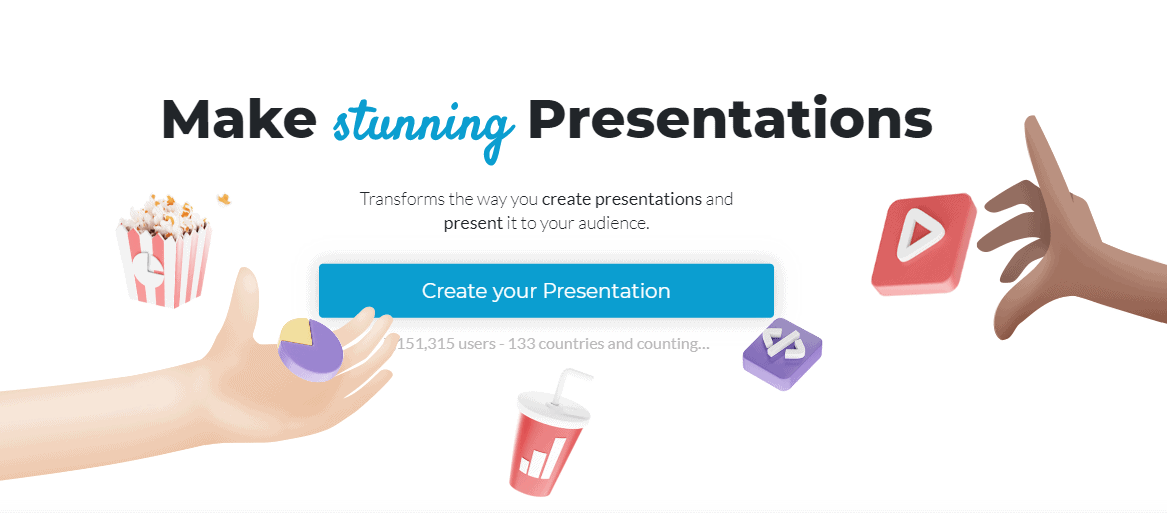 FEES: Visme does have a free version, but the amount of storage and open projects is very limited. If you need more, you'll be getting either the Standard for 15$/mo per user, the Business for 29$/mo per user, or you can negotiate for the Enterprise.
Canva
Canva allows you to create anything from Facebook headers, Invitations, and Instagram posts to Kindle covers and Menus. The design tool is really advanced with a great many options of photo filters, icons, free fonts, and stock photos you can use on anything you're making. A really good feature if you're getting Canva for yourself and not just your business is that it comes with quite a few resume templates that can help you make it look sleek and professional. You can very easily use it on your phone, and it works just as well. If you're not a pro at design, you can look at a few guides they offer to their users that are sure to help you get better.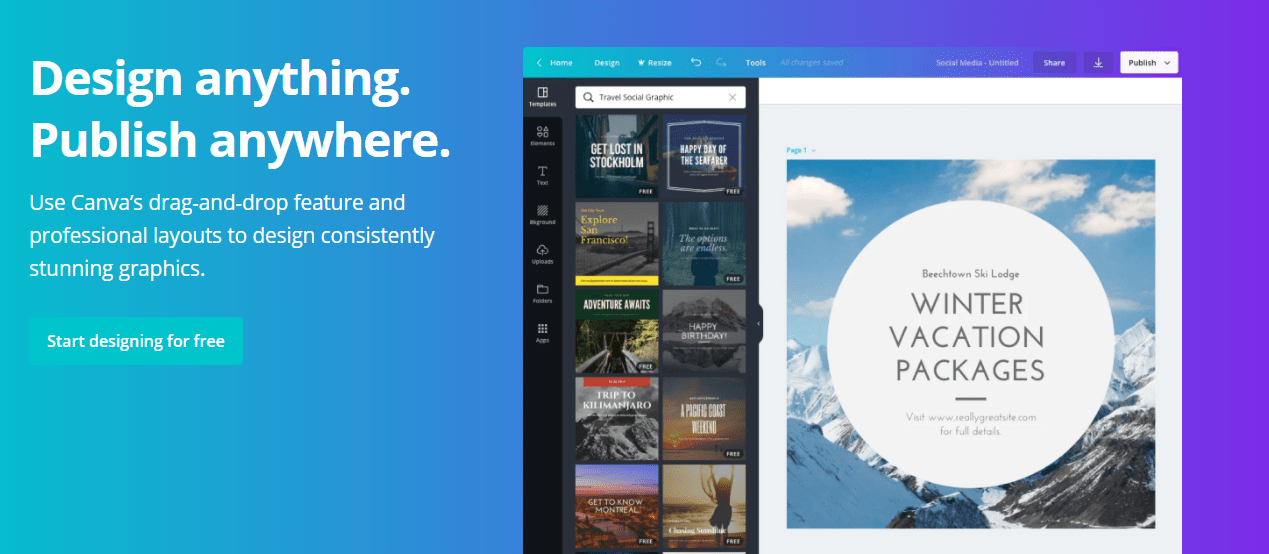 FEES: Canva also has a limited free version of their product, but if you intend on buying it, you'll be looking at either 12.95$/mo (up to 5 users) for the Pro or 30$/mo (per user) for the Enterprise.
Zoho Show
Zoho Show is completely online, and there will be no apps needed so that you can finally enjoy the bliss of fewer apps on your desktop. The user-focused design interface will guide you towards making beautiful and professional slides slowly, and you can easily translate your stories into presentations with creative ideas and smart content condensation elements. Zoho Show also gives you the option to collaborate better with your team by syncing your data, editing, and replying to your colleagues' comments for maximum efficiency. If you desire to share the presentation with someone, just copy the link, and your job is done. Even if that's not enough for you, select the broadcast option and show it to your team in real-time.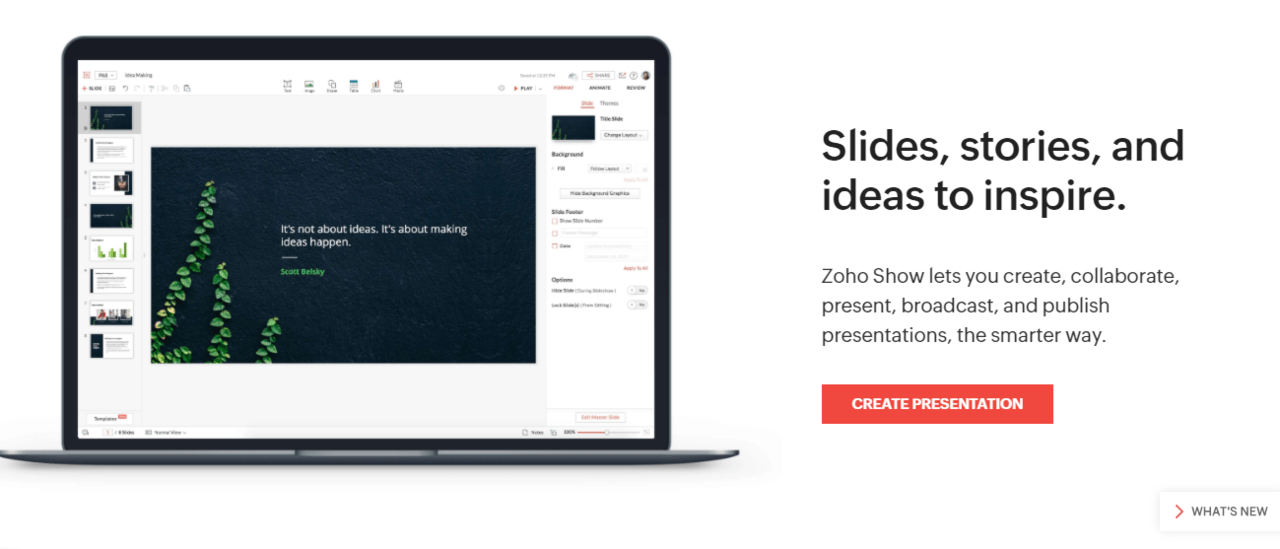 FEES: Zoho Show is free for personal use, but if your desire is to have it for your business, it comes with the Zoho Docs Enterprise package.
Beautiful.ai
The basic difference between this and most other presentation design tools is that Artificial Intelligence controls Beautiful.ai to a great extent. Their team claims to achieve this approach to creation because presentations will always look great with minimal effort on the user's part. If this is exactly what you're looking for, then this tool might be perfect for you; however, if you're more of a creative type, the A. I control makes customization options quite limited. When you create your perfect presentation, you can export what you've made to PowerPoint or PDF. This tool would be perfect for trying out for someone who's looking for something completely different.

FEES: The Basic version is free, The Pro version costs 15$/mo per user, and the Team costs 46$/mo per user. You can save on both of these options if you choose to be billed annually.
IS IT REALLY WORTH IT?
Finally, you could be wondering if it's really worth it to try something instead of PowerPoint, and our answer is definitely yes. Other tools provide you with more options; more often than not, they are quite a bit more elegant, and they are created for business and collaboration with your colleagues. Basically, they're probably going to fit you better, because they were made with your interests in mind. If, however, you are still unsure which one you should choose, we recommend that you consider Decktopus. It's currently on sale and offers many different features geared at presentations specifically.