We are sharing list of best free mobile recharge apps for free talk time opportunity for readers of this post.  It's very easy to get; you just need to have an Android Phone and availability of Internet (Make use of Free Wi-Fi!). Afterward, you can install the Apps listed in this article to get free mobile recharge or talk time. The process is quite easy, in you android phone, you have to install these apps, and you have to install another apps that the app recommends you or have to complete some surveys or offers.
One you do this kind of stuff, you are given some amount of money using which you can recharge your mobile. So, here below, we've listed down 10 Best Free Mobile Recharge Apps for Android. Try all these Apps and see which App gives you the maximum recharge.
You can check online free samples in India products in various categories of stuff and best online shopping sites in India list also.
List of best free mobile recharge apps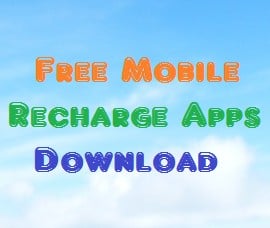 1.   Ladooo
Ladooo is the most popular and also one of the Best App to get free mobile recharge by installing some of the Apps that it recommends you to install on your android phone and completing some of the surveys. It has more than a million users.
2.   Task bucks
Task Bucks is the next app that not just provides you for install but also pays a huge amount if you refer a friend the app. The amount is Rs. 25 Paytm Cash which is good for a single referral.
3.   Earn Talktime
This is the best app if you want to earn just by referring to the friends. It has been installed by over 1 lakh users, and you get Rs. 100 per referral while the payout amount is just Rs. 30.
4.   Mcent
Mcent is also one of the as popular app as Ladooo. It offers daily new apps to install and new offers. Daily updating is the specialty of this app.
5.   Make Real Cash From Free Recharge App!
This app is a little bit strange to other apps. You have to follow some incentives to earn good amount of prices.
6.   Fokat
Not goes to the name Fokat, it's also one of the good apps to get free recharge. While offering apps to install and offers to complete, you can earn Rs. 50 per referral.
7.   Joy
Joy is also a good app to get free recharge and talk time. The only thing that is not so good about this app is it just offers you Rs. 10 for every single referral.
8.   Pocket Money (POKKT)
Pocket Money (POKKT) is also a great app in which you get lots if offers and surveys to complete in order to earn money.
9.  FreeCharge
FreeCharge is basically to recharge your mobile phones. But you can still earn free recharges by referring this app to others. You can easily make up to Rs. 5,000.
10. DataBack
DataBack app offers you free Data Recharges on the completion of the offers they recommend you to complete.
Best free recharge apps for mobile phones
So, these are some of the Best free mobile recharge apps for Android. Hope, you liked this article, if so, do share it with your friends.