If you are running your business based on WordPress CMS, then you should have some live chat plugins installed. This is especially important for online stores and businesses that sell services. Simply, users will sometimes doubt, wanting to ask about a product or service, and they usually expect an answer from a real person. The answer can be offered by anyone – by a chat operator, sales representative, or some other employee working as customer support.
There is a multitude of live chat plugins within the WordPress repository that you can install. However, it is important to note that most of these plugins do not have all the options to do our job smoothly. Some plugins have all the options but are expensive and unaffordable to most people, so small businesses and startup projects just can't afford them.
There is a plugin that is affordable to everyone and has all the options that will satisfy even the most demanding users, and that plugin is called 3CX Live Chat plugin.
3CX Live Chat plugin is a great tool for your WordPress sites that will allow you to provide perfect support to your clients and other visitors. You can provide support via live chat, video calls, and if the need arises, a conference call can be made so that more people can participate in solving problems and giving answers simultaneously.

It is important to note that 3CX Live Chat is a free plugin that you can download from the WordPress repository. However, not all the advanced options are available in the free version, which you can only get if you integrate this add-on with 3CX communication applications. With all the advanced options, you can get this plugin for free for one year after which you will pay only 1 USD per month per user.

In its free version, the 3CX Live Chat plugin offers some of the options that competitors charge for. This sets this plugin apart from the competition, and you really need to give it a try. Some of the options that come with the free version of the plugin are:
Simple user interface

Customize your chatbox; you can adjust colors and add a logo to make the chatbox better integrated into your site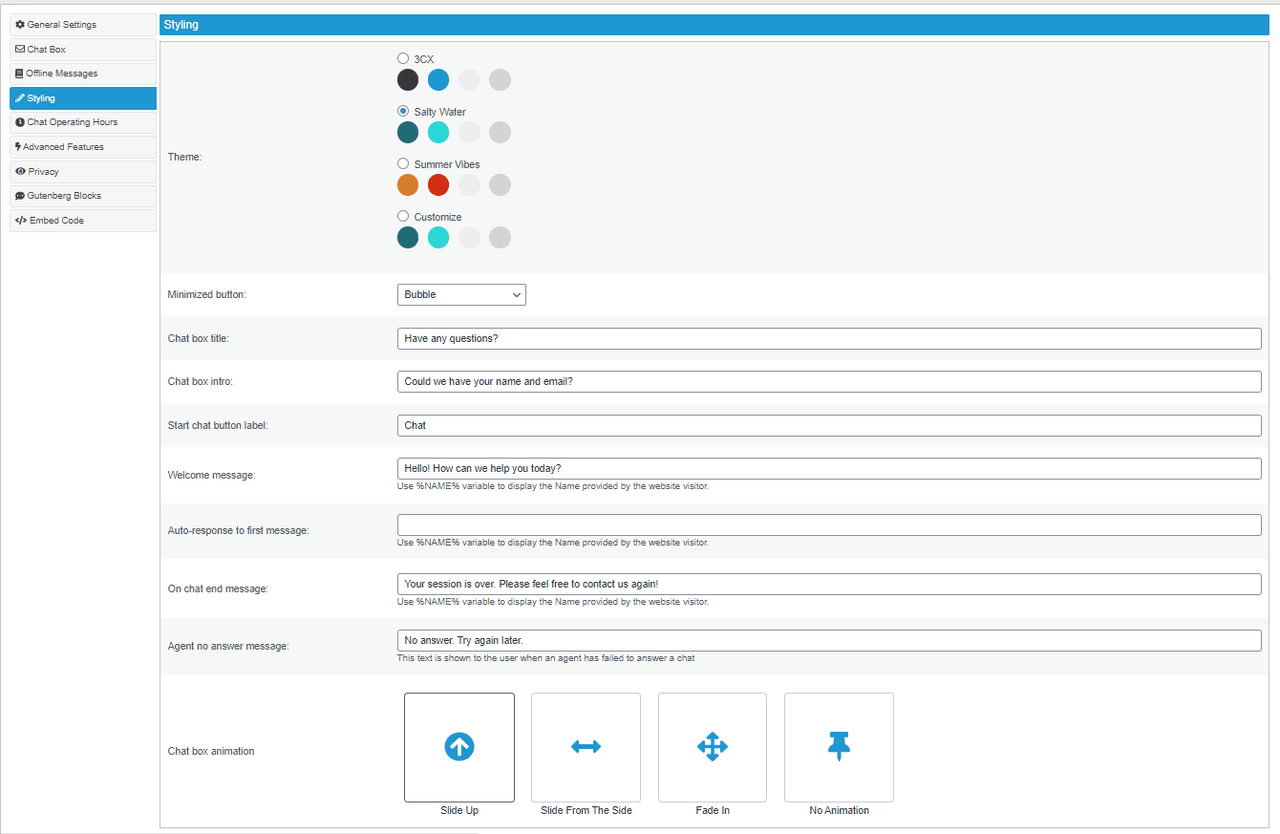 Ability to create predefined offline messages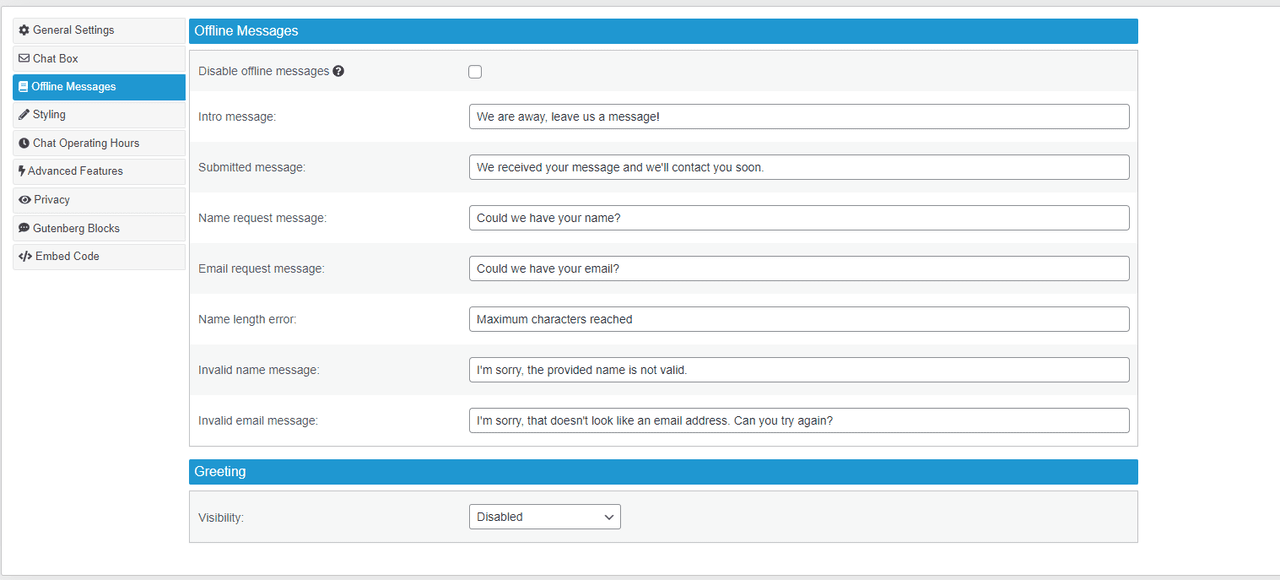 Offline message storage system and the ability to revise all messages from before

Add polls within the live chat

Ability to add animations within the chat

Possibility to accept or reject the conversation

Separating agents by departments, displaying the image of the agent within the chat
Quite recently the 3CX Live Chat expanded its features with the addition of the 3CX StartUP plan, with the two now being directly linked. The 3CX StartUP is the new and improved, more streamlined version of the original 3CX Live Chat management console. It's "cloud native" so it's designed to be accessed from any browser on any device; you don't need to log into your website's dashboard. Keep in mind this is an added feature and doesn't replace the robust console (which we'll get into shortly).
It's meant to make life easier for small businesses that don't use much of the tools in the console. Now it's easier to set up, easier to access, and easier to manage. And speaking of setting up, the whole thing gets done in mere minutes. The wizard will guide you through adding and configuring users, SIP trunk, and live chat (instantly adding the button to your site).
There are a total of three tiers to the StartUP, and they follow the general gist of the app, offering up a free solution that encompasses the core features most will be looking to use. Additionally, paying tiers are here for a couple of extra features that are quite good, but not crucial and those that deal with bigger scope, i.e. more users.
| | | |
| --- | --- | --- |
| STARTUP FREE | STARTUP PRO 10 | STARTUP PRO 20 |
| Shared Instance | Up to 10 users | Up to 20 users |
| Up to 10 users | Own SIP Trunk | $250 |
| Video conferencing | Multi Level IVR | |
| 1 Ring Group | Call Queues | |
| 1 Auto-attendant | Reporting | |
| 3CX Talk Links | $150 | |
| Live Chat | | |
| Mobile Apps | | |
| $0 | | |
Suppose you still opt for a plugin with 3CX integration. In that case, you will have additional options such as switching chat to call or video call, the ability to answer the request via your mobile phone using iOS or Android mobile applications, the ability to transfer the conversation to any other agent. In the text below, we will explain each of these premium functionalities.
Adding the ability to switch from chat to video call is very simple. You will need to configure some options. From the WordPress admin panel, open the plugin page, go to "Live Chat," then to "Settings," and find the "Advanced Features." Activate the "Video, Phone and Chat" option. If you want to enable only phone and chat, then select that option; video calls will not be enabled. Don't forget to save the settings; your plugin has been successfully configured.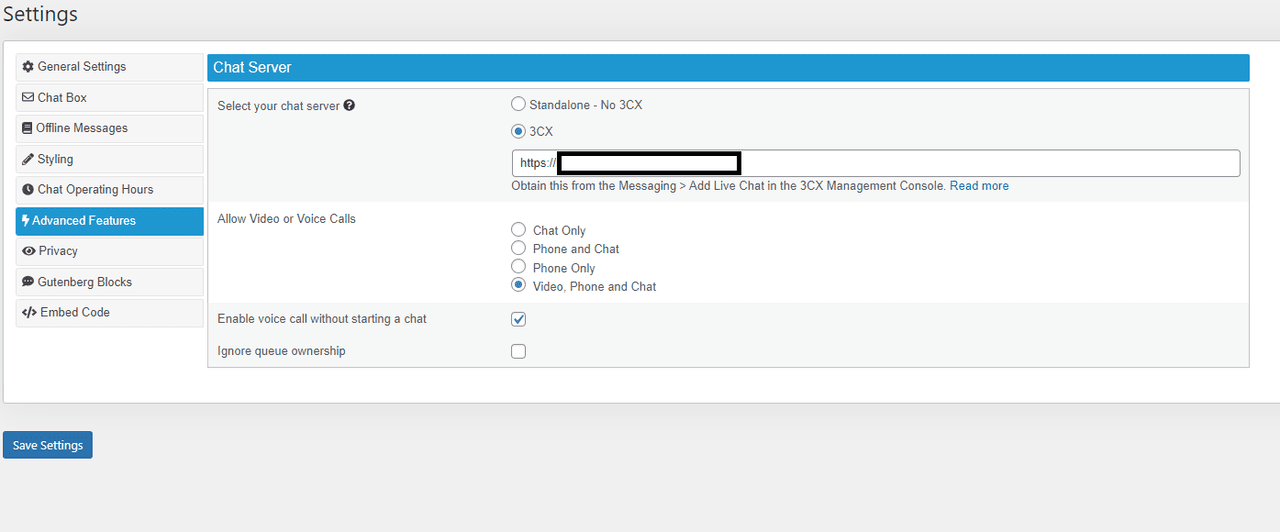 Answering queries over the phone is a great option, and configuring this option is very easy. This great plugin has apps for iOS and Android devices, and you can provide customer support from anywhere, wherever you are. The first step you need to do is to download the app from the App Store or Play Store. Once you have installed the app, you will be instructed to scan the QR code. Once you have scanned the QR code, the application requires you to make one "echo" call to ensure everything is working normally. After this step, your mobile application is configured.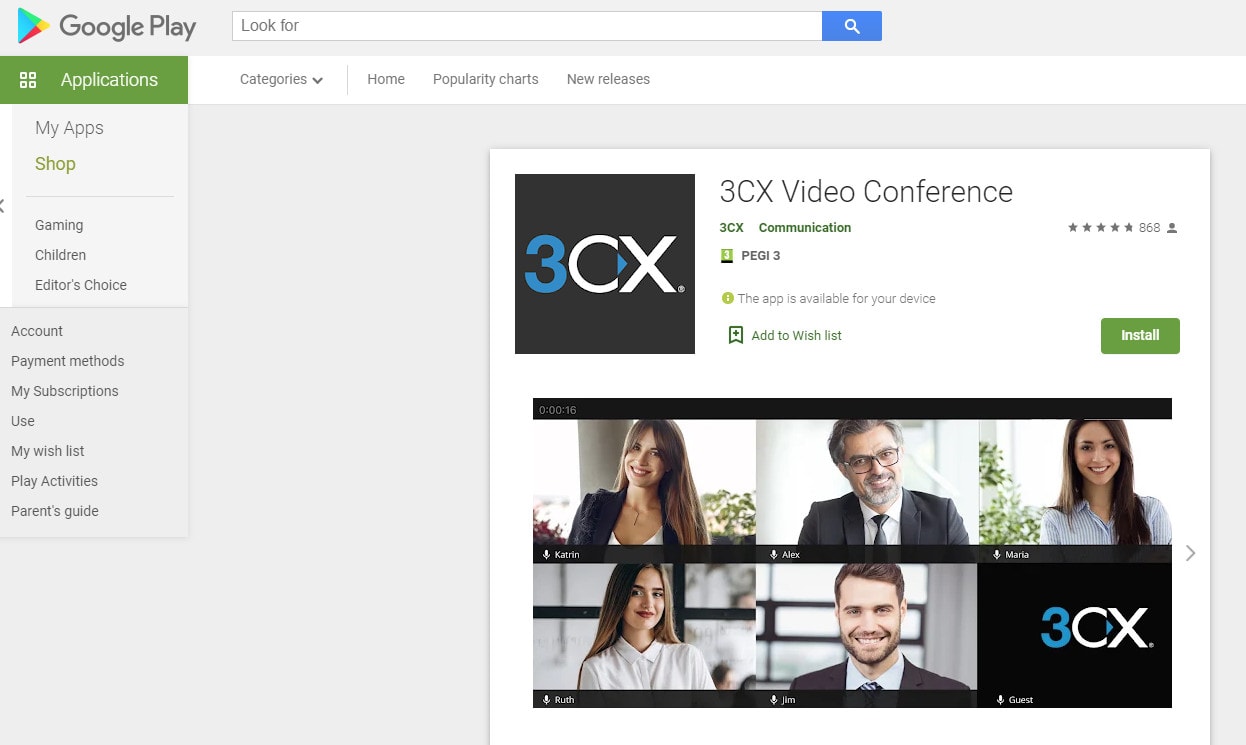 One of the best options of this plugin is the ability to assign a chat to a specific agent. This will increase the likelihood that each question from your users will be answered correctly. Not all support agents know how to answer all questions equally. Using this option, you can assign tasks to the chat agent you think would give the best information to the client. You must add several agents from the 3CX Management Console before activating this option. Once you have added agents, you need to create groups. Join the agents in the groups, and your job is done. Inside the chat window will be the "Transfer" option. If you want to assign a chat to another agent, click on "Transfer" and select the agent to whom you want to assign a chat.
As we mentioned in the text above, you can get the 3CX system with full options completely free of charge for one year. This offer includes an unlimited number of users, mobile applications, live chat, web conferencing, integration with Facebook business applications, and many more. This add-on works without problems on physical machines as well as in the cloud, and after registration, you can start the complete service in just a few minutes.
After you have installed the 3CX Live Chat plugin and successfully activated it, the plugin configuration wizard will start, and you will be asked if you want to use it for free or connect it to your 3CX account. Since the first year is free, we advise you to create a 3CX account and connect the plugin to get all these advanced options we mentioned in the text above.
If you have linked the add-on to your 3CX account, proceed to set the PBX options.
You first need to enter the Click2Talk URL in the field provided to link the plugin to your 3CX account.
The next step involves configuring chat options. In this step, you choose what information to ask from visitors within the chat, and you can adjust whether to turn video and voice conversations on or off within the chat.
In the next step, you choose the look of the chatbox. You can select one of the predefined options, and it is also possible to set your own colors as desired using the color picker.
Once you have set the colors and other options related to the plugin's appearance, click on "Finish," and your 3CX chat has been set up successfully.
To keep your site running as smoothly as possible the messages aren't being traced through your WordPress backend. Instead, when you download Live Chat you'll have the 3CX Web Client installed as well. The web client can function as your all-in-one interface for all communications which includes CRM, Facebook messages, and SMS integration. Switching up where the data is traced will lighten the load on your site, because fewer resources are being used, which, in turn, leads to a faster site. Alternatively, it gives you the option to use more plugins and upload even more content, because the message tracing is redirected.
In addition to helping you regulate the speed of your site, a unified interface for multiple channels significantly simplifies your management requirements, allowing you to quickly access all the data you'll ever need. Just imagine how much time you would lose by just switching through the different channels a couple of times a day.
Aside from all that, the web client will also enable you to create and keep track of groups within the business, add contacts, open up new chats, start calls, and even arrange video meetings. This makes it the perfect hub for internal communication and removes the need to use another, different plugin for those actions, again unburdening your WordPress backend.
What sets the 3CX solution apart from the competition is its straightforward management of all resources and processes. This service has an excellent management console where absolutely all options can be set.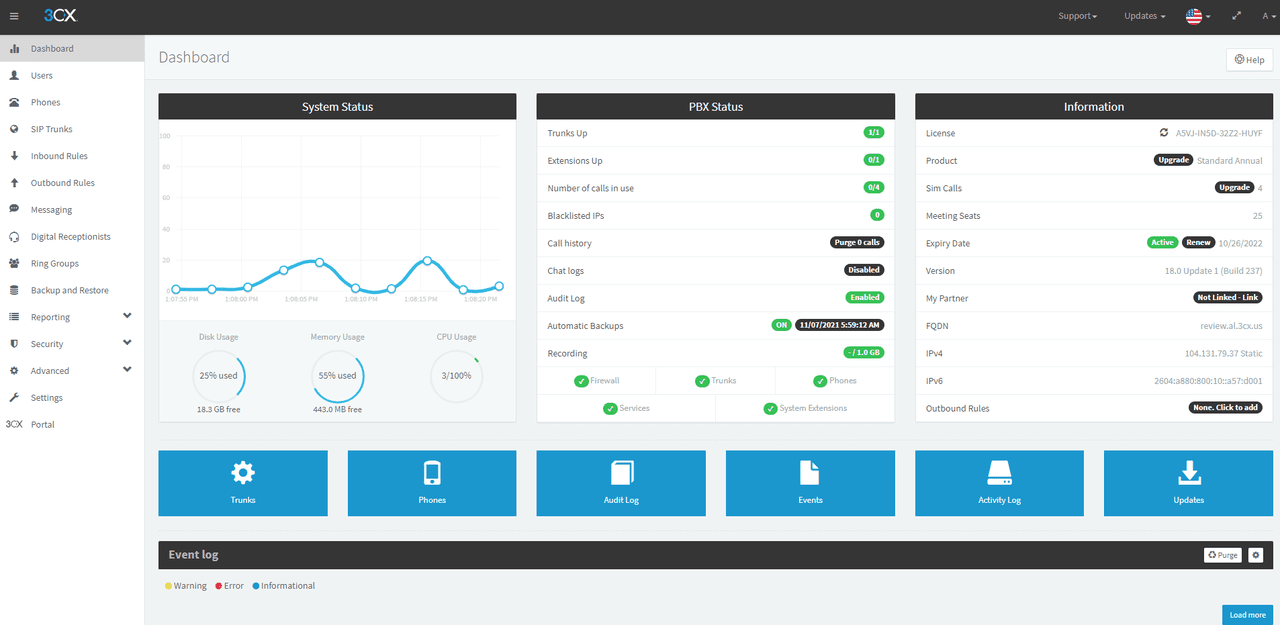 The user interface is straightforward, and even absolute beginners will find it easy.
The complete control panel is divided into several segments, and the visible segments are:
System status – this segment contains all the important information about the health and activities of the server on which the 3CX service is installed and includes CPU, memory consumption, and disk space information.
PBX Status – within this segment, it is possible to see 3CX PBX activity, such as locals, trunks, calls in use, blocked IP addresses, backup system status, firewall status, and many other necessary services.
Information – within this segment, you can find information on the installation of 3CX systems, including FQDN and public IP address, as well as information on licenses related to this add-on.
Event and Activity log – within this segment, there is information to monitor all critical system activities and information that will help solve potential problems with PBX.
Updates – this segment gives you the ability to always keep your system up to date.
On the left side of the admin dashboard is a menu where you can adjust absolutely everything. The first option is Users, and within it, you create new users or agents.
An interesting option is Messaging, where you tune integrations with other services and add Facebook, SMS system, and Live chat. Adding and integrating these services takes less than a minute.
Backup and Restore will make sure that you always have a functional image; in case of any problems, you can restore the services to their original state in just a few minutes.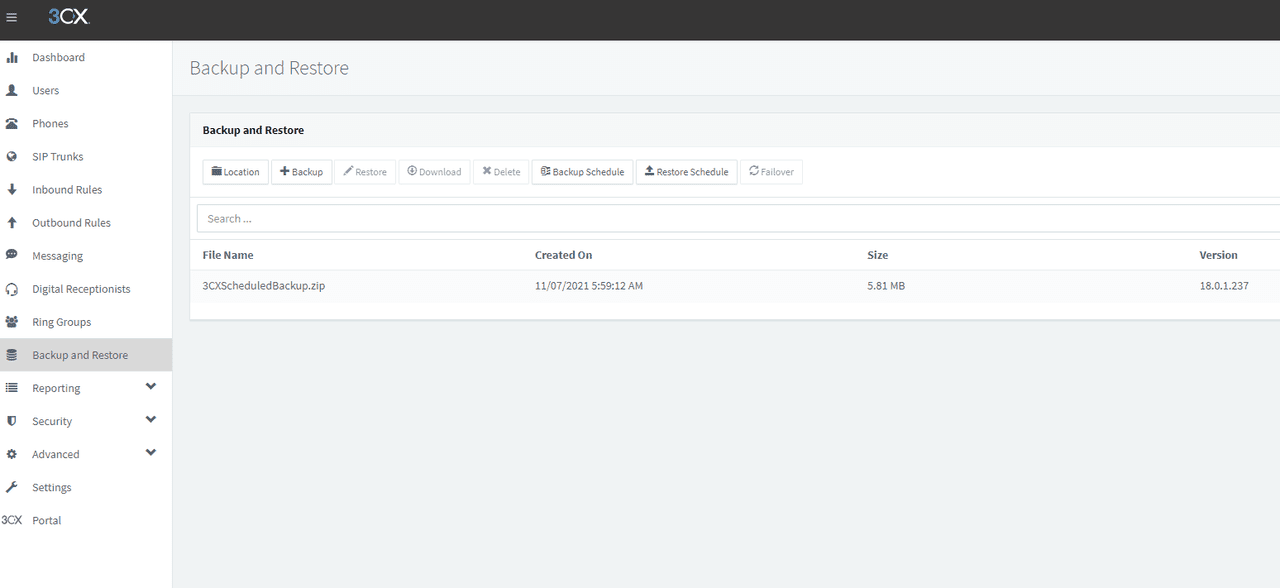 Of the important options, we will also mention Reporting, the ability to create a detailed report according to different filters. Within the Security segment, you can tweak various security settings such as anti-hacking, adding only certain country codes, blocking certain IP addresses, and more.
The last option in the menu is "Settings," and there you do the configurations of applications, systems, integrations, and demanding operations to maintain the complete system.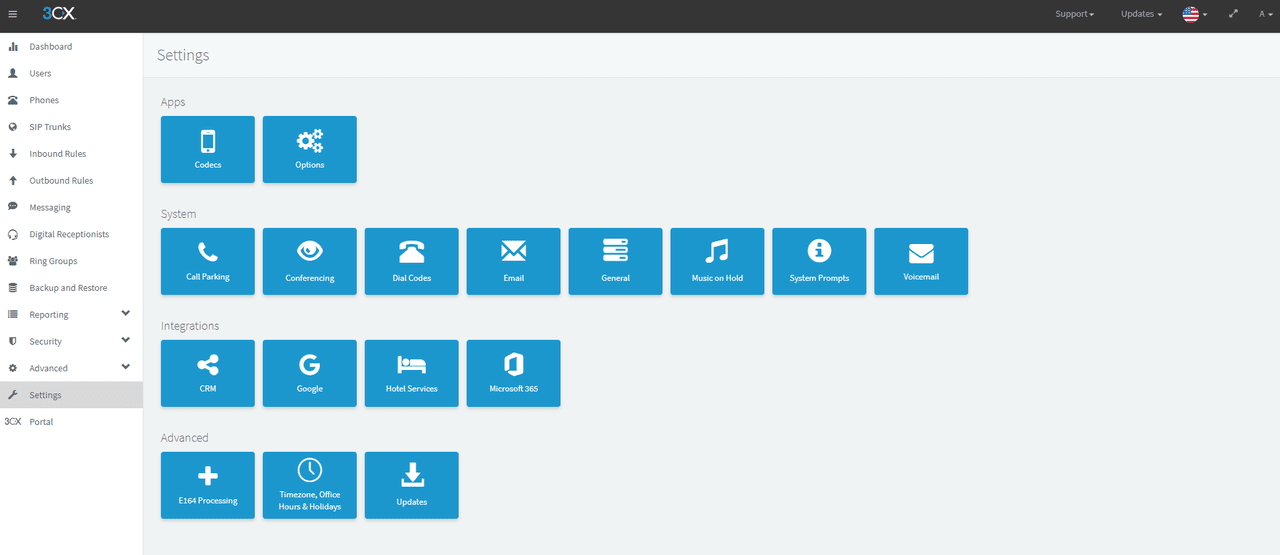 Conclusion
Although there are many plugins for a live chat, in this text we have shown why 3CX Live Chat is much better than the competition. Even in the free version, there are so many options that competing companies charge for. The full version is available for free for one year, so we recommend that you add this plugin to your collection and be sure to try it out.