In this thrive themes review you will be able to understand what are the functions they built in their design and how this WordPress theme provider is giving best solution for the bloggers like you.
I already described about the some of the theme on my blog about the benefits of Mythemeshop which is also one my favourite because of higher possibility of good Adsense earning.
But if we talk about the email list building or collecting the email subscribers then i will go with the thrive themes because of so many great features available in it which are really helpful for creating huge subscriber base for increasing revenue of affiliate or business sales.
Thrive Themes review

–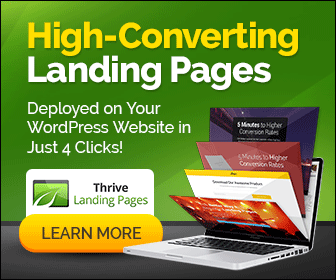 Hey friends, not only 1 but there are so many great features and functions which made me inspired for writing this review about them and here one by one i am suggesting the reasons also.
Thrive themes content builder –
It is the strongest feature which make able to edit any thing from the page just by clicking on it, there are availability of call to action buttons in this content builder which helps you to boosting conversion rate because you can place them any where on the page and choose different styles also according to your wish for giving them suitable look.
For example – Add to cart
By using their call to action button you can add the icon or change the size of it as per the suitability of look.
Not only limited to this but you can add testimonials of different peoples with proper look and feel of it also which is really helpful for making your product or services very trustful also.
You can set the time also for revealing the content after certain timing on your pages, you can add different styled content boxes in between the pages which let able to create different content or headings for different topics with variation of colours and styling also.
You can add table which can be customised easily and responsive also which solve your headache for creating them.
Countdown timer always let the peoples to show only limited time offer or only few hours are left so visitor will be hurry for buying.
You can use eye friendly fonts and responsive icons inbuilt available with their WordPress themes.
There is highly trending click to Tweet option which helps in growing social signals very faster and you can find it here in the theme.
You can add completely responsive YouTube videos with one click only which was not available till now.
There are so many lead generation element available and you can use them with content builder easily.
Continue reading thrive themes review here

–

Thrive Leads –

It is the most exciting features which make your blogging websites more efficient for collecting email subscribers at your finger tips and for making permanent stability of your blogging business because of huge subscriber base by using this lead generating function.

You can do A/B testing of the various forms, add new images to them, can easily connect with your email service provider. You can find light box popup form, side in forms, widget area forms, post footer forms, screen filler forms, fully mobile responsive, basic targeting, advanced targeting, automatic test winner, unlimited campaigns and auto in content forms together which no one theme provider is offering at platform. You can read full thrive leads review here.

Landing pages plays most important role in converting visitors into subscribers or clients and creating it is an art which very less people know but this theme help us creating highest converting landing pages by putting right element at right place.

There are so many templates available for making our landing pages with any hard work and you can use them depend on the type of the products or services which you are using for the selling purpose.

You can add or remove text, images, buttons, banner, links, colour, fonts, language, size of content area also in their templates which make able to create your own landing page any time and without applying technical efforts. So if you are inspired with this thrive themes review and want to buy their themes then you can use banners used with my affiliate link also. Don'r forget to share this thrive themes review also.