In this winter season, Samsung Galaxy A6 Plus is the most favorite phone of the youngsters who are looking for a phone in a range of Rs.25000. The phone is selling like hot-cake on online and offline channels in the Indian mobile market. The specifications of this mobile phone make it an appealing phone in this price range. Let's examine the phone with more details.
The Display
Samsung Galaxy A6 Plus comes with 6-inch display, 2220 x 1080 Pixels, and the latest FHD+ resolution type display. It gives a dense and clear look to your pictures.
Operating System and Processor
The Android Orio 8 operating system gives you the feel and performance what you can expect from the latest smartphone. The octa-core processor with 1.8 GHz gives you the speed that your latest games and video streaming experience demand.
The Memory
The phone has 4 GB of RAM and 64 GB internal memory. Now you can store unlimited photos and videos on your phone without thinking of storage space. The phone also has the slot for an external memory card, in case 64 GB is not enough for you.
The Camera
The primary camera is with 16 MP + 5 MP gives you enhanced picture quality. As the Samsung Galaxy A6 adds the secondary camera of 24 MP, it leaves no chance for you to display the pictures anything less than amazing.
The connectivity
The phone comes with 4G and 4G VOLTE connectivity to keep you connected with the latest connectivity features. Now enjoy you VOLTE calls seamlessly and on real-time basis!
The Battery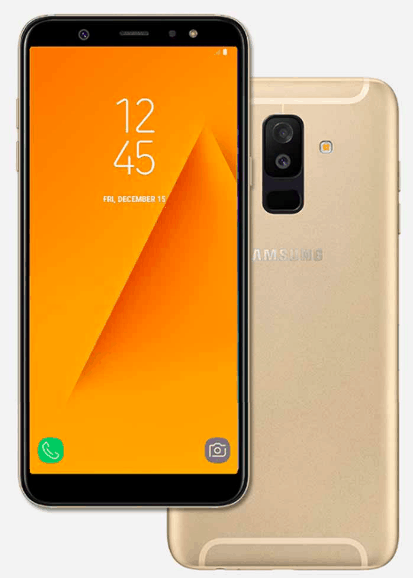 The 3500 mAh battery keeps your phone live with long hours without need of frequent recharging. The average battery rating in the same segment phones is about 3000 mAh. Hence, you are getting approximately 17% more battery power when you purchase Samsung Galaxy A6 Plus phone.
How to Buy Samsung Galaxy A6 Plus?
Your favorite Samsung Galaxy A6 Plus is available on reputed online e-commerce websites and branded offline shops. To avail you the product on easy EMI, Samsung has also listed the product on EMI network of Bajaj Finserv. Under EMI Network, you can avail the product at No Cost EMI, at nominal processing fees. This way, you can divide only the cost of your purchase into EMIs and pay nothing extra. There are no hidden charges associated with the EMI Network.
The deal is transparent enough to grab. In case you don't have EMI Network Card, you can avail easy in-store financing. Once enrolled, you can purchase your favorite mobile phone. The expansive shopping network of Bajaj Finserv comprises of more than 60,000 online as well as offline retailers that are spread across 1,300+ cities in India. You can buy this excellent Samsung Galaxy A6 Plus on EMI to keep your budget on track without paying any amount upfront. Using your EMI Network Card, you can convert the MRP of the product into easy EMIs and you can avail funds of up to Rs.4 lakh to buy electronic appliances, groceries, clothing and other products. Moreover, you are free to repay the amount over a flexible tenor of 3 months to 24 months as per your convenience. In case, you do not own an EMI Network Card, you can apply for one online or you can avail in-store financing from the nearest offline partner seller. Apart from this, you get attractive offers, discounts and amazing cashback offers from any partner store on the EMI Network to keep your purse happy!
Shop on EMI with Quick Financing
Earlier you might need to wait for a tedious number of days to get your financing approved from your financial provider. This scenario has changed today. Bajaj Finserv, one of the largest financial providers of India brings you pre-approved offers for personal loan, business loan, home loan, and on different financial products and services. Bajaj Finserv is known to be one Non-Banking Financial Company (NBFC) that provides pre-approved offers. This offers saves your time as well as eases the procedure of availing funds with the quick financing process. All you have to do is share a few basic details and check out the pre-approved offer provided to you.
Note of Caution
Because of its attractive features and reasonable prices, Samsung Galaxy A6 Plus phone is catching the fast attraction of the buyers. Some unscrupulous elements have introduced fake phones of this model. They are available in the market at unbelievable discounts. Mostly, temporary or unknown shops and websites promote such fake products. It looks similar to the original product, but when it comes to performance, you will realize that you are cheated with the fake product. Always buy from reputed e-commerce websites or branded shops where you can get quality products. If the budget is the problem, you can always get a genuine phone on No Cost EMI. Consider taking advantage of the same and enjoy genuine Samsung Galaxy A6 Plus.