Anybody who's ever been in contact with web management knows what a time-consuming venture that is. Imagine then, what it would be like to run tens or even hundreds of sites. You would probably wind up chasing your tail, not knowing what sites are live, what are going live, which are under temporary maintenance, etc.
To find your optimal work groove, the best thing to do is find a way to cluster your sites in a hub and manage all of them at the same time.
You'd be saving your time and your sanity replacing all those dashboards with one central command center.
Naturally, not every function you can do on a singular site can be transferred to this type of overview display, but you would be surprised how many can. Since site availability is an essential component, we're going to focus on managing your site's status with the Coming Soon and Maintenance Mode plugin. Gone are the days where you must keep separate tables that remind you what sites are live and what are down, everything will be in one place, and you'll be that much happier for it.
The dashboard
With the newest update, the Coming Soon and Maintenance Mode plugin enables you to view and manage all sites that have plugin licenses connected in a simple menu. Once the plugin is purchased, you'll then have to activate it on your site and additionally on your plugin dashboard that functions separately. After the two are connected via the license mentioned above, you're good to go.
Through this new dashboard, you'll be able to access various features that let you both observe accumulated statistics and take actions that directly affect the plugin and the site it's activated on.
Our main focus, as you've probably guessed by now, is the remote-control feature. As you would expect, the core function here is to turn your stand-in pages on or off. There is so much more to it, however.
Note that you first need to activate the plugin and the license on the site(s) in question, after which both will become visible in the dashboard. So, the first thing you see when accessing the sites tab is a list of all your sites with an activated license. You'll get an overview that includes data such as the status of the coming soon page, license key, and analytics. From here, you'll get to interact with these functions.
Site management through remote control
As we said, the coming soon page can be activated or deactivated with just a click, eliminating the need for hopping from one site to the next in order to get to all of them. The more sites you manage, the more this feature is important. Sites go down (temporarily or permanently), new ones pop up, dedicated sites for new products are created – there are numerous reasons why "coming soon" and maintenance pages are important. Usually, you need to be quick in activating these pages once the situation requires it, and to have it all bunched up like this will be a godsend.

If, for any reason, you need to block the plugin from a specific site, you'll also be able to do it from the dashboard. In those rare but unfortunate instances where site security and/or integrity is compromised, it's always best to be safe than sorry. Blocking the site from using the plugin minimizes the chances the issues boil over to your other sites.
Along with the site name where the plugin is activated, you'll also get to view data regarding the WordPress and plugin version you're using and the license key. Update notifications pop up once you access the site dashboard in WordPress, but there may be sites you don't frequent as much. Having all the versions listed, it's easy to see if a site/plugin is out of date.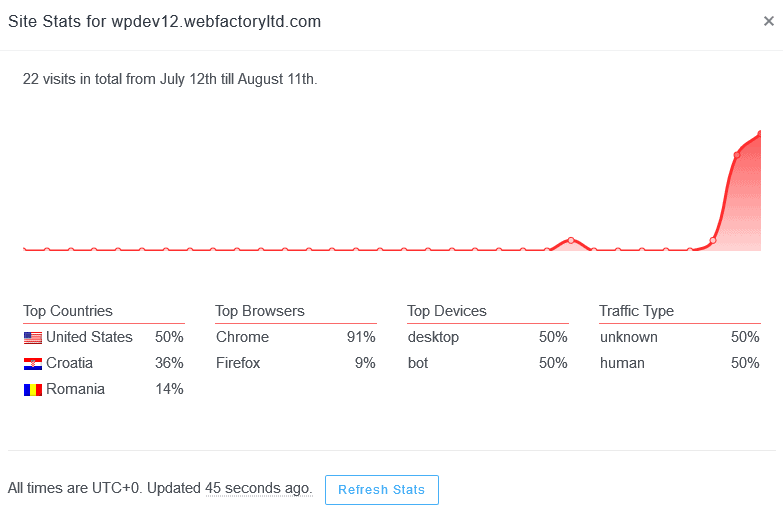 Finally, you'll get access to analytics data that covers some basic stats concerning the site. Prompted is the plugin activation date, so you know from when the tracking started, as well as the last time it synced up with the plugin on the site. The analytics window provides you with useful data regarding traffic to your site. You'll get an insight into the top countries your visitors come from, the browsers and devices they're using, and the type of traffic (human, bot, or unknown). For those that have used analytics tools before, this might seem somewhat rudimentary. Still, it's important to remember that this is primarily a plugin for creating "coming soon" and maintenance pages, where all these extra features simply add to the already established value.
Brands and rebranding
One of those added features is the brand-new branding option. It essentially lets you replace the default logos and color schemes to your own and, in doing so, promoting your own brands with the plugin. These changes range from integrating links to fully renaming the plugin. Since brand awareness is tightly connected with both logo and color recognition (think golden arches), you should always look to incorporate both everywhere you can.

All the changes can be done through the dashboard, which will sync up with your plugin on the site. The custom changes you do can be followed in an overview similar to the one you're using to manage sites – you'll get a display of the logo, main color, custom plugin name, company, license number, and notes. The table is not just for observing since all further changes to the brand (after it's been created) are made through it.
Image integrations
Color schemes and logos are important for brand awareness, but the importance of visual presentation doesn't stop there. While you'd be smart to take time and special care in creating the perfect logo and accompanying colors, it's also important to have a striking backdrop to your pages. One of the rare features you can't access through the dashboard, and instead, you need to go directly through the plugin on the site is creating your "coming soon" and maintenance pages.

To help out with the creation of your perfect page is integration for both Unsplash and Depositphotos. Between them, you'll gain access to a massive database with millions of high-res professional images that can serve as a background to your content. The databases are accessed through the editor where you create the page, and all you have to do is insert your idea in the search engine and let it do the work. Quite soon, you'll find that the biggest problem is settling on just one image because of all the great options you'll have at your disposal.
Conclusion
The Coming Soon and Maintenance mode plugin may seem one-note at first glance, but the more you get into it, the more you see how a robust tool it really is. Certainly, there are facets that take priority above others, but as a whole provides you with many features rarely seen within plugins in this particular niche.
So, why acquire additional apps, or unneeded plugins that have to then be configured to work with your other tools properly when you can use one plugin which creates "coming soon"/maintenance pages, manages them remotely and provides you with analytics about your visitors, as well as providing branding options and integrations. When talking about an all-in-one piece of software, you'd be hard-pressed to find one such as this.