Achal Agarwal
Founder & CEO, Make 'n' Live
Official Website –  www.makenlive.com
http://in.linkedin.com/in/achal
https://www.facebook.com/achal.agarwal.9889
Question 1 – Hye Achal tell me about your Introduction and your family?
Answer – "43" – that's not the typical age to start as a web- entrepreneur. Well, after all the years in the corporate world, I felt that it was high time that I started a venture of my own. I have always been excited on hearing a new idea whether it was related to selling 'Vada Paos' or it pertained to imparting education to little kids through experiential tools. So, it seemed logical to take the plunge.
Was it an easy step? Of course it was not. Leaving a comfortable job with a good paycheck and to get into a negative cash flow situation in a jiffy is tormenting. Had it not been the case, no one would have been an employee. After all, it is unlikely that you work as an employee simply because you love your boss!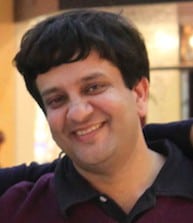 But, one thing that helped me take this step was the belief in the idea. Somewhere I strongly felt that the construction and home improvement industry is so big and yet so unorganized. There is so much of information available and yet so little that any homeowner can understand. So, I thought that it might be worth a try to bring some structure to this chaotic world of construction.
Make 'n' Live (www.makenlive.com) is an endeavor in this direction to make life easier for homeowners who want answers to varied questions and want to connect to different people when they think of anything related to home improvement.
I am married to Ashima and we have two daughters – Tanya & Riya. I stay in New Delhi. My parents and my in-laws all stay close by – a luxury to have when you live in a big city.
What I like to do? Well, quite a few things –
Traveling – Himalayas continue to mesmerize me and one destination that I could not have enough of is Ladakh.
Photography – capturing human faces and nature in its various hues is what I love to do.
Music is my most favorite pastime – both when I am alone and when I am with my closest friends.
Question 2 – What is your Educational background?
I completed my B Tech and M Tech from IIT Delhi in 1991 and 1993 respectively. Later on, after a number of years in the industry, I went back to school to pursue my MBA (PGPX) from IIM Ahmedabad in 2007.
Question 3 – What you did in your past professional life?
I have over 20 years of experience in the industry and my key areas of work have been Real Estate, IT and Private Equity. Prior to starting Make 'n' Live, I was a Director with FIRE Capital Fund, a Real Estate focused PE Fund, and was responsible for the Asset Management of three large residential township projects in Bangalore, Nagpur and Chennai. I have worked with Fidelity Investments and Dresdner Kleinwort Wasserstein (DrKW) Bank and with Xansa group in the past.
Question 4 – How / Why you decided to Start Makenlive.com?
While constructing our own house in Delhi, Ashima (my wife) and I were intrigued by the number of decisions that had to be taken based on a very limited amount of information available at each stage of work.
Where do we find the right architect? What will be a good floor plan? What is a good design that will give good natural light and ventilation? Should we have a toilet in the basement?
It was then that we realized that despite the mammoth size of construction and home improvement industry, there is little information that is available in a structured manner. Most of the time one is dependent on friends and references. And while on one hand there seems to be an information overload on the other hand there is hardly any information to take the right decisions.
This gave us the idea to put together Make 'n' Live – a web portal that will help the homeowners in their search for people, products, designs and in getting answers to all their queries related to their home improvement work.
Must Read – answers of seo interview questions with list of free local business listing sites also.
Question 5 – What are the strong qualities of your Online Marketplace?
First of all, because the industry is so fragmented, it becomes difficult to structure all the data into a user-friendly format. We spent a lot of time to structure the site to ape the thought process of the homeonwner and the way he takes decisions when re-modeling his house.
Another advantage has arisen because of the acceptance of the site in the industry. We already have a large number of architects, interior designers, contractors who have got associated and the number is increasing fast.
The site has also introduced some interesting features wherein a user can "maintain his diary of design ideas for future reference" and "maintain a list of preferred business associates for easy access". Based on the market feedback there are new features that are currently under development that will be introduced in the coming months to replicate the way the industry works.
Question 6 – What is the Future plan with this Makenlive.com venture?
We have some interesting plans coming up. The industry is so huge and so fragmented that there is a lot to do. The immediate focus is to get more professionals and vendors start using the site and to address any issues that they are facing. However, there are some ideas under implementation that will generate good business for the product vendors and for the service providers. As the site will start generating business for these people, we are confident that it would get into a virtuous cycle of more users, more vendors and more business opportunity. It is a long way ahead but we are hopeful.
Question 7 – What strategies you are applying to grow Makenlive.com?
We are growing slowly but organically by reaching out to people in the network and adding the relevant content. While growing traffic to the site is critical, we are focusing more on the real business and providing real service to the professionals. Having said that, we are also reaching out to people through digital marketing campaigns. Social media and Google continue to be the best bets to increase the reach in the online space.
Question 8 – How much money you invested to start your online Business?
Till date, we have spent close to 20 lakhs in the venture. The startup is funded in a bootstrap mode right now. However, going forward, as the investment required will be higher, we will look at some formal funding to grow the business.
Question 9 – What is the scope of online business in future and reason?
Online businesses, I feel, have a great future. Which businesses will do great is still a question mark. The reason is simple. Internet has provided an unimaginable reach to businesses. The information on the customer that is available on the net is huge and one can use analytics to have a very, very targeted market for his product or service. So, online businesses are here to stay and many of them will become huge compared to their brick and mortar counterparts. However, the industry is yet to mature. There is easy money for a lot of startups who have an unproven business model and unproved management track record. So, there will be a few hits and many misses. But gradually, like any other industry, online space will mature and the focus will shift to realistic business models and realistic expectations.
Question 10 – Your 5 important tips for readers to killer startup of online business like you?
1. Focus on the real business model. Do not get too carried away by the number of clicks or site rankings.
2. Bootstrap, if you can, for some time. It is stressful but your decisions become better when you are in a financial crunch.
3. Idea is important. But execution is much more important.
4. While online business is all about technology, don't bother too much about developing or perfecting the site. It is just one component in the overall business strategy.
5. The first stage of business is very exciting. Avoid arrogance at this stage. Challenges start as you start scaling up your venture. Be positive. Be patient. Avoid fretting at this stage!