The days when everyone had to be physically present in order for a meeting to be held are long gone. The same goes for the days when the employees of a company all lived in the same region, worked in the same building and on the same schedule. Nowadays, things are much more different, with many companies seeing the benefits of working remotely both for them and their employees.
As amazing as working remotely is, it is only possible when a high level of organization, communication, and collaboration is involved. To create an environment of that sort, having one thing is essential, and that thing is a SaaS tool for team collaboration.
These types of tools, sometimes referred to as project management tools, enable employers and employees to communicate, share and receive feedback on each other's work and activities, get instant alerts/notifications for any changes that occurred, hold virtual meetings/presentations, manage and work on files collaboratively, have a clear overview of project progression, their tasks and responsibilities, and so much more. In a nutshell, these tools make working on professional projects and achieving set goals a much faster and smoother process.
In accordance with what we said earlier about remote work becoming more and more popular, the market for team collaboration SaaS tools is also getting bigger and bigger with plenty of options to choose from. The fact that the market is growing can be a great thing, but it can also make it harder for you to know which option is the right one.
To make things easier for you, we have done the research on what the best SaaS tools for team collaboration are and will give you a short introduction to each one of them.
So let's cut to the chase and see what we have in store for you.

Asana is a tool intended for project management that enables easy collaboration and communication among team members, and visualization of progress on individual or group tasks/projects. A team member on Asana can be assigned to either a project or a task which they can then follow, share, and communicate about with other team members in the comment section of the task.
Asana has plenty of features that allow easy and productive teamwork, features like multiple workspaces, real-time changes, due dates, activity feed, priority marking, permission setting, automatic notifications/reminders, and a lot more.
It also comes in the form of a mobile app, so you can stay updated even while you're on the go.
Since it's often used by development teams, it also has file sharing and viewing features and the possibility to view project tasks in a form that fits the Kanban project management methodology. Whether it's due to its vast features, intuitiveness, or both, Asana is one of the most popular tools of this sort, with a reported 80.000 paid and 1 million free users in 2018.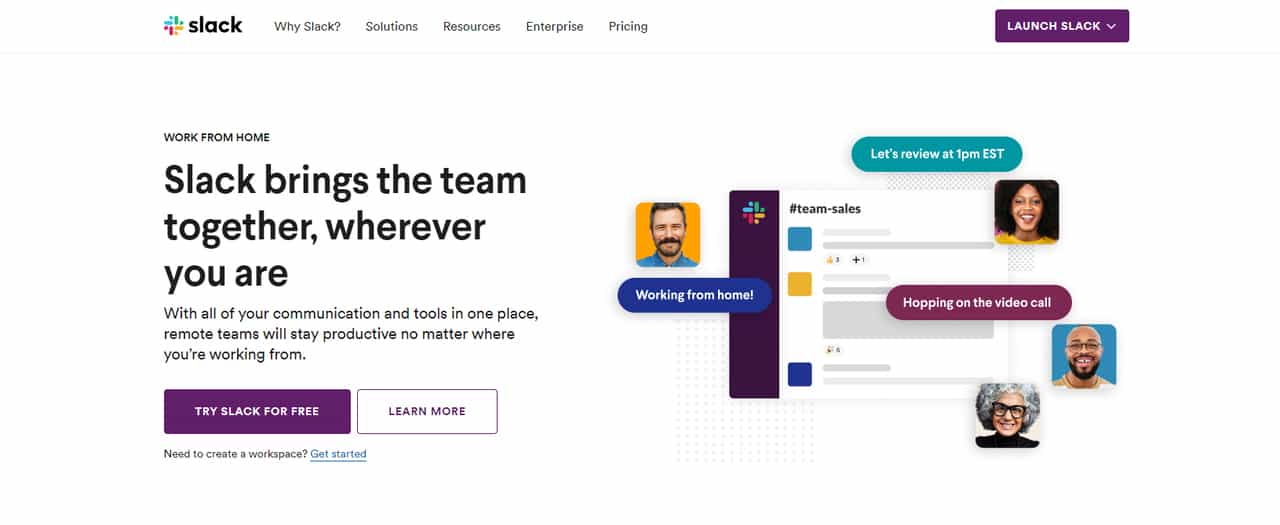 Slack is a messaging app that includes a variety of tools and features that can assist teamwork and collaboration. Its aim is to bring all communication into one place, so there is less confusion about how and where to reach specific team members.
With Slack, users get real-time messaging, searching and archiving, and built-in external or internal sharing options.
Mind you, for a lot of marketing agency for SaaS companies, Slack has become their virtual or even their main office in which they can connect and communicate, share, and receive feedback/news one-on-one or in groups.
Like we mentioned at the beginning of the paragraph, enabling communication is Slack's main purpose. Still, it can also be used to generate reports on activities and progress and to get instant alerts for feedback such as product reviews and so on. So besides keeping people connected, it can also help them stay on track for achieving a specific goal.
Slack's most notable features include video conferencing, screen and file sharing, private notes, announcements, reminders, and a lot more.
To make things even better, you can integrate Slack with other powerful platforms like Skype, Zoom, MailChimp, and Basecamp and with that expand its functionalities.
In 2018 Slack was used by 8 million users, which include workers from 43% of Fortune 100 companies.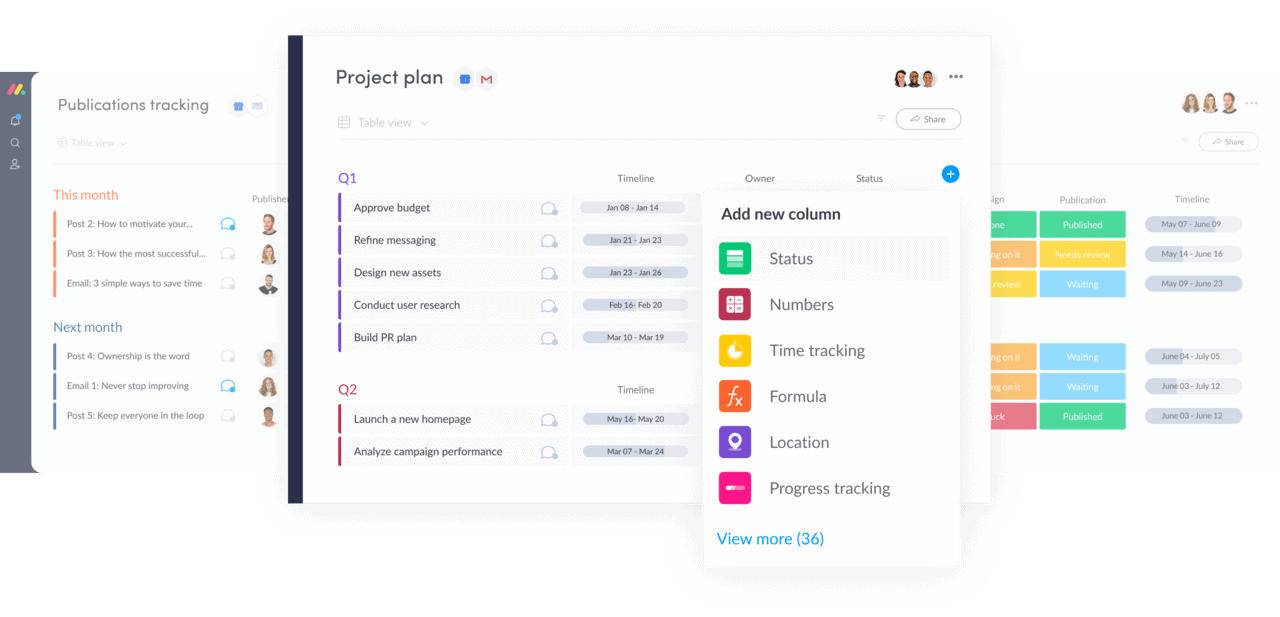 Previously known as dapulse, Monday is today one of the market leaders for collaboration and communication tools. Through its user-friendly and intuitive interface, Monday combines all information into one place where users can share information and make decisions collaboratively.
On a Monday board, a user can have an overview of all the projects and tasks he/she is assigned to, see the status and deadlines of each task, and can also send or receive updates and notifications.
With Monday, you get timeline views, dependencies, integrations, time tracking, customizable workflows, file sharing, etc..
Monday is also very customizable and flexible so that it will work for teams of any size or type.
Thanks to its customizable templates and other advanced features, Monday can be used on mobile or desktop with the same ease and functionalities.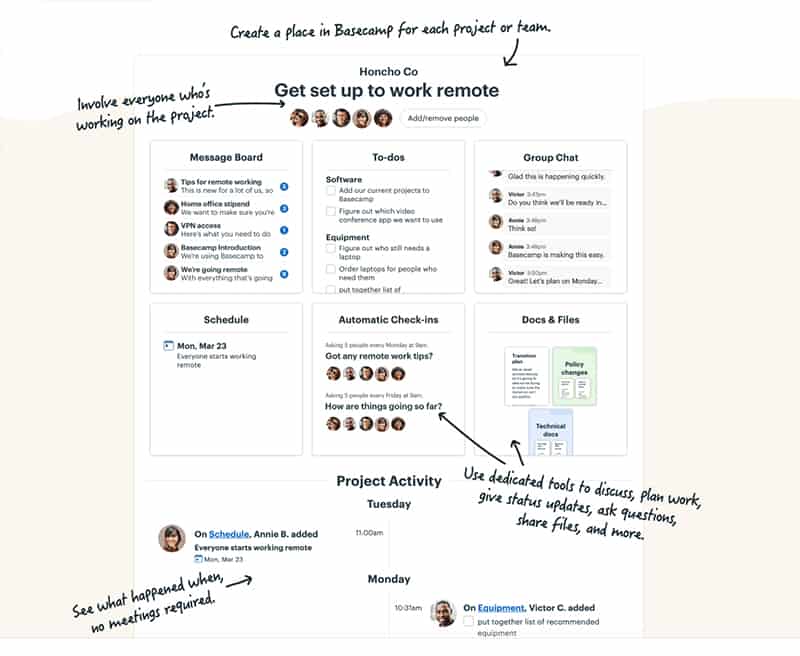 A web-based project management tool that supports an unlimited number of users, third-party integration, and mobile accessibility. Using Basecamp, teams are able to easily coordinate on each level of a project's life cycle.
Basecamp can be used for tracking and signing off tasks and to keep tabs on how your employees are handling their responsibilities.
Its core features include a scheduler, to-do lists, a collaborative file manager, a chatbot, and message boards.
Along with file sharing and scheduling, this is a tool that enables reporting as well. The only downside of Basecamp is that it lacks some features such as creating project subtasks and having your task boards in the form of a list which is why people sometimes reach for one of Basecamp's alternatives.
Regardless, it's a powerful tool for collaboration and comes with a free trial, so you can check if it actually fulfills the needs of your team before you commit to paying a subscription.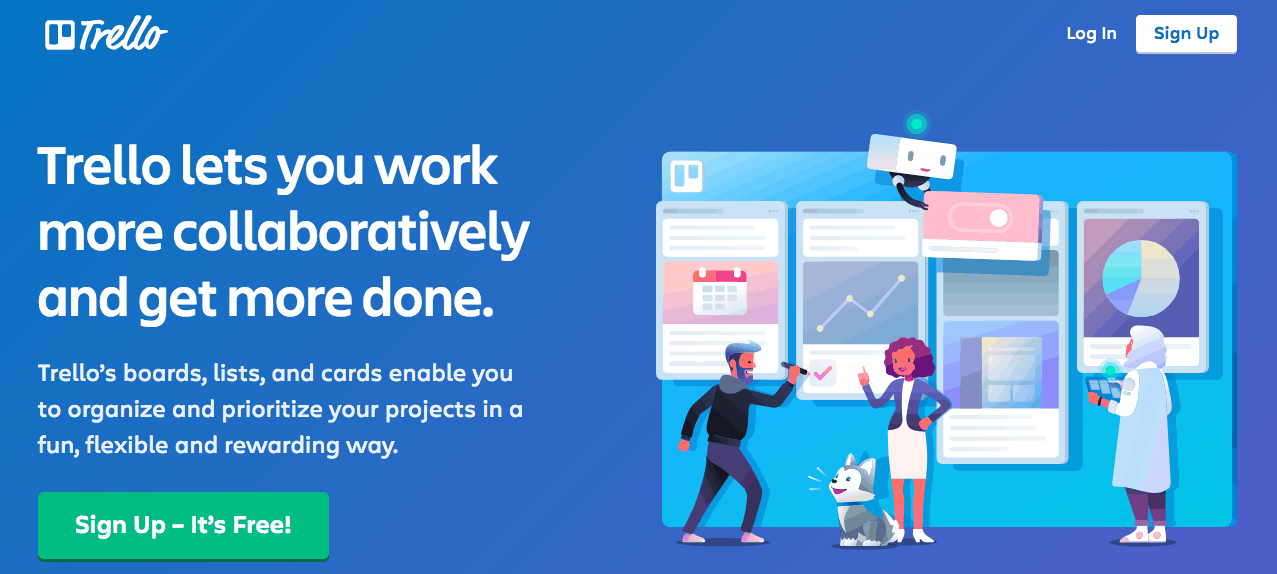 Trello is a good substitution for tools such as Wrike that supports project and task tracking, breaking down projects into more manageable tasks and lists, and in general, a more efficient way to do project management.
The tool comes with drag-and-drop functionality for organizing projects, project progression tracking, and Kanban-style boards/lists/cards. It also supports all standard document formats and is easily extendible.
Trello is known for its ease of use and features that enable easy communication, collaboration on documents, tracking workflows or business activities, reorganizing, and much more. Using Trello, adding, and transferring new tasks is a walk in the park, and the same goes for assets, checklists, and labels.
Some of Trello's more unique features are voting, customizable project tracking cards, a map view, and task creating or commenting via email.
Although great as it is, Trello can be further upgraded with a range of integrations, one of the most notable being InVision Freehand integration, which adds a whiteboard to Trello that can be used for interactive planning and design presentations.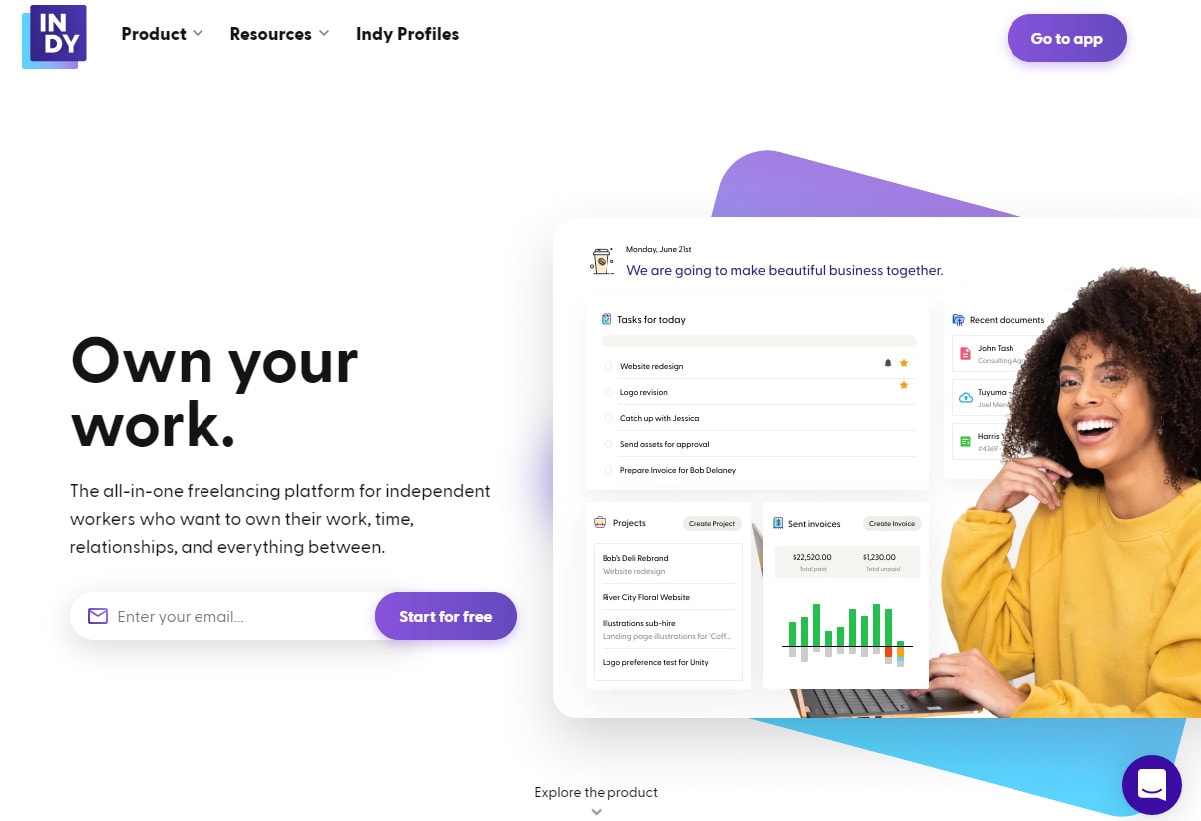 Indy is an adaptive, all-in-one management software that helps freelancers and small businesses track everything from proposals to payments. Indy makes organization and time management easy, letting its users focus on their work.
This platform features a library of proposal, contract, and form templates to make getting clients easier. The task tracking system allows users to assign individual tasks to larger projects or categories. As users work on tasks, the time tracker tool logs and categorizes time spent on each task, making it easy to balance multiple projects and create invoices.
When it's time to get paid, use Indy to generate a detailed invoice to send right to clients: in return, they get peace of mind knowing that Indy uses the web's top payment methods, like PayPal and Zelle. With other tools like Profiles, Drive, and Client Contacts, Indy's features make it a versatile and reliable addition to any creative team.
Conclusion
We hope you enjoyed reading about our picks for the best SaaS tools for team collaboration. In this article, we presented you with truly the best of the best, so whichever tool you go for, you won't be making a bad decision.
To pick the perfect option right off the bat, you will need to know your team, their needs, and their work habits and preferences really well. So before deciding on a tool, dedicate some time to finding this information out, and everything should be a-ok.
Thank you for reading, and best of luck to you and your team in your collaborating efforts.