Dressing up your WordPress site is never a bad idea, and adding a loading animation to your landing page is one of the best ways to leave a good first impression.
While the classic loading animation is a spinning circle, more variants have come about in recent years, allowing the users to add colors and change the icon to something more interesting.
And while adding a loading animation is definitely not a must, it sure does help leave a good impression and user experience. It can make your site seem more professional, whimsical, or charming, depending on your choice of a loading animation.
You can add these multiple different ways, and one of them is just by using code, but if you're not a programmer yourself, make sure to stick around and take a look at our list of the top WP plugins that can help you along. We also recommend reading this tutorial that offers all the ins and outs of installing a WordPress plugin successfully.
LoftLoader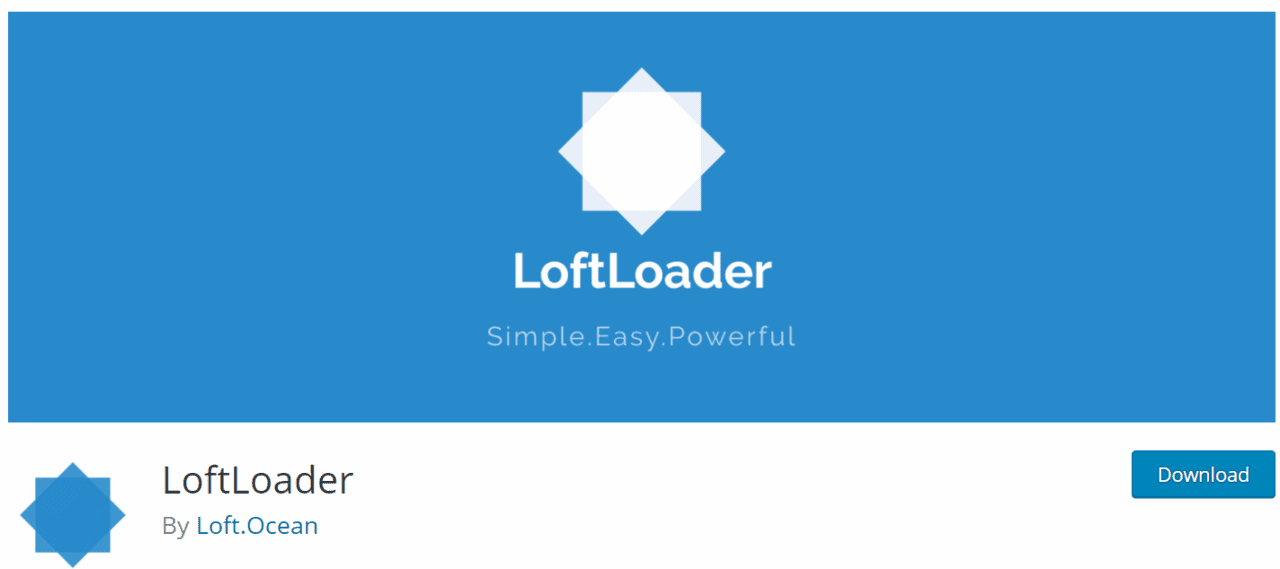 LoftLoader is a rather simple plugin but is often hailed as one of the best due to how easy it is to set up and use. The plugin itself is super lightweight and fast, plus it requires no coding knowledge whatsoever. It helps you add a CSS animation that works on any modern browser and includes seven different animation effects, two of which support custom images. So, if you had something custom in mind, this plugin will make your job that much easier.
Some customization options include unlimited background colors and a color wheel, different loaders for different pages, disabling or enabling the preloader, and the ability to choose when the stop button appears. Everything you create with this plugin is responsive and fully retina-ready, so there are no worries on that end. 
DV Loading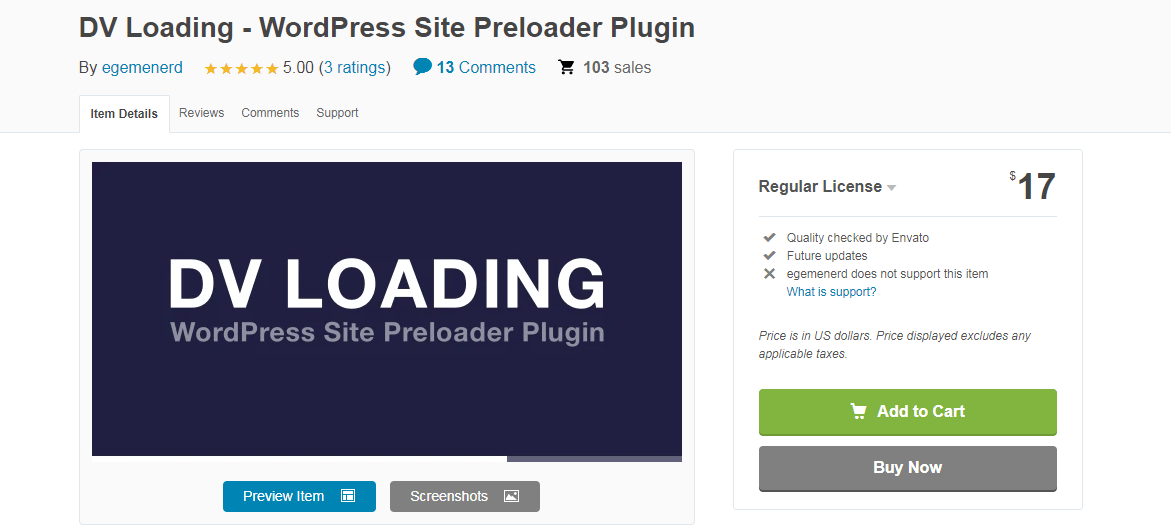 DV Loading is a very flexible and customizable preloader animation plugin. With the help of this plugin, you'll be able to add a loading animation to not only your homepage but any page or post you choose. It also includes a short code mode that enables you to create unlimited page loading animations with a single shortcode. 
DV Loading comes with 32 CSS3 page transitions, 29 animated gifs, the option to add a custom image, and color customization. It also comes with Google Fonts support, so you can really get creative with it if you'd like. This plugin is not free, but it is on the more affordable side. The regular license costs 17$ and comes with six months of support. 
WordPress Preloader Unlimited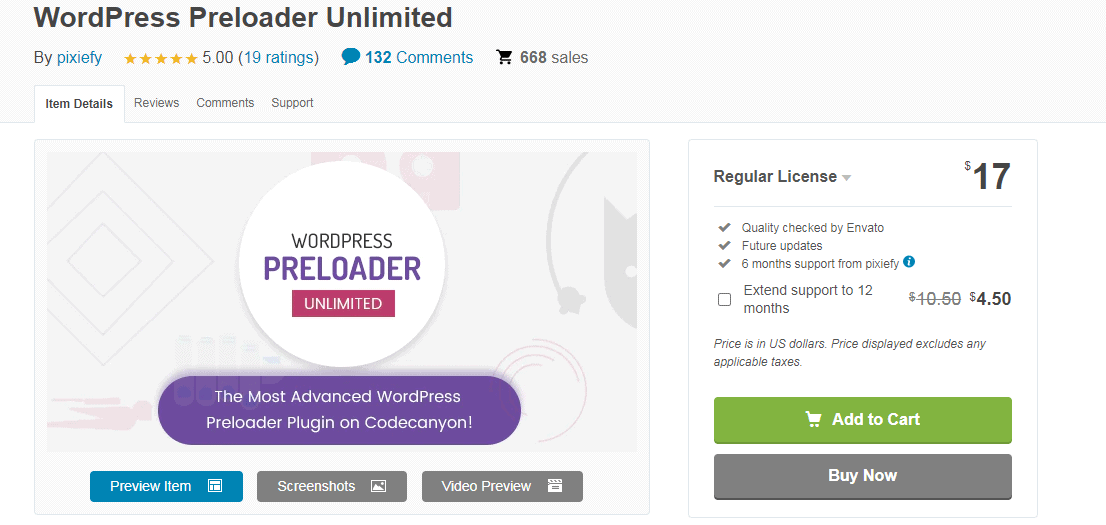 WordPress Preloader Unlimited is one of the most advanced plugins of its kind and comes with tons of features and customization options. This makes it the perfect choice for those who wish to get a bit more creative with adding a loading animation, but even if you want something simple, you can easily just set something up and leave it as it is. 
The image gallery is gigantic, and there are so many options to choose from, so there's no way there won't be an image that fits your preference. But on the off chance that it does happen, this plugin allows you to upload your own as well. In addition, with this plugin, you'll also have access to excellent features like fill animation, 2D or 3D letters, a vast selection of CSS loader animations, and some special options that allow you to customize just about anything. 
WordPress Preloader Unlimited is priced at 17$ and comes with six months of support from the developers. If you'd like to extend the support to a whole year, you'll have to pay an additional 4.50$. 
Flat Preloader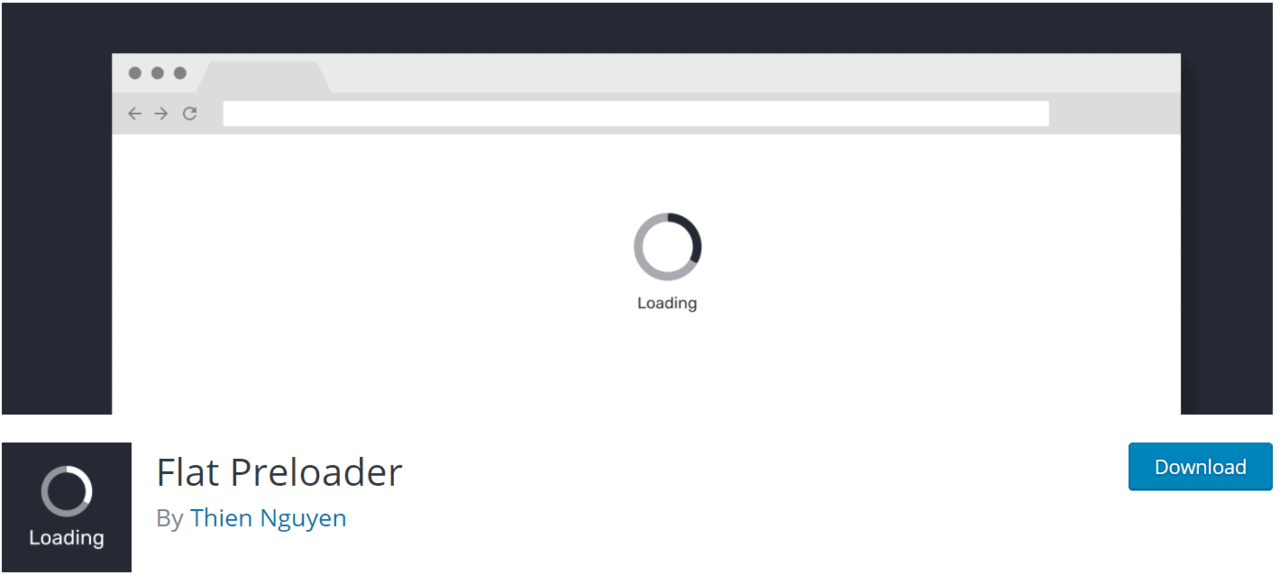 Flat Preloader is the simplest plugin featured on our list. Still, we figured that we should recommend an option for all those who just want something simple and would prefer not to spend too much time trying to create something unnecessarily flashy.
So, if your site is simple and sleek, you might want to give this one a chance. 
This plugin helps you create a loading page complete with a gif icon. The loader can be placed on any page you want and is not restricted to just your homepage. This plugin would be our best recommendation for beginners as it is super user-friendly, and as there aren't many customization options, even your grandma could create a loading animation by using it.
All of the gifs are fully retina-ready and responsive, so your animations will always look good and won't seem out of place no matter the screen size. This plugin is also completely free, making it great for testing out the waters before moving on to something a bit more out there. 
PageLoader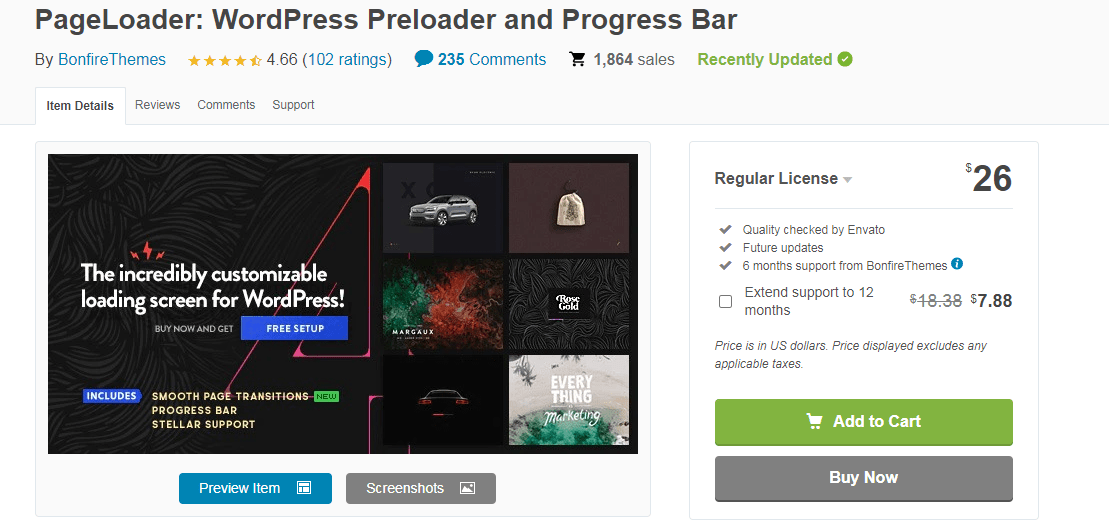 The only reason why this plugin isn't placed higher on our list is that it's the most expensive one. But if you have the money to invest in a loading animation plugin, we'd definitely recommend you give this one a go. PageLoader is one of the best-reviewed plugins of its kind on Envato Market, and there's no wonder as to why. It's fast, lightweight, easy to use, and wildly customizable. 
This plugin allows the user to place the animation anywhere on the screen, change its size and even upload a custom image. If that's still not enough customization for you, you'll be delighted to hear there's more. You can add blur or fade effects, use a solid color background or upload any image of your choice, set opacity, add a see-through effect, add a custom delay, etc. Whatever you could want in terms of customization, this plugin has it.
However, its abundance of features and customization options is matched by its price. PageLoader is priced at 26$ and comes with six months of support. If you'd like to have support for a whole year, the price will go up to 33.88$. 
Which one to choose?
All of these plugins will do a fine job. The deciding factors are mostly personal taste and whether or not you want something more complicated and highly customizable or something simple. Whatever the answer to that may be, even one of the free plugins is sure to spice up your homepage a little bit and add an extra layer of interest, so do give them a try, and you'll see what we're talking about.